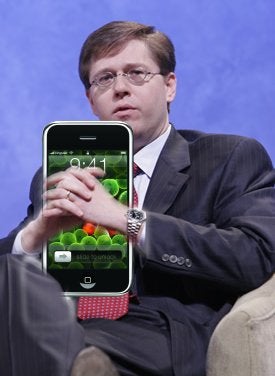 People have been asking, but I didn't see the iPhone on display at CTIA. According to Yahoo news it was here, but only for a few minutes before being whisked away back to Cupertino. AT&T Chief Operating Officer Randall Stephenson whipped it out on stage at the CTIA keynote, only to be burnt to a crisp as 10,000 flash bulbs went off simultaneously.
Then, who but FCC Chairman Kevin Martin, got a grope...and bystanders said his eyes grew wide, and he started hissing "precious" into the piano-glossed mike. Or something like that.
Maybe Steve J. has more influence than he thinks as far as getting the FCC to stop leaking us gadget news so regularly. Then we could go back to the tradition of announcement and launch of Apple gear on a single day, instead of this long drawn out process we've been going through lately. By the way, contrary to popular mainstream press, no one is talking about iPhone at this show. There are no clones, and none of the phone makers seem depressed...except Palm...and Motorola. Hey, look...aren't those the two companies that might combine forces? Yes, Palm's outdated OS meets Motorola's oversold design from 2002 or whatever. Can't wait for the synergy to synergize!
CTIA 2007 [Gizmodo]
iPhone at CTIA [Yahoo News]