Most of the rumors and speculation say that there wasn't going to be video-conferencing in the new iPhone 3G 2009. However, a last-minute batch of images point to the contrary. Or do they? Update
In the image above, the iPhone on the left—published by a french blog—looks like it still has its factory plastic cover. You can see that the speaker grill has been moved up, and that there's a spot that may be the front-facing camera. Updated
G/O Media may get a commission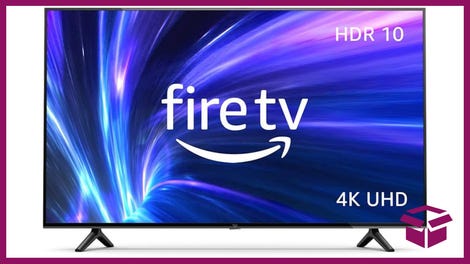 42% Off
Amazon Fire TV 50" 4K Smart TV
The one on the right could be the new iPhone 3G 2009's bezel according to a Chinese original parts wholesaler. It has the speaker in the same location, but there are significant differences on the size of that opening. Indeed, there seems to be a good match in size. The opening on the left seems to be a little irregular, but it could be an effect of the lighting and the picture's bad quality.
Of course, both images could be false but assuming one may be the real thing, there seems to be a mismatch. but they seem to match.
Update: the two images above are fake.
Here you have the two pictures that appeared in a second post in the same french site. There is clearly a difference between the two of them: The green lights—which indicate that the front-facing camera is working—are clearly on different places.
But that is not all. There are a lot more inconsistencies in these images than that. When you pass both through the Shadows and Lighting filter in Photoshop CS4, you can see that other things seem to be wrong: First, the iPhone on the left seems to have a chrome rim. On the right, the iPhone's rim looks like the rim of the iPod touch. On the first one, the videoconferencing itself can be easily faked by loading a picture and adding the green light later. On the second one, it doesn't make much sense to allow to record video from the front-facing camera when there's no clear way in the interface to select the camera you want to use.
In any case, the bottom line here is that there seems to be a lot of inconsistencies in these images. To the point that all of them may be fake (and indeed they are fake.)
Tune in to discover the real iPhone 3G 2009 in our WWDC 2009 liveblog, this monday, June 8.