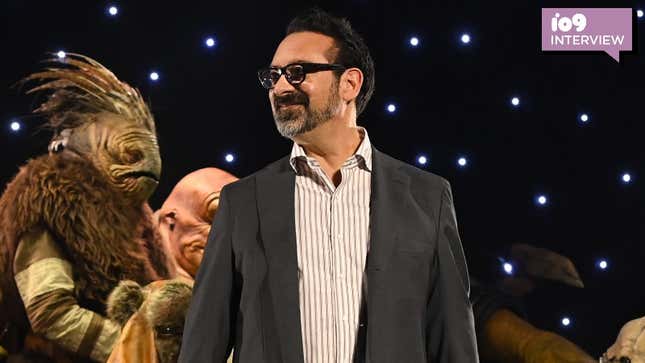 Who was the first person to wield the Force? It's a concept so far away from the Star Wars stories we've been following, both in and out of canon for the past 40 years, it's almost impossible to fathom. But soon, not only will someone fathom it, we'll see how it happened on the big screen.
James Mangold on his Future Star Wars Film | io9 Interview
Back in April, Lucasfilm announced that writer-director James Mangold is working on a film set in an era called the "Dawn of the Jedi." But the idea isn't that exactly. It's about the first people to feel and use the Force. So not even Jedi, really. At least, not yet. It's a fascinating concept, ripe with possibility, so when io9 sat down with Mangold to talk about his new movie, Indiana Jones and the Dial of Destiny, we had to ask about his future foray into a galaxy far, far away. And even a longer time ago.
"Well, I've talked to [Lucasfilm] before and even worked a bit before on other projects," Mangold told io9. "And I'm always interested in what's going on there and have friends who work on other Star Wars projects. But I understood that much of what they were doing was kind of continuing the saga forward."
"So when I mentioned to Kathy [Kennedy, Lucasfilm president] the idea that I had about going backward—really far backward—I was surprised that it excited her and the other wonderful people she works with at Lucasfilm," he continued. "For me, it's about, I want to be part of the saga, but I also don't want to be holding so much lore in the air that you can hardly tell a story. And what I really wanted to do, what I told her, was just can we make a kind of the Ten Commandments of the Force, you know? A kind of origin story of how the Force came to be known, understood, wielded, and harnessed."

So it seems like it was Mangold himself who looked at the big picture of what Lucasfilm was doing with Star Wars, wanted to join in the fun, but didn't want to be encumbered by other stories, which has been an issue for some of the current output. His solution? Go back to day one. And what an idea it could be.
However, when we followed up and asked for the status of the project, especially since he's been mentioned in regards to Swamp Thing at DC and is prepping a Bob Dylan movie, he said the question was "impossible" to answer. It seems it'll happen when it's ready to happen.
James Mangold on his Future Star Wars Film | io9 Interview
James Mangold on his Future Star Wars Film | io9 Interview
You can see what Mangold has been up to in the meantime when Indiana Jones and the Dial of Destiny hits theaters June 30.
---
Want more io9 news? Check out when to expect the latest Marvel, Star Wars, and Star Trek releases, what's next for the DC Universe on film and TV, and everything you need to know about the future of Doctor Who.