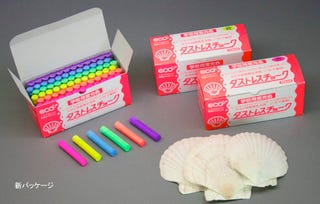 Dustless chalk has been around for a while, but Nihon Rikagaku's developed a new kind of chalk made from crushed-up scallop shells which reduces dust but manages to maximize the intensity of the colors. Chalk these days is positively day-glo.
Apparently it's the crystals in the scallop shell powder that holds the chalk together, with the perfect ratio being 10 per cent of scallop shells to the chalk mixture. Around 150,000 sticks of the dustless chalk are being made daily, with around 2.7 million scallop shells being used for the chalk in a year. [Rikagaku via Inventor Spot via OhGizmo]
UPDATE: You can buy Rikagaku chalk from $2.70 from JetPens.com.