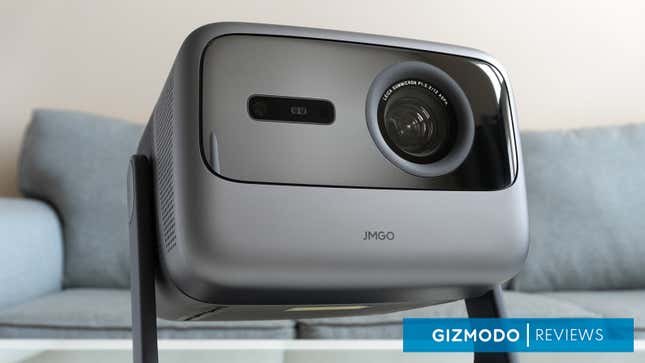 With improvements in performance and competitive pricing in recent years, projectors have become a more accessible alternative to giant screen TVs. And while names like Epson and Sony are still top choices for home theater enthusiasts, the market has seen smaller brands bringing some stiff competition, including JMGO's N1 Ultra, which streamlines setup and is surprisingly bright given its price tag and size.
It's Magic: LG's Rollable OLED TV
There's a lot of technical specs to take into consideration when choosing a projector, but having tested quite a few of them over the past few years, the most important to consider is simply how bright it is. That $200 projector you found on Amazon will start to seem like much less of a bargain when you realize you can really only use it in complete darkness if you don't want the image completely washed out. It's not the only spec you should take into account when buying a projector, but the more light it can throw on a screen (or a blank wall), the better and bigger a picture it will produce, and that's where the JMGO N1 Ultra excels. It pairs impressive brightness with a unique design that makes it easier to set up, without having to completely rearrange a room around it.
A 4K Projector With a Uniquely Adjustable Gimbal Design
I've found the easiest way to use most projectors—at least compact, non short-throw models—is to perch them atop a camera tripod with an adjustable head. This not only provides a lot of leeway when it comes to adjusting the height they sit at, but it also makes it easy to ensure the projector itself is level, even if the tripod isn't, thanks to a built-in bubble level on my tripod's head. The alternative is to rely on adjustable legs, which not every model has, or to find something to stick under the front of the projector to adjust the angle of its throw.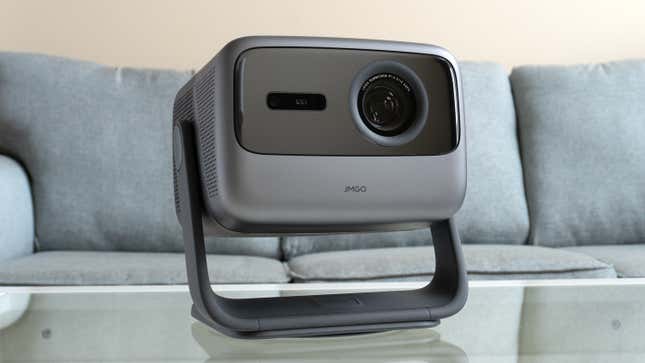 The JMGO N1 Ultra comes with its own solution: a built-in gimbal with a rotating base allowing the projector to be swivelled left and right 360-degrees, or angled up and down with 135-degrees of movement. If you can't position the projector directly in front of a wall or screen, the gimbal makes it a lot easier to adjust its throw and compensate for where you have to position it in a room. The tilt even goes high enough to project on the ceiling if, for some reason, you want to lay in bed and stare up at a movie above you.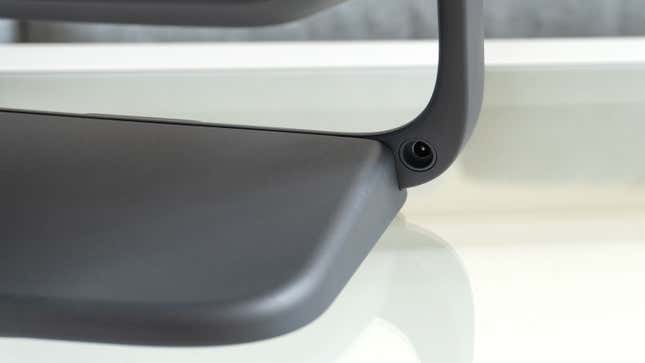 The gimbal does add to the overall size of the projector, but I think the built-in added flexibility more than makes up for that. There are two complaints I have with the design, however. The hinges used to tilt the projector up and down are stiff enough to ensure that it will remain at whatever position you leave it at, but they're not strong enough to resist movement from the occasional accidental bump. Unless you're installing it in a separate projector room (most won't) there's always the risk that a projector in a room full of people could get bumped, which will throw off its alignment. So the addition of a couple of screws that could be used to tighten the hinges, and even a mechanism to temporarily lock down the swiveling base once the projector has been perfectly positioned would be a welcome improvement.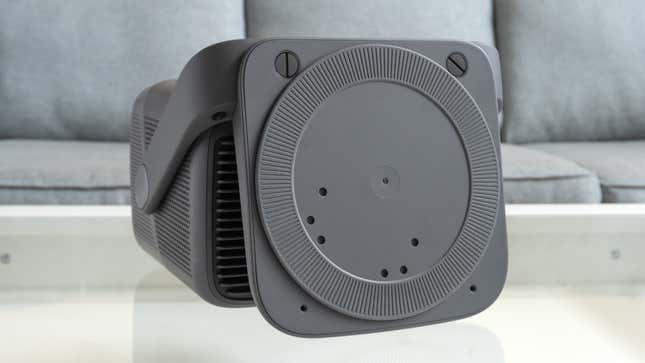 Flipping the JMGO N1 Ultra over reveals another issue: there's no tripod mount. Even with its built-in gimbal, I still wanted to mount the N1 Ultra to my tripod to make it easy to raise and lower the height of the projector, but instead, I had to perch it on a small folding snack tray during my testing. There are two large bolts on the underside of the base that can be removed, revealing threaded holes (that unfortunately don't fit standard tripods) for those who want to come up with a solution for permanently mounting the projector to a ceiling, but everyone else will need to find a flat surface for it to sit on.
Don't Lose the Projector's Bluetooth Remote
Competitive pricing comes with some trade-offs, but with the JMGO N1 Ultra, they're more like minor inconveniences than complete dealbreakers.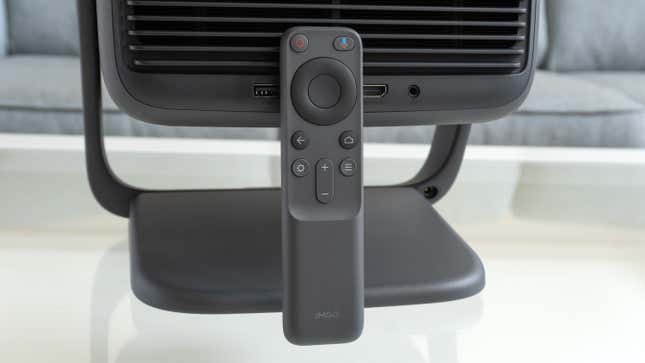 For starters, the N1 Ultra includes an Android TV-friendly wireless remote with a basic button layout that lacks a dedicated play/pause button—something I do find I miss from the Nvidia Shield's remote (which I use daily). There's also no backlighting, and because it relies on a Bluetooth connection to the projector so it can function as a remote microphone for Google Assistant, it didn't come connected to the projector out of the box. There's a special button press combo needed to connect it, which you'll need to dig out out of the manual.
There's also no redundant controls on the projector itself—just a single power button located on the base, so you'll want to be extra careful not to lose the included remote.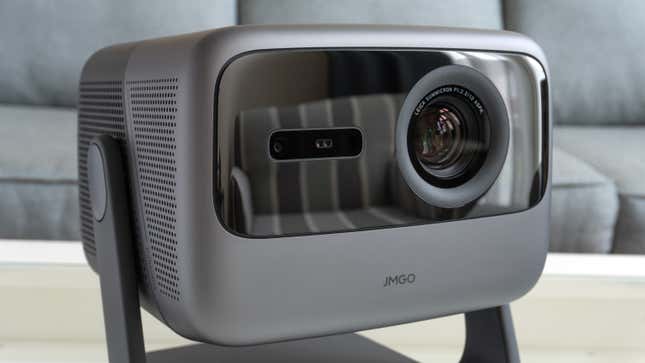 The front of the JMGO N1 Ultra has a fingerprint attracting glossy finish. Next to a camera and distance sensor that's used for its automatic calibration and autofocus functions, is a big Leica lens that doesn't include a sliding door or a lens cap. That's becoming more and more common, but given how critical the lens is to the projector's function, I really wish there were someway to keep it better protected and shielded when not in use besides me constantly yelling about Nerf guns not being allowed in the family room.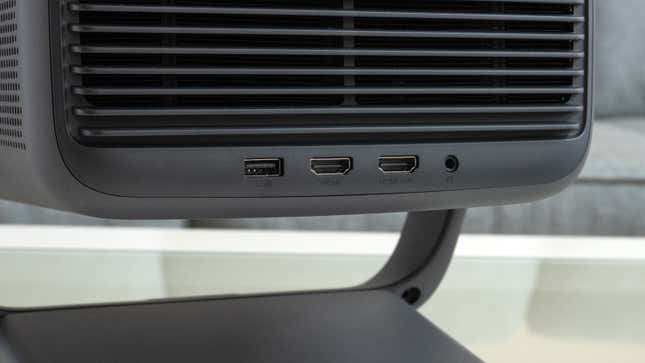 Around the back, you'll find a USB port, a headphone jack, and just two HDMI ports, with one supporting eARC if you want to pair the projector with a sound bar—something I'd definitely recommend. Above that, you'll also find the projector's vent, so you'll want to make sure that it's not being positioned right up against a wall that could block airflow. A general rule of thumb is that the brighter a projector is, the warmer it will run, necessitating more ventilation and fans to prevent the internals from overheating. And while the entire back of the N1 Ultra is made up of ventilation grills and a heatsink, the projector is remarkably quiet, and I could really only hear its quiet fans running if I was sitting just a couple of feet away.
Leave Room In Your Budget For Some Extra Speakers
One of the many challenges of designing a compact, all-in-one projector is that speakers are still a technology that benefits from being larger. To JMGO's credit, the pair of 10W Dynaudio speakers, one located on either side of the projector, sound better than what I've heard come from other projectors of this size—but they're not great.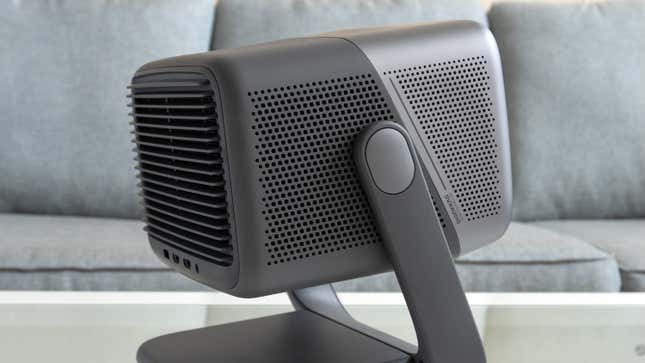 They push out a decent amount of bass, but it feels like the N1 Ultra skimps on the other end of the frequency spectrum, with highs sounding a bit flat and hollow. It has the distinct sound of a cheap, small wireless speaker, and that's a bit disappointing. Having a pair of speakers at the back of a room firing to each side is also not an ideal setup, even if you don't care about a surround sound experience. If you're seriously considering the N1 Ultra, I would definitely recommend pairing it with either a cheap sound bar you can position below the screen, or larger wireless speakers connected over Bluetooth.
The Brightest Projector Under $2,300
I get pitched a lot of projectors, but what made the N1 Ultra stand out as a worth testing was that JMGO was promising an impressive 4,000 lumens of brightness from its "MALC Triple Color Laser Optics" engine. The similarly-sized XGIMI Horizon Pro promises just 2,200 lumens, by comparison. Having struggled with finding an affordable(ish) projector I could use during the daytime with lots of ambient light in a room, I was curious how the N1 Ultra would perform.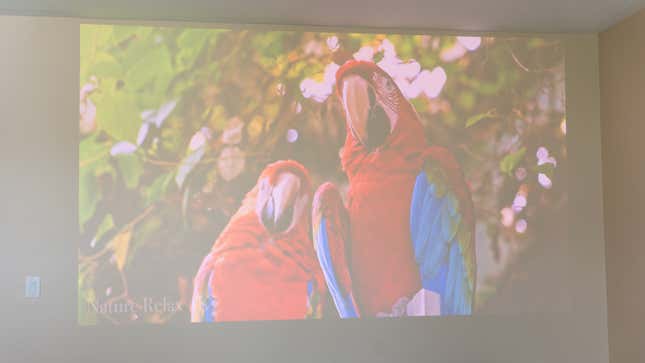 Even when using a tan-painted matte wall as a screen (which is far from an ideal surface to project onto) the JMGO N1 Ultra still managed to outperform even similarly-priced short-throw projectors I've tested, which don't have to throw light all the way across a room. I usually need to keep the blinds completely closed in our family room to have any hope of using a projector in the day time, but the N1 Ultra provided a very viewable image even without the windows being completely blocked. The projected image didn't compare to the quality and contrast I get from the 40-inch TV located just a few feet away from it, but the N1 Ultra was also delivering an image over 100-inches in size.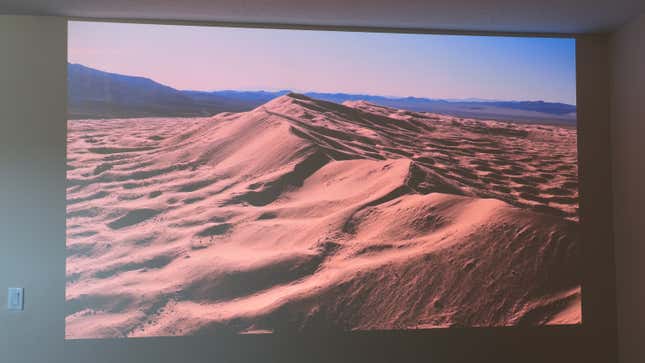 With the blinds closed, but mid-afternoon ambient light still pouring in, the level of contrast and saturation from the JMGO N1 Ultra was much improved. Again, without a proper screen designed to reflect ambient light away and direct light from the projector to the viewers' eyes, the results from a projector won't ever come anywhere near close to the picture quality of a TV, at least when ambient light is in play. But I was impressed with how well the N1 Ultra performed.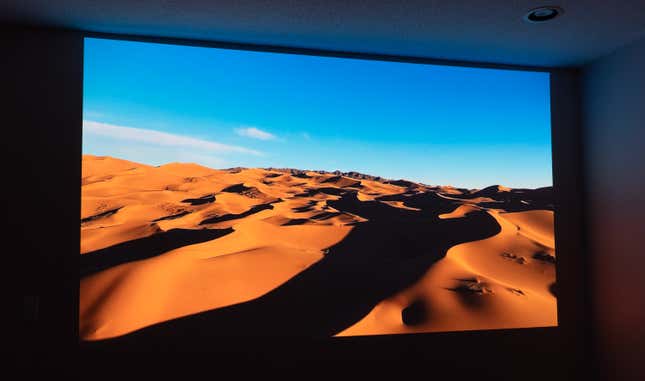 As with any consumer-grade projector not designed to light up a towering screen in a movie theater, the JMGO N1 Ultra performed its best when the sun had set and I was able to test it in a completely dark room. It is remarkably bright, and sometimes so bright that others walking into the room where I was testing it had to shield their eyes util they adjusted to just how much light it was throwing at the wall. JMGO claims the N1 Ultra pumps out 4,000 ANSI lumens of brightness, and while some reviewers have questioned those claims (Projector Reviews' testing found it maxing out at around 2,511 lumens), it is without a doubt the brightest projector I've ever tested under $2,500.
Colors were satisfyingly saturated when the projector was using source material that wasn't overly compressed, and I was especially impressed with the amount of image calibration offered. These types of all-in-one projectors (or laser TVs) often over-simplify the adjustments available to users, but in addition to a handful of presets for sports, video games, and movies, the N1 Ultra allows for saturation and individual RGB color tweaks, giving users like myself a way to compensate for using a colored wall as a screen.
All-in-one projectors running Android aren't typically targeted at home theater enthusiasts, and so often strive to be as user-friendly as possible, with automatic adjustments and calibrations taking place every time they're powered on. The autofocus on the N1 Ultra works quite well, but the automatic keystoning, used to ensure the image is straight and a perfect 16:9 rectangle, wasn't quite as reliably accurate. Using a screen with a defined edge definitely helps the system, but every time I activated the projector's auto-keystoning when using my large wall, the calibrated results would slightly vary.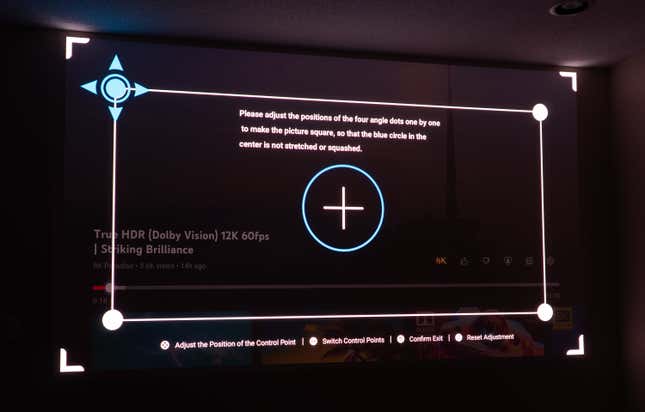 I found the best approach was to start with the auto-keystoning, and then make finer tweaks manually. But as with most projectors in this price range, keystone adjustments are limited to just the four corner points on the N1 Ultra. A lot of users will undoubtedly be using a blank wall as their projection screen, which is probably not as uniformly flat as they think it is. (I had assumed mine was, until I pointed a projector at it.) Having additional adjustment points would make it easier to ensure the projected image is perfectly rectangular, and help users compensate for projection surfaces that aren't perfectly flat.
Should You Buy the JMGO N1 Ultra Projector?
When the N1 Ultra first debuted, JMGO made it available through a Kickstarter crowdfunding campaign for $1,099 for a limited time. It now retails for $2,299 instead, but even at that price, it offers more performance and functionality than other projectors costing more than twice as much—but also some trade-offs to consider. The projector runs Android TV and has access to the Google Play Store, but Netflix isn't approved to run on it, so you'll need to pair it with a cheap streaming dongle like a Chromecast to access that platform.
JMGO also isn't anywhere near as big a company as Sony or Epson, so should something go wrong with the hardware, you're probably going to have to jump through a few extra hoops to get help, or make a warranty claim. That's a big thing to consider when dropping over two grand on a gadget. The N1 Ultra's UI was also still a bit buggy during my testing, even after several major software updates. I couldn't get features like its digital zoom to work, and I was never able to get the projector to read media off an attached USB drive. I have no doubt these are issues that will be eventually fixed through future software updates, but it's a reminder that you get what you pay for. The JMGO N1 Ultra isn't perfect, but it you're looking to get as much brightness as possible for your buck, it's definitely worth considering.