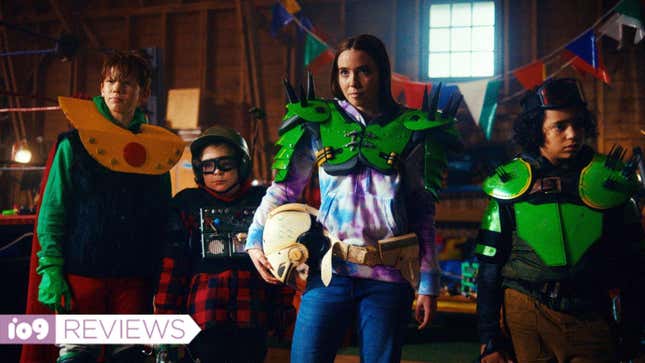 We've seen kids vs. aliens as a plot device many times over. But Kids vs. Aliens, a gleefully violent sci-fi comedy from director and co-writer Jason Eisener (Hobo With a Shotgun), just might be the ultimate execution of the idea. At just 75 minutes, there's barely a second wasted as a pack of rowdy middle-schoolers (and one teen sister) fight for their lives against invaders of both the extraterrestrial and all-too-human kind.
Doctor Strange 2's Sam Raimi on America Chavez
Sam (Phoebe Rex) and Gary (Dominic Mariche) are latchkey kids to the extreme, with parents who're always away on business. The siblings use their unusual level of freedom to... transform the barn in their backyard into a movie studio, where they and Gary's rascally, foul-mouthed pals film tales of prehistoric beasts and wasteland warriors, with scripts heavy on snarky one-liners and fight scenes inspired by pro wrestling. Kids vs. Aliens knows how cool this is, and it taps into the manic energy of the kids' homespun productions to propel the story that surrounds them.
We get a tease of the aliens' arrival early in the movie—suffice to say they do not come in peace—and the film's own title signals the clash of titans that'll propel most of the action. But before we get to that point, and even though it's a very fast-paced movie, Kids vs. Aliens takes the time to introduce its characters and give us a good sense of the contentious but loving dynamic between Gary and Sam. It also brings in a villain who is, depressingly, very much of this planet.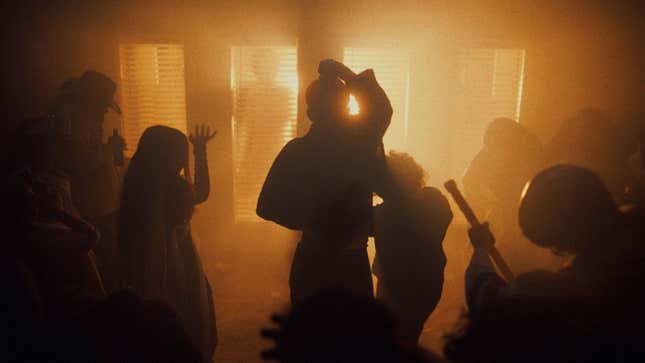 Aliens aside—and they are indeed genuinely frightening here—the film's big bad is Billy (Calem MacDonald), a nasty bully who's nonetheless good-looking and popular enough to make Sam feel hot and bothered when he oozes on the charm. Gary and his friends see right through his act, but Sam has her head turned long enough to agree that Billy can throw a party at her family's house—which means her family's house is thoroughly trashed even before ETs crash the scene.
Kids vs. Aliens builds up to an extended fight scene, as promised, and setting it on Halloween night means Sam has an excuse to wear a badass costume (and show off her impressive sword-wielding skills) while leading the younger kids into battle, both against Billy and the monsters from outer space. The breakneck pace barely stops to let you breathe—it does slow down to allow you to appreciate its gorier moments, of course—but that serves the story perfectly, leading to a climax that enfolds the kids' own moviemaking talents in a clever way. Kids vs. Aliens is ultimately an appreciation of low-budget monster movies as much as it is one itself, and it doesn't get much more fun than that.
Kids vs. Aliens is now streaming on Shudder.
---
Want more io9 news? Check out when to expect the latest Marvel, Star Wars, and Star Trek releases, what's next for the DC Universe on film and TV, and everything you need to know about the future of Doctor Who.