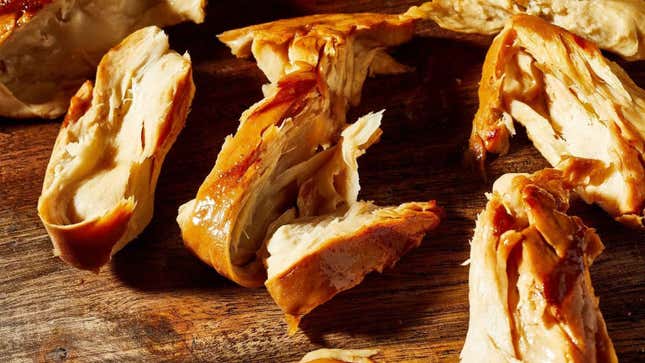 Manmade meat is marching ever-closer to your dinner plate. A second company has received a critical safety green light from the Food and Drug Administration, and can now move forward with next steps towards selling its lab-grown chicken substitute to U.S. consumers.

Does Beyond Meat's Plant Have a Mold Problem?
Good Meat, the sister-brand of Just Egg and a subsidiary of company Eat Just, completed pre-market FDA review earlier this week. The agency's reviewers "have no questions at this time," regarding the safety of Good Meat's "cultured chicken cell material," according to an official FDA letter sent to the company on Monday. Or, in less bureaucratic terms: the FDA has deemed Good Meat's lab-grown chicken good enough to eat.
The positive, no-notes review is just the second-ever issued by the U.S. food safety watchdog to a cultured meat company. In November 2022, the agency issued its first lab-grown meat rubber stamp to UPSIDE Foods— also for a cultured chicken product.
Though technically not an "approval process," the FDA's assessment of Good Meat's manufactured chicken amounts to an official green light for the company's tech and production methods.
In 2020, Good Meat was granted approval to sell its chicken-less chicken in Singapore. And the company has been doing so there for the past couple of years, albeit at a small scale. Yet now it can begin entering the U.S. market, once it clears a separate USDA hurdle, the company noted in a press release.
"Since Singapore approved GOOD Meat for sale, we knew this moment was next. I am so proud to bring this new way of making meat to my country," the company's CEO and co-founder Josh Tetrick said in the statement.
Good Meat, like other cellular meat makers, uses a small amount of animal cells and a growth medium to produce larger quantities of meat, with much less slaughter.
This alternative to standard, industrial meat has been heralded for years as a potential solution to many of the ethical, health, and environmental downsides of our current system in which animals are raised and killed en masse. Yet up until recently, cultured meat has remained mostly theoretical. These FDA rubber stamps push the needle forward towards a future where easily-purchased cultured meat could be a reality.
However, though more manmade meat seems likely to emerge on the horizon, the projected climate benefits of such products remain unclear. Some research has suggested cultivated meat could cut greenhouse gas emissions from meat production by a massive margin—up to 96%. While other studies have called into question the environmental upsides of lab-grown drumsticks and filets.
Since no company has actually produced cultured meat at comparable scale to the industrial meat industry, it's hard to assess the true environmental cost of growing cells vs. raising chickens and cattle. Both require energy and land to grow the crops used as a the "growth medium" or feed. At this point, life cycle analyses can only guess and estimate at the true burden of growing animal cells to meet the world's hunger for flesh.
Now, with Good Meat's newly surmounted FDA obstacle, perhaps we'll finally get an industrial-sized test case soon. In May 2022, the company announced plans to build the world's largest cultivated meat facility in the U.S.. It remains to be seen if the company's proposed 250,000 liter meat vats are technically achievable. But if they are, perhaps we'll learn how giant grow-vats stack up to living, breathing animal agriculture in practice.
For now, at least, Good Meat is starting out smaller. After it finishes "working with the [USDA] on necessary approvals," the company plans to pilot its cultured chicken at just a single Washington D.C. restaurant owned by celebrity chef and non-profit founder, José Andrés. And from one dinner spot, it's possible Good Meat's cultured chicken could spread to any of the chef's restaurant group's 30+ other locations—or even to grocery store shelves.