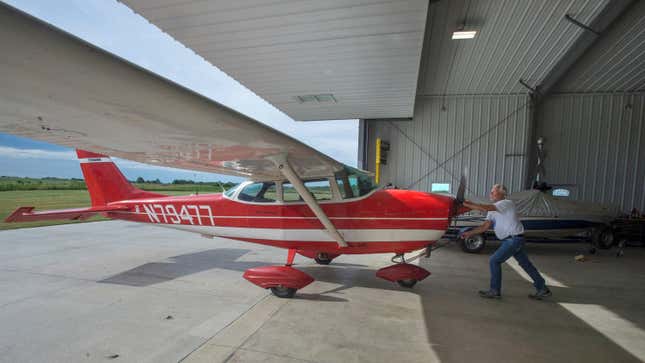 People living near airports that service piston-engine aircraft are disproportionately exposed to lead, a dangerous neurotoxin.

Making Paint Cool in the Face of Heat
A study published this week in PNAS Nexus found that children living near the Reid-Hillview Airport in Santa Clara County, California, had elevated blood lead levels. They've pinpointed piston-engine aircrafts at airports like the one in California as a source of lead exposure for children.
Overall blood lead levels in U.S. children have gone down significantly in the last half century. Since the 1970s, policymakers have removed lead from everyday items like pipes, food cans, and vehicle gasoline. But despite those efforts, airports that house and service piston-engine aircraft, which mainly use leaded aviation fuel, continue to pollute the air. These are small, single- or two-propeller airplanes, such as training Cessna airplanes, small commercial aircraft, and the planes commonly seen trailing advertisement banners.
"Lead-formulated aviation gasoline (avgas) is the primary source of lead emissions in the United States today, consumed by over 170,000 piston-engine aircraft," according to the new paper.
The researchers analyzed 14,000 blood samples, taken from 2011 to 2020 from children under 6 years old living near the California airport, to gauge exposure to lead. They found that blood lead levels increased the closer the children lived to the airport. Blood lead levels were also 2.18 times higher than a health department threshold of 4.5 micrograms per deciliter in children who lived east, or downwind, of the airport, according to the study.
Sammy Zahran, a lead author of the study and an economics professor at Colorado State University, said that researchers hypothesized that fluctuations in blood lead levels would correlate with higher or lower plane traffic. That is exactly what they found. "[During covid] there was something of a 45% reduction in the number of piston-engine aircraft operators at the airport for an extended period of time," Zahran told Earther. "Blood lead levels retreated."
Lead is an extremely dangerous pollutant. Any level of exposure is cause for concern, and it is especially harmful for infants and children. Early exposure damages the development of the brain and central nervous system. Long-term exposure can result in behavioral disorders and intellectual disabilities, according to the World Health Organization. Communities of color in the U.S. are more likely to be exposed to lead, and though this wasn't a focus of the study, Zahran said that the residents near the Santa Clara airport are disproportionately people of color.
The recent findings are also alarming because the U.S. Environmental Protection Agency has estimated that "573 schools attended by 163,000 children in kindergarten through twelfth grade are within 500 meters of an airport runway." The agency is working to address this form of airborne lead exposure: Last year, the EPA launched an evaluation on how lead from piston- engine aircrafts contributes to air pollution.
Zahran emphasized that airports and companies should be encouraged to phase out lead fuel as quickly as possible. A phase-out would have long-term public health and economic benefits for communities like the one in Santa Clara. "This benefit will echo in perpetuity as future children enter the world with this exposure risk eliminated," he said.