The Motorola Droid and HTC Droid Eris may get all the buzz, but what about Verizon's less glamorous new phones? The LG Chocolate Touch, BlackBerry Curve 8530 and Samsung Convoy were all introduced today, and they too deserve a look.

The LG Chocolate Touch is the latest iteration of the Chocolate line, and brings with it some new music features: FM radio, dedicated key for favorites, Dolby Mobile sound enhancements, and an unexpected and downright weird "Join the Band" feature. Join the Band features a virtual drum kit and scrolling 88-key keyboard so you can tap along with your music. Of course, it also offers Twitter, Facebook and MySpace integration, a 3.2MP camera and one-touch uploading. It's not a super exciting phone like the BL40, but at least it's odd enough to be sort of interesting. It's available today and costs $80 after a $50 mail-in rebate.
G/O Media may get a commission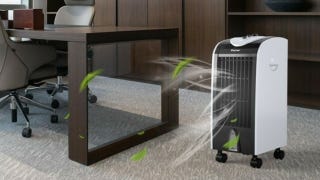 Save $10
Evaporative Portable Air Conditioner Cooler with Filter Knob

On the BlackBerry side of things, we have yet another 'Berry with the Curve moniker (if you're confused about the multitude of identically-named but different-numbered Curves, check out this handy chart). The Curve 8530 is the followup to Verizon's Curve 8330, and has features more in line with the GSM Curve 8520 than the Curve 8900. If you're still following me, great, because this is one of the best Curves out there: It's got Wi-Fi, 3G and GPS. It's the only Curve with 3G, and improves on its GSM brother by offering GPS. Other than that, it's the same 85xx Curve that Matt already reviewed. It'll cost $100 after a $100 mail-in rebate when it's released on November 20th.

And bringing up the rear, we've got the Samsung Convoy, a burly push-to-talk flip-phone that meets military specification, unlike me. It's got a 1300 mAh battery, which is bigger than some smartphones, and is built to withstand shock, dust, vibration, salt fog, humidity, and solar radiation. It'll probably survive until the end of the Iraq War. The Samsung Convoy will be available November 15th for $50 after a $50 mail-in rebate.
[Verizon]