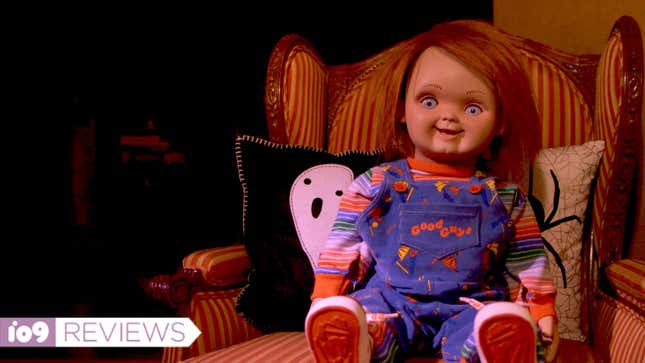 Fans of the Child's Play movies will want to seek out new documentary Living With Chucky—an affectionate portrait of the cult-beloved horror franchise that features interviews with most of its major players, including creator Don Mancini. The movie itself is a bit uneven, but the love it has for its source material comes through loud and clear.
Chris Pratt and Bryce Dallas Howard Nerd Out About Jurassic Park's Returning Heroes
Living With Chucky is the feature debut for writer-director Kyra Elise Gardner, who has a personal connection: her father is veteran special effects artist Tony Gardner, whose many credits include 2004's Seed of Chucky and every Chucky-related project thereafter. That familial link translates to incredible access for this documentary, which is full of easygoing interviews with not just Mancini and longtime series producer David Kirschner, but stars Jennifer Tilly, Alex Vincent, Christine Elise, Brad Dourif, Fiona Dourif, Billy Boyd, and John Waters—as well as actors who haven't appeared in any Chucky movies, but have interesting things to say about the horror genre, including Lin Shaye (Insidious) and Abigail Breslin (Zombieland). The doc goes chronologically—kicking off with 1988's Child's Play—to dig into the origins of the first film, including the happy circumstance that Kirschner, who'd been wanting to make a movie about scary dolls, came across Mancini's original script at the exact right moment.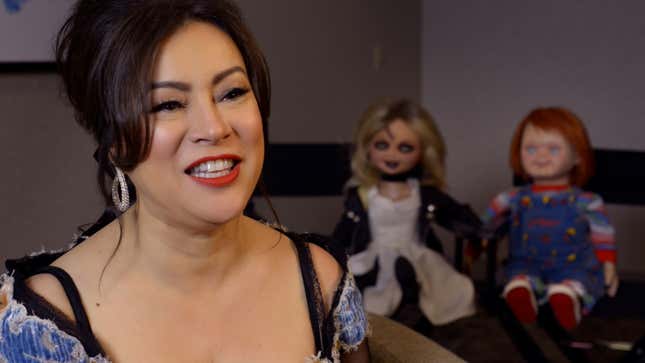 As it works its way through each Child's Play movie, offering personal anecdotes and behind-the-scenes tales from those involved, Living With Chucky also explores how Chucky as a character has evolved over the years, as well as how the series itself has changed. The latter includes a look at how the Child's Play franchise adjusted as its budgets shrank over the years (a big reason why it's so reliant on practical effects rather than CG), and how Mancini experimented with tonal shifts, following up Seed of Chucky, the series' campiest, most comedic entry, with Curse of Chucky, which took itself more seriously and aimed to actually be scary. There's also discussion of how Mancini, who is gay, introduced queer themes into the series, breaking new ground in the horror genre.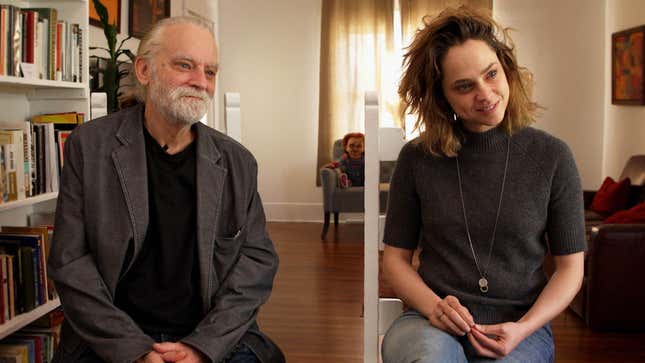 With 25 or so minutes to go in the 100-minute film, Living With Chucky wraps up its focus on 2017's Cult of Chucky, the last feature-film outing for the franchise. However, fans of the current Syfy and USA Network series Chucky—of which there are many; the show has a third season coming up—will be disappointed to hear the show only gets a very quick mention in the doc's final moments. You get the sense that Gardner's film was mostly wrapped before Chucky even became a thing, which is a shame since it's become such an important expansion of what might be described as the Child's Play extended universe, meshing new characters and stories with returning favorites played by Tilly, Vincent, Elise, and others.
Instead, Gardner takes the remaining time to introduce herself and explain her connection to Child's Play—which makes total sense, but unfortunately it leads into a meandering segment about how the nature of the film business means families are often separated for long stretches of time, among other topics that feel more self-indulgent than informative. It's hard not to wish the doc, which is mostly lively and entertaining, was about 15 minutes shorter than it ends up being. But if you hang in there, you'll get a quick glimpse of Tilly slipping back into character as Tiffany on the set of Chucky, which is always worth it.
Living With Chucky hits On Demand April 4 in the U.S. and Canada; a collector's edition Blu-ray will be available April 18 in the U.S. and Canada. You can also own or rent the film starting April 24 in the UK and Ireland, where it will also be available on Blu-ray.
---
Want more io9 news? Check out when to expect the latest Marvel, Star Wars, and Star Trek releases, what's next for the DC Universe on film and TV, and everything you need to know about the future of Doctor Who.