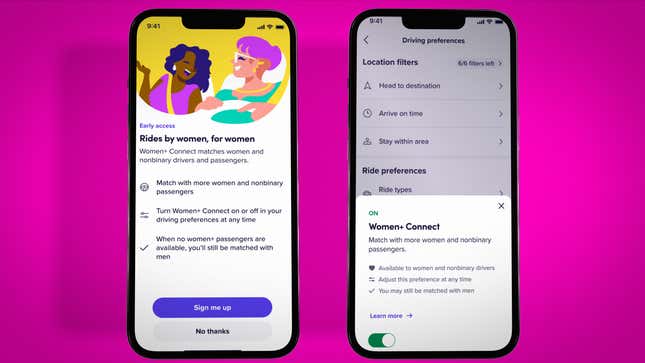 On Tuesday, Lyft announced a new feature that will connect women and nonbinary riders with other female and nonbinary drivers to create a more secure and confident experience. The feature, called Women+ Connect, will allow riders to choose to match with similar drivers which Lyft says was a "highly requested feature."
Meet Microsoft's New Surface Laptops
This feature will offer "more control over the driving and riding experience for women and nonbinary people, allowing them to feel that much more confident," Lyft said in a news release. "With fewer barriers for drivers (and prospective drivers), more women can access flexible earning opportunities — whether they're driving to build a business, support their family, or simply to enjoy earning good money while meeting great people," the release added.
Female riders make up almost half of all Lyft riders, the company said, but women make up only 23% of drivers on Lyft's platform, according to a recent survey. Now, the Lyft app offers a prompt for riders to select the Women+ Connect option by selecting "Count me in" when ordering a ride.
"Just for your own peace of mind, the ability to choose a woman driver might be exactly the thing that allows you to say, you know what, yeah, this really is making my life better," Lyft CEO David Risher said on The Today Show.
The newly added feature comes as investors and users push Lyft and Uber to increase their safety protections after Lyft reported more than 4,000 claims of sexual assault between 2017 and 2019 and has faced related lawsuits claiming the company has avoided liability for sexual assault. In April, SOC Investment Group informed Lyft it needs to establish a process that would create additional safety for drivers.
Lyft's failure "to acknowledge and address legitimate driver safety concerns will have a number of unfortunate consequences for the company, including elevated turnover rates and recruitment costs, increased insurance expenses, litigation, and further scrutiny from regulators," Tejal Patel, executive director at SOC, said in a letter to Lyft.
Women+ Connect will initially launch in early-access cities including Chicago, Phoenix, San Diego, San Francisco, and San Jose, and Lyft says it intends to roll out more cities soon. However, the company does clarify that the Women+ Connect feature "is a preference feature, not a guarantee." When the feature is selected, female and nonbinary drivers will be prioritized, but if none are available, the app will revert to match the rider with a male driver.
"Women+ Connect is all about providing more women and nonbinary people the opportunity to earn money on their terms and giving riders more choice," Risher said in the news release. "We hope this gives millions of drivers and riders another reason to choose Lyft."