Facebook CEO Mark Zuckerberg has decided to backtrack on his decision to sue hundreds of native Hawaiians, which would have likely forced the families to sell their land at a public court auction to the highest bidder.
The lawsuits, which were filed back in December, targeted hundreds of native Hawaiians, some of whom were dead. In an open letter published in a local Hawaiian newspaper today, however, Zuck declared that he's nixing the legal maneuver.
"Upon reflection, I regret that I did not take the time to fully understand the quiet title process and its history before we moved ahead," Zuckerberg wrote. "Now that I understand the issues better, it's clear we made a mistake." It's quite a different tone from a Facebook post he wrote last week, in which he complained about the "misleading stories about our plans in Hawaii."
The story starts back in 2014, when Zuck dropped $100 million to acquire 700 acres of beachfront land on the Hawaiian island of Kauai. But as it turned out, several pieces of the land within those 700 acres were actually what's known as "kuleana lands." These small parcels are passed down though generations, sometimes without a written will or deed. So, Zuck, the sixth richest person in the world, launched a series of quiet title and partition lawsuits to identify some of the land owners, which were ultimately aimed at forcing the owners to sell their land.
G/O Media may get a commission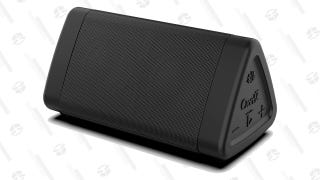 Save 31%
Oontz Angle 3 Portable Bluetooth Speaker
These lawsuits are common in Hawaii, especially because it's difficult to determine who might own a small portion of land. However, the reaction to Zuck in particular wasn't overly positive—hundreds of Hawaiians are reportedly planning to protest in front the six-foot wall he built on the land.
From Business Insider:
"People are furious down here with him," said Hart, a hibiscus farmer who lives about a quarter-mile from one edge of Zuckerberg's roughly 700-acre property. Hart is encouraging people who attend the march to blow conch shells and bang drums in peaceful protest.

[...]

Neighbors of Zuckerberg like Hart have said the Facebook CEO's security team has used intimidation tactics to keep them off the public beaches and trails that intertwine with Zuckerberg's mostly undeveloped property.

Hart said he was recently confronted by security guards while walking along a public beach adjacent to Zuckerberg's property.

"We were walking along and they tried to say that this was private," he said. "I've been walking on this since I was a little kid."

It's unclear whether the protests will still happen, given that Zuck is now walking back on the lawsuits. It's also unclear how, exactly, he plans to move forward with the land, but he noted he's going to try his darndest.
"The right path is to sit down and discuss how to best move forward. We will continue to speak with community leaders that represent different groups, including native Hawaiians and environmentalists, to find the best path," he wrote in the open letter.