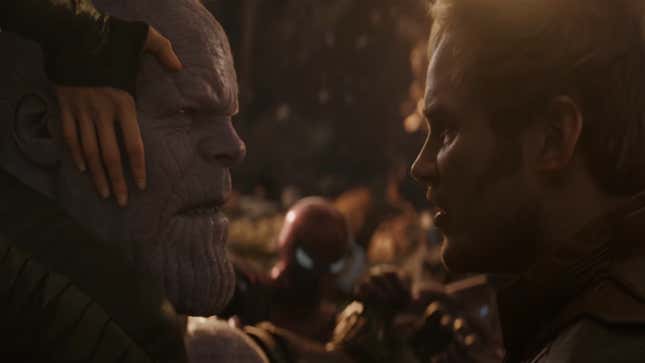 If there was one moment in Avengers: Infinity War that rankled fans, it's when Peter Quill murdered half the universe.

How Much of Guardians of the Galaxy Did James Gunn Plan From the Start? | io9 Interview
Of course, the hero known as Star-Lord didn't actively kill all those people; instead, he prioritized punching Thanos in the face for killing Gamora over helping Iron Man, Spider-Man, and Mantis from taking the Infinity Gauntlet off the Mad Titan, allowing Thanos to recover and eventually Snap away several bajillion people. It was a dumb moment for the character who, while an idiot, never seemed like that big an idiot. And it's certainly not how Guardians of the Galaxy director James Gunn would have done it.
In a sprawling interview with the Hollywood Reporter about the director's long stewardship over the Guardians franchise, including the time he was briefly fired from the upcoming third movie, Gunn revealed that his Star-Lord (played by Chris Pratt), quite arguably the "real" Star-Lord, would have prioritized the universe over his love for Thanos' adopted daughter Gamora (Zoe Saldana). From the article:
"Gunn is enthusiastic about a handoff [of the franchise], though protective. When the characters appeared in the Avengers two-part epic directed by Joe and Anthony Russo, Gunn saw disconnects with certain storylines. 'They did some things that I wouldn't have wanted,' says Gunn of the films. (Yes, he says, Star-Lord would have killed Gamora if she asked him to; no, he would not have punched Thanos and doomed the universe.)"

Even the Guardians themselves were apprehensive about playing their characters for other directors, it seems: "'I can't imagine playing Mantis with someone else writing the words,' [Mantis actor Pom] Klementieff says, hinting that Gunn had a large role in shaping the character in the Avengers films. Gunn says that she and Pratt reached out to him from the Avengers set to make sure the direction was all right. 'I was being given directions, and I was like, "I think I'm going to call James,' says Klementieff."
The relationship Gunn has, not just with the actors, but the characters they play, casts a large shadow on a prospective Guardians of the Galaxy Vol. 4, especially since the line-up post-Vol. 3 will by all accounts be short Gamora and Drax (Dave Bautista) at the very least. Guardians of the Galaxy Vol. 3 premieres on May 5, just a week and change away. While you wait, go check out the full feature on Gunn over at THR.
---
Want more io9 news? Check out when to expect the latest Marvel, Star Wars, and Star Trek releases, what's next for the DC Universe on film and TV, and everything you need to know about the future of Doctor Who.