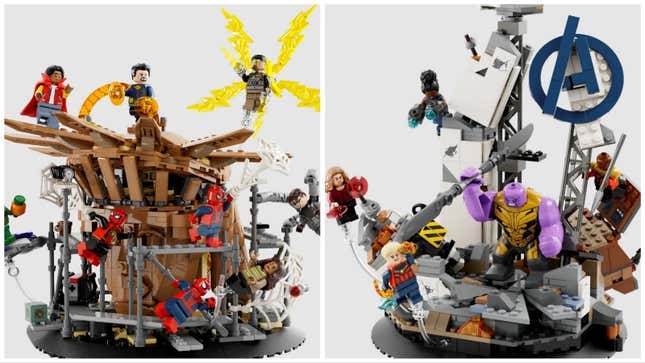 When you think of epic Marvel movie set pieces, it's hard to top Avengers: Endgame and Spider-Man: No Way Home. The former brought almost every character from the Marvel Cinematic Universe together in a last-ditch attempt to defeat Thanos, and the latter saw three Spider-Men from different dimensions clash with four of Spider-Man's most dastardly villains ever.
Both are set pieces we love to revisit again and again. Soon, you can bring them directly into your home as actual sets made of pieces. Lego just announced it's making the final battles of Spider-Man: No Way Home and Avengers: Endgame into large play sets, with plenty of details and mini-figs to boot.
The "Spider-Man Final Battle" from No Way Home is 900 pieces, retails for $110, and includes mini-figs of Spider-Man (Tobey Maguire), Spider-Man (Andrew Garfield), Spider-Man (Tom Holland), Electro, Doctor Strange, Green Goblin, Ned, MJ, and Doc Ock. "Endgame Final Battle" from Endgame is 794 pieces, retails for $100, and has mini-figs of Captain Marvel, Okoye, Wanda Maximoff, Shuri and Valkyrie. There's also a Thanos "big" figure and Wasp micro-figure. So, yes, it's the "final battle" but it's more specifically the moment when the women of the MCU team up. Each set it out August 1. Check out Spidey here and Avengers here.
Want to see images? Check out the rest of the slideshow.