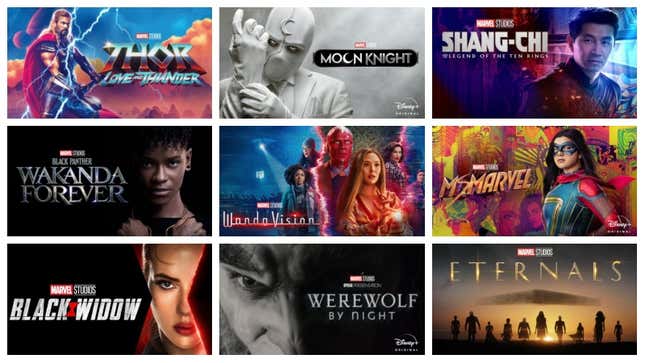 With Phase Four of the Marvel Cinematic Universe now over, you might be wondering exactly what it accomplished. From January 2021 to November 2022, Marvel Studios released 18 projects, an output almost equal to the entire 11-year MCU before it. But, without an Avengers film to wrap everything up in the end, it's hard to say or quantify what happened. We're here to lay it all out on the table—and, spoiler alert, it's probably way more than you remember.
Over the course of seven movies, nine shows, and two specials, Phase Four of the MCU was a lot, to put it mildly. Phase Five begins with the release of next week's Ant-Man and the Wasp: Quantumania. Before that though, we thought it might be interesting to go project by project and break down what's left on the table: all of the dangling storylines, broad concepts, and new characters who've been added to the already robust 21-film story. All of this comes before even more new characters like Fantastic Four and Deadpool join the mix in the coming years.
Join us now on a trip back over the wild, massive stretch forever known as Phase Four of the Marvel Cinematic Universe.