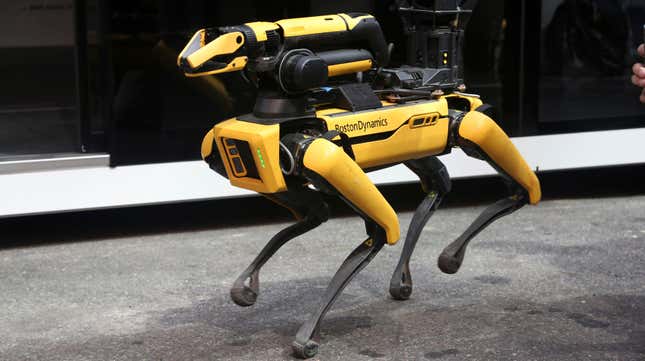 Bad news for fans of gun-toting killer robot. Massachusetts wants to make your Black Mirror fantasy illegal. This week, two state senators proposed a first-of-its-kind bill that, if passed, would prohibit the manufacture, sale, or use of robots with mounted weapons. The bill would also put in place new safeguards prohibiting law enforcement or others from using robots to threaten or physically restrain someone. In other words, Robocop could have his hands tied if the bill becomes law.
"This bill puts reasonable guardrails around the use of robots to harass members of the public and bans the weaponization of this technology by those without strict oversight, while also introducing rules for law enforcement to bolster public trust," Massachusetts state senator Michael Moore, one of the bill's co-authors said in a statement.
Supporters of the bill, which include major robotics makers like Boston Dynamics and rights groups like the American Civil Liberties Union, say it's crucial to establishing public trust in law enforcement's use of robotics. To that end, the bill would add language making it clear police and other law enforcement must first obtain a warrant before deploying a robot onto a person's private property. Robot users who violate the bill's provisions could face fines between $5,000 and $25,000.
"Hollywood often paints a vivid picture of a dystopian future filled with robotic violence, but we have the power to ensure those images stay in the realm of fiction," ACLU of Massachusetts Technology for Liberty Program Director Kade Crockford said. "Weaponized robots pose an unacceptable threat to our safety and basic rights."
Weaponized robots are not all fiction, though. In June, a company called Throwflame opened up a waitlist to buy a robotic dog equipped with a flamethrower. The creature is lovingly named The Thermonator. Throwflame, the company responsible for the Thermonator, didn't seem deterred by the legislation when Gizmodo reached out for comment.
"The only thing that will stop a bad robot with a weapon is a good robot with a weapon," the company said.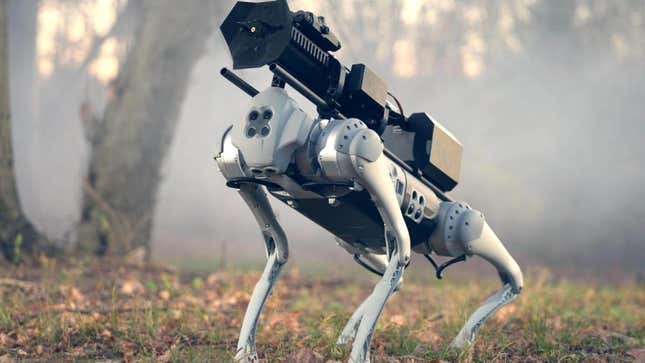 Being a state bill, the legislation would only apply to robots used or deployed in The Bay State. That's still potentially significant though, because Massachusetts is ground zero for advanced robotics innovation, with Boston Dynamics, iRobot, and MassRobotics all calling the state home. Boston Dynamics in particular has spent several years trying to convince the public its at times spine-chilling arsenal of advanced machines isn't intended to harm humans. The company has spoken out forcefully against pranksters who have armed its Spot, dog-like robots with a paintball gun and even signed onto an open letter pledging not to willfully weaponize its robots.

"Advanced mobile robots are incredible tools that can enrich our lives and keep people safe, but makeshift efforts to weaponize general purpose robots threaten public trust and acceptance of this emerging technology," Boston Dynamics Vice President of Policy & Government Relations Brendan Schulman said.
Police robots are hitting city streets
Law enforcement's use of robots has moved from the television screen to reality for some thanks to several recent high-profile examples. Late last year, San Francisco lawmakers revered a vote that would have let local police use explosive-equipped remote-controlled drones to kill suspects in certain circumstances following fierce public backlash. Police in New York City similarly cut a contract with Boston Dynamics short in 2021 after its Spot quadruped robot was spotted emerging beside police outside of a public housing unit. New York Mayor Eric Adams, himself a former cop, welcomed four of the robots back onto the police force earlier this year.
Massachusetts could serve as a bellwether for other states looking to pass their own similar robot restrictions. And while the Massachusetts bill offers up some of the clearest regulations on potentially lethal bots so far, it still has its limitations. For starters, the bill provides an exception for bomb squad officials using robots to disable explosives. The restrictions also don't apply the US Department of Defense, its many contractors, or other companies that obtain a waiver from the state's attorney general to test anti-weaponization technologies.
Update, 2:15 p.m. EST: Added statement from Throwflame.