Actors on the level of Matthew McConaughey often turn down the biggest roles imaginable for any number of reasons. What we rarely hear, though, is their reasoning, and in a new interview, McConaughey explains why he turned down a role in Guardians of the Galaxy Vol. 2, but did choose to appear in The Dark Tower.
Why the comparison between the two? Because McConaughey has been courted by big franchise films for years but never really done them. He's done big blockbusters, sure. Even potential series. But never a branded, big franchise like a Marvel or DC film. That is, until he signed up for The Dark Tower, which Sony is hoping will spawn its own multimedia empire.
Speaking to Playboy, the actor explained why he turned down one franchise (Guardians) for another (Dark Tower).
I like Guardians of the Galaxy, but what I saw was "It's successful, and now we've got room to make a colorful part for another big-name actor." I'd feel like an amendment. The Dark Tower script was well written, I like the director [Nikolaj Arcel] and his take on it, and I can be the creator, the author of the Man in Black—a.k.a. the Devil—in my version of this Stephen King novel. We've done the first one. It's a fantastic thriller that takes place in another realm, an alternate universe, but it's very much grounded. For instance, the gunslinger's weapon isn't a lightsaber or something; it's a pistol. I enjoyed approaching my character as if I were the Devil having a good time, getting turned on by exposing human hypocrisies wherever he finds them.
It's not hard to understand: he didn't want to be another piece in an established puzzle when, with Dark Tower, he can totally create the role from the ground up. Creatively, that makes total sense.
What we don't know, however, is what part McConaughey was up for in Guardians. The news of him turning down a role in the film was first revealed in 2015, so it was definitely for a character—a villain, to be specific—in Vol. 2. As far as we know, the only kind-of villain revealed so far has been Ayesha, played by Elizabeth Debicki. So either the film contains a major villain that the team at Marvel has hidden quite well—or, once McConaughey passed, the role was changed. (If you're thinking maybe he was in the running for the character played by Kurt Russell, that's doubtful, since director James Gunn has said Russell was his first choice for the role.)
G/O Media may get a commission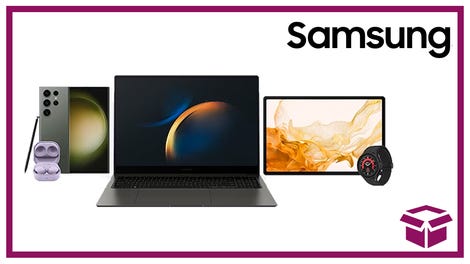 24 hour deals
Discover Samsung - Daily Deal
Both films, Guardians of the Galaxy Vol. 2 and The Dark Tower, will be out this summer.
[Playboy via Comic Book]