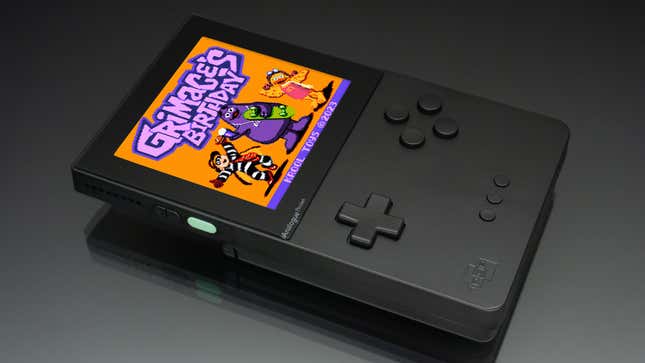 Although he started life as a villain in the McDonald's cinematic universe, Grimace has come around and spent most of his 52 years as one of the fast food chain's more endearing—yet confusing—mascots. To help celebrate his 52nd birthday, McDonald's has commissioned a brand new Game Boy Color game—in 2023—starring the milkshake-obsessed purple piece of candy corn... we think.
Does Beyond Meat's Plant Have a Mold Problem?
What Grimace is exactly isn't entirely known. McDonald's has alternately claimed he's either the embodiment of a milkshake or a taste bud, but he's definitely turning 52 this year, and so in addition to the fast food chain now offering a "Grimace's Birthday Meal" featuring a Big Mac, fries, and a purple milkshake, the mascot is finally starring in his own video game straight out of the late '90s.
Grimace's Birthday features the birthday boy skateboarding through McDonaldland while collecting purple milkshakes and searching for his fellow mascots so he can hold a big birthday bash. It's a surprisingly solid platformer that was developed by Krool Toys and Gumpy Function—aka Tom Lockwood—and was created using GB Studio, a drag and drop development tool that makes it a lot easier to create games for Nintendo's classic handhelds.
The game can be played in a browser, on a computer, or on a mobile device through a website that also looks vintage late '90s, and while McDonald's hasn't officially released the ROM file for Grimace's Birthday, it didn't take the internet long to find a digital copy of the game and make it available for download through the Internet Archive so it can be played in emulators or on devices like the Analogue Pocket.
Let's also take a moment to point out that McDonald's is having a real retro gaming moment. Grimace's Birthday comes not long after retro gaming enthusiasts were frothing at the mouth for a Chicken McNugget-shaped, Tetris-playing handheld released by McDonald's in China. If they somehow manage to get the original Super Mario Bros. playing on a Big Mac, we might have to return to the golden arches.