Fed-up residents in Michigan's most polluted zip code say the tar sands refinery next door is causing toxic emissions to waft over their neighborhood—and they want out.
Marathon Oil Corporation, which operates the 250-acre Detroit oil refinery, bought the homes of residents in the nearby, mostly white neighborhood of Oakwood Heights in 2012 so that they could move. Boynton, a mostly black neighborhood which is also impacted by the refinery, was not given the same offer.
Activists from the neighborhood continue to make noise about the unfair treatment. The community protested at the refinery in November, carrying signs with slogans including: "Exodus" and "Marathon Petroleum: Expand the buffer zone, Buy more homes".
There will be more protests to come in 2018, said Boynton resident and activist Emma Lockridge. She works for Michigan United as their climate and environmental justice organizer.
"We have to do what we think will get their attention and turn that no into a yes," Lockridge told Earther.
G/O Media may get a commission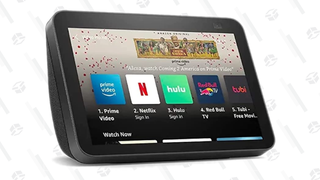 The community is still working out the details of its strategy, but Lockridge said she will keep protesting until they get a buy-out like Oakwood Heights. They'll also move forward with a federal class-action lawsuit, filed by one thousand Boynton residents in 2016, that alleges the refinery releases harmful pollution.
Marathon, Lockridge said, has made life unliveable in Boynton. The refinery processes 132,000 barrels of oil per day, including Canadian tar sands oil—known to be among the dirtiest types of oil.
"Emergency sirens went off in the morning, blasting me awake," Lockridge said, recalling the previous Saturday morning in Boynton.
Soon after, she received a text from Marathon—the refinery has a text system for nearby residents—saying everything was fine. When Lockridge went outside that morning, she saw emissions from Marathon blanketing the neighborhood.
"We looked like a science fiction film," Lockridge said. The pollution has been getting worse ever since the refinery built an expansion in 2012 to process tar sands oil.
The sights of smokestacks, flares, and heavy industry dominate the neighborhood. Oil tanker trucks rumble through, delivering fuel to a tanker farm down the street. Strong odors sometimes awaken residents in the middle of the night.
For a while, Lockridge even wore a mask at night to protect herself. Residents are worried about what chemicals they are being exposed to by the refinery, and the potential impact on their health.
This is typical of life in a fence-line community: A neighborhood located next to industry that directly affects people in some way through its operations—whether it's noise, odors, traffic, or toxic emissions. Residents of these fence-line communities are, like those in blue-collar Boynton, more often low-income individuals or communities of color.
African Americans are exposed to 38 percent more polluted air than white Americans, according to a 2017 report by the NAACP and the Clean Air Task Force entitled "Fumes Across the Fenceline". And they are 75 percent more likely to live in fence-line communities than the average American, the report added.
That racial aspect became all the more clear to Boynton residents when Marathon paid above-market prices for the homes of residents in the nearby, mostly white neighborhood of Oakwood Heights in 2012—allowing them to escape the pollution.
Marathon offered $60,000 to 350 homeowners in Oakwood Heights—enough at the time for them to move away from the pollution and into even nicer homes. Meanwhile, Boynton residents were left to choke on pollution in homes that no one would buy.
Marathon has said it has no plans to offer a similar program to Boynton residents.
Marathon spokesman Jamal Kheiry told Earther in a statement that "the refinery comprises 3 percent of the emissions, and we have reduced out emissions by about 75 percent over the last 15 years."
In a two-mile radius around the refinery, 70 percent of the emissions were from the steel industry, 23 percent from power generation, four percent from all other industry, and three percent from Marathon's refinery, according to the Michigan Air Emissions Reporting System.
Kheiry said Boynton has not been offered a buyout program like Oakwood Heights because it is covered by Michigan's "Neighborhood Stabilization Program 2". NSP2 funding from HUD goes towards combating the effects of home foreclosures, vacancy and abandonment.
Lockridge argued that Marathon is their nearest polluter and its emissions waft directly over the neighborhood—threatening their health. Being so close to heavy industry has contributed to property values falling in Boynton, Lockridge said.
"You can't stay, and you can't move," Lockridge said.
Boynton is not alone in its struggle for environmental justice.
"It's sad to say, but Boynton follows a very, very old and long line of communities who are not coincidentally also poor communities of color who abut these industrial facilities that emit toxins," Rejane Frederick, associate director of the Poverty to Prosperity Program at Center for American Progress, told Earther.
And with the Trump administration trying to weaken EPA regulations, the situation could get even worse. The head of the EPA's environmental justice program, Mustafa Ali, resigned after 24 years last year when Trump threatened to defund the entire program.
Since Lockridge began photographing the emissions wafting over Boynton a few years ago, she has taken many steps to bring the plight of her community to the attention of Marathon—all to no avail. She's come to the conclusion that Marathon just doesn't see her, or her black neighbors, as human beings. That's the only reason she can come up with for why Marathon won't give them the same treatment they gave Oakwood Heights residents.
"That's why we have Black Lives Matter, that's why our young people realize they had to create the hashtag—because their lives didn't matter compared to others," Lockridge said.
Frederick, of Center for American Progress, said once you connect the dots of fence-line communities across the country, and see that they are disproportionately African American and low-income communities, the pattern becomes clear.
"Which communities deserve to live a healthy life, with access to healthy, clean communities, and who is relegated to communities set up for worse health impacts," Frederick said. "That's a human dignity question."
Renee Lewis is an environmental reporter based in the Pacific Northwest. Follow her @renee5lewis55