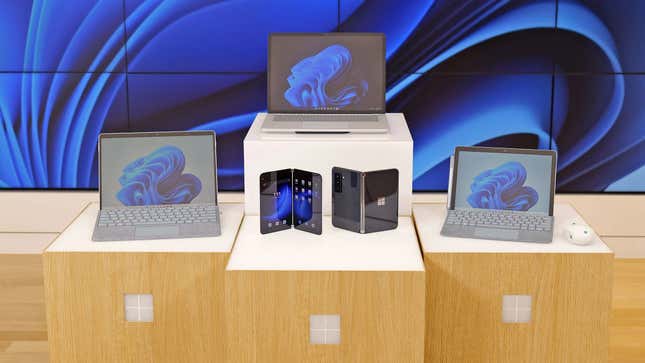 Microsoft is treating Windows 11 more and more like a billboard bus, finding ways to stick advertisements for its services along every surface and armpit of its operating system. In addition to ads in the Start menu, the latest test build for Windows 11 includes notices for a Microsoft 365 trial and more in the Settings menu.
How to Hide Your Sensitive Images in Google Photos
On Friday, Windows beta user and routine leaker Albacore shared several screenshots of the latest Insider Preview build 23451. These shots come from the ultra-early Canary test build, and show a new "Home" tab in Settings that includes a notice to "Try Microsoft 365." This appears to link to a free trial of the company's office apps suite. There's also a notice for OneDrive and another to ask users to finish setting up a Microsoft account, advertising users can use the 365 apps and its cloud storage on desktop. Another notice in the Accounts tab also blasts users with a request to sign in to their Microsoft account.
These ads are very similar to other preview builds with so-called "badging" that shows up when users click on the Start menu. In that menu, the ads are more subtle and ask users to "Sign in to your Microsoft account" or advertise to users that they can "Use Microsoft 365 for free," of course ignoring that users have to input their credit card information to access their free month of office apps.
Microsoft declined to offer additional comment beyond what was mentioned in its Build 23451 blog post. It's clear the Redmond, Washington company is seeing how far it can get with ads for its own services inside its OS. Albacore wrote the test Settings page has been hidden "for a few weeks," though it's received more of these cards, AKA ads, over the last few builds.
Based solely on the screenshots, it's unclear if users will be able to disable these ads like they can for the Start menu (by navigating to the Settings menu). This version of the Home tab on the Settings page doesn't seem to include anything but the ads themselves.
Microsoft has been trying to push its 365 apps recently, with updates that add AI features to apps like Word, Excel, and PowerPoint. The company retired the old Office monicker late last year in a rebranding and consolidation effort to fight off Google's own suite of cloud-based workspace apps.
Windows 11 can already be a hard sell over Windows 10, especially considering how it took Microsoft quite a while to add new features like File Explorer tabs and a native video editor. The problem for Windows 10 holdouts is that Microsoft said it is no longer providing any new feature updates to its earlier OS. In addition, the company won't provide any new security updates for Home, Pro, Enterprise, and Education versions of Windows 10 starting in October, 2025. Announcing the new client roadmap, product manager Jason Leznek said the company "highly encourage[s]" users transition to Windows 11.
Unfortunately, with all these proposed additions, Microsoft is making that transition a much harder pill to swallow.
---
Want more of Gizmodo's consumer electronics picks? Check out our guides to the best phones, best laptops, best cameras, best televisions, best printers, and best tablets. If you want to learn about the next big thing, see our guide to everything we know about the iPhone 15. Click here to save on the best deals of the day, courtesy of our friends at The Inventory.
Update 05/08/23 at 4:11 p.m. ET: This post was updated to include that Microsoft declined to comment further.