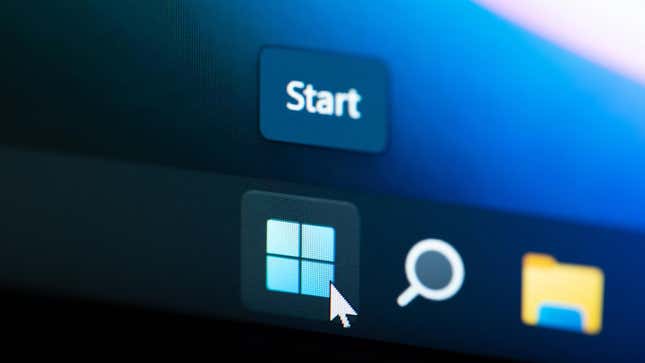 Microsoft's latest Windows 11 update, released Tuesday, offers a few small bug and compatibility fixes as well as a lighter taskbar. Oh, and there's one small, tiny extra detail. A "small" number of Windows 11 users will now see "notifications" encouraging them to use other Microsoft products when clicking on the Windows Start Menu. Many Windows users are already decrying the change as just another way Microsoft is trying to shove more native ads into its operating system.
How to Hide Your Sensitive Images in Google Photos
These definitely-not-ads appear as a kind of promotion when users click on the Windows button on the desktop, asking them to, for instance, "Back up your files." Clicking the "Start backup" button will open OneDrive, enticing users to sign up for Microsoft's cloud backup service (you get 5GB of OneDrive data for free, but that's not enough for a full backup). Microsoft shared a small screenshot of what the promotions look like, with the text appearing directly above a user's sign out and account settings options.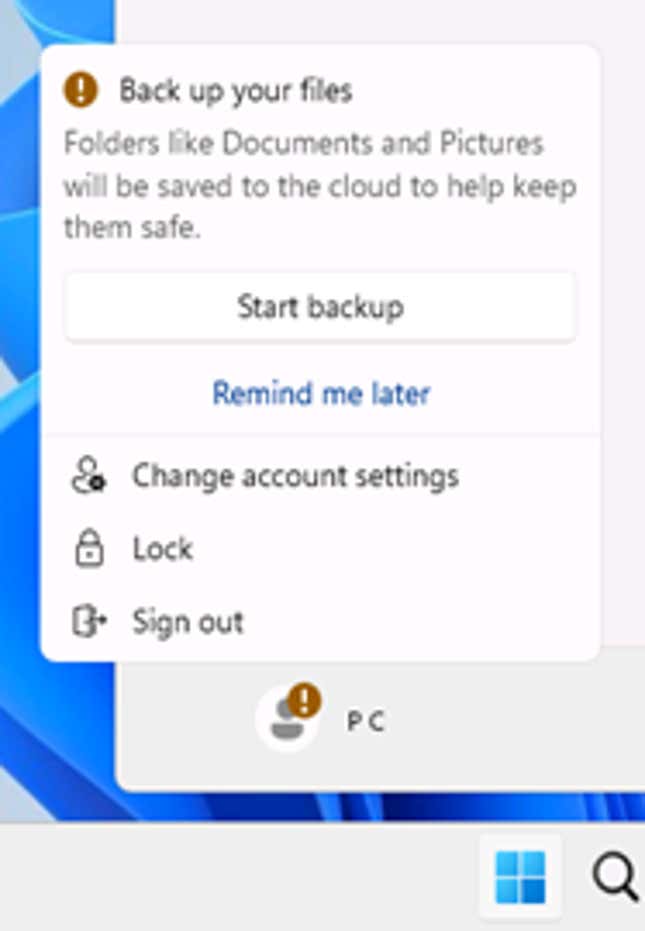 Gizmodo was unable to test these new ads, though previous reports from beta users of Windows Insider confirmed the new feature. According to the Neowin tech blog, beta users were able to disable the ads by navigating to Settings, Personalization, Star, and then clicking off "show account related notifications occasionally in Start." According to Microsoft's Windows 11 preview release notes, the notifications are only being deployed to a small audience but will reach "more broadly in the coming months." The company is looking for feedback from the few who are seeing these pop ups in their task bar.
These not-ads have been a long time coming. The Windows beta user Albacore originally tweeted about these OneDrive promotions in the Start menu back in November last year. Those screenshots also showed Microsoft had considered advertising to users to sign up for a Microsoft account here as well.
Windows 11 beta users have shared screenshots showing Microsoft may not just stop at putting "notifications" in the Start menu. Windows Insider user Florian posted a screenshot of an ad appearing in file explorer with a message near the top advocating for Microsoft Editor. As BleepingComputer pointed out last month, Microsoft has long tried promoting products like its Edge browser directly inside the Windows 10 Start menu and File Explorer.
Despite some updates offering clear improvements for the OS, such as tabs on File Explorer and a native video editor, Microsoft has been trying to put its software suite front and center on its operating system. In February, the company baked its Bing AI directly into the Windows 11 taskbar. The OS has also added an annoying watermark on any computer that doesn't meet its official requirements.
The best thing Microsoft could do at this point is just respect that its customers will use a service that's worth using. With Windows 12 still on the horizon, we'd hate to see a future where Windows bombards users with ads for services they have no intention of using. It would truly be a shame if Microsoft breaks its "wait for every other OS release" streak in what could come as soon as 2024.
---
Want more of Gizmodo's consumer electronics picks? Check out our guides to the best phones, best laptops, best cameras, best televisions, best printers, and best tablets. And if you want to learn about the next big thing, see our guide to everything we know about the iPhone 15.