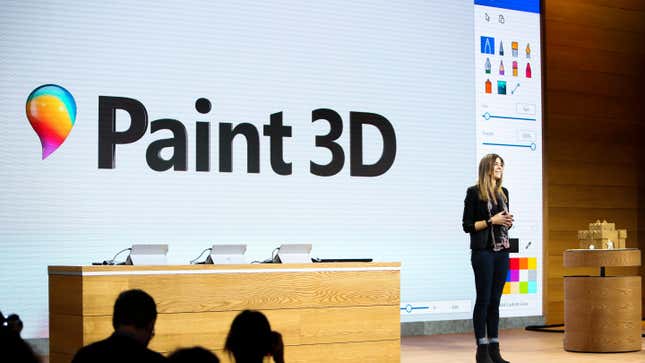 Microsoft is on a bit of an AI kick, but its efforts to shove generative capabilities into its Bing browser and Windows 11 itself have only helped emphasize how its forgotten apps like Paint have remained stranded in time. However, far from adding Ferrari-level AI capability to its old jalopy of a scribble tool, Microsoft is merely testing copy and pasting an AI art generator into Paint.
Warning! Microsoft Wants ChatGPT to Control Robots Next
According to Zac Bowden from Windows Central, Microsoft has at least looked at sticking some AI capabilities into Paint as well as the Photos app and cumbersome screencapper Snipping Tool. According to unnamed sources cited by Bowden, the update to Paint would work akin to the current DALL-E 2-based Bing Image Creator AI art generator. Users could use the tool to create a new canvas to scribble their crude drawings on.
There are existing tools to turn Paint-like scribbles into AI art based on a prompt, but the report does not mention whether Microsoft is working on any similar functionality. Otherwise, the other AI functions Microsoft is reportedly testing are mere modernizations for existing apps. For Photos, the company is reportedly working on bringing Android and iOS-style cut-out features to its image-viewing app. The AI would identify objects or people in photos for users to crop out and paste elsewhere.
Snipping Tool is the odd man out in any case. Windows' base screencap functionality has lagged behind Mac for many years now, but even this update won't make taking on-screen snapshots any easier. Instead, Microsoft is trying to add optical character recognition, or OCR, into the Snipping Tool. This would allow it to identify text in a screencap for users to copy to the clipboard. Both Google and Apple's smartphones have long had this OCR capability, and the feature has only improved with time.
Microsoft has been working incredibly fast rolling out its generative AI capabilities to its other, much more popular 365 workspace apps. If the company is truly considering AI updates to some of these older apps, we'll likely see them in the next few months. Gizmodo reached out to Microsoft for comment, but we did not immediately hear back.
Paint hasn't received any big additions since Paint 3D back in Windows 10. Both Photos and Paint received new layouts with the move to Windows 11, but the updates were mostly visual reconfigurations to adhere to Microsoft's simplified UI. If anything, these potential updates only help show how long Microsoft has spent ignoring its default Windows apps.
Rumors have hinted Microsoft could release Windows 12 by 2024, and Bowden mentioned the next OS release will be stuffed to the gills with AI. Microsoft also has an upcoming event on September 21st where the company could expand more on its plans for consumer-grade AI. While we wait to see how Microsoft's new AI groove shakes out, it would be nice to see Microsoft finally modernize apps like MS Paint to be more than the nostalgic, red-haired stepchild of image processing programs.