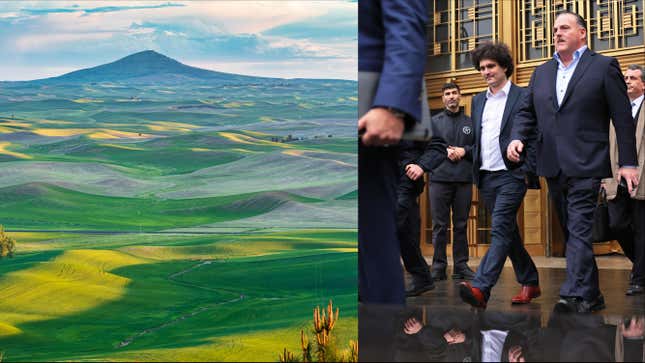 Sam Bankman-Fried's failed crypto empire included dozens of companies under its ragged umbrella, all headlined under the FTX brand. Now that the whole enterprise has gone into bankruptcy, entities both big and small that dealt with any number of Bankman-Fried's defunct entities are trying to get as far away as they can, as fast as possible.
Robinhood App Lays Off 9% of Staff
One of those companies now running for the hills is a miniscule bank located in a small town among the rolling green hills of Washington state just on the Idaho border, one that crypto bros wanted to turn into a major operation for both digital assets and the marijuana industry.
Late last year, after FTX collapsed and a few weeks before Bankman-Fried was brought up on federal charges of fraud and campaign finance violations, a New York Times report noted one of the crypto founder's stranger investments. Through his hedge fund Alameda Research, Bankman-Fried invested $11.5 million in the parent company of Farmington State Bank.
The bank was based in Farmington, Washington, a town of just 146 residents. The Times reported the bank reportedly had just three employees, but the company later claimed it now has more than 35 employees. Still, back in early 2022 Farmington was listed as the 26th-smallest bank out of 4,800 in the U.S., according to the Times. A 2010 report from local paper The Spokesman-Review mentioned the bank—located in a building barely larger than a studio apartment—didn't even offer credit cards or online banking.
The Times report was especially notable because, normally, outside companies require federal approval in order to buy a stake in U.S.-licensed banks. Alameda is based in the Bahamas.
In a release posted Thursday, the small Washington bank announced it was "returning to its original mission" serving its community as a small bank. It was then ending its ambitions to serve both the crypto and weed industries. The bank blamed the "recent events in the crypto assets industry" as well as potential industry regulations for the move.
The bank is also dropping Moonstone as a name entirely, and said customers of the small rural community won't see any change or disruption in services. Before it was bought up, deposits in Farmington would barely reach $10 million in a decade. In late 2022, deposits reached $84 million, the Times reported based on Federal Deposit Insurance Corporation data.
It gets even weirder. The truth was, Farmington State Bank was bought in 2020 by a separate banking company owned by Jean Chalopin, one of the co-creators of Inspector Gadget among other 1980s cartoons. The larger company, FBH, would later rebrand itself as Moonstone Bank. Chalopin was chairman of another bank, Deltec, a Bahamas-based crypto firm known for facilitating the Tether stablecoin. Deltec got in bed with Bankman-Fried and FTX in 2021 with a $50 million loan from one of FTX's sister companies under the West Realm Shires umbrella, according to Forbes.
In January of 2022, Alameda took a 10% stake in FBH to the tune of $11.5 million. That investment was led by Ramnik Arora, a member of Bankman-Fried's inner circle and one of the nine housemates who lived with the failed FTX founder in the Bahamas. Arora was head of product and investor relations. According to an article from The Information, Arora was "integral" to FTX's designs to monopolize the crypto industry in 2022.
Farmington State Bank and Moonstone are the same entity. Its website shares that it was founded in 1887, since Farmington claims to have been around for 135 years. Still, the website never mentioned anything about crypto or marijuana. At least the company doesn't have to pay anybody to change the website.