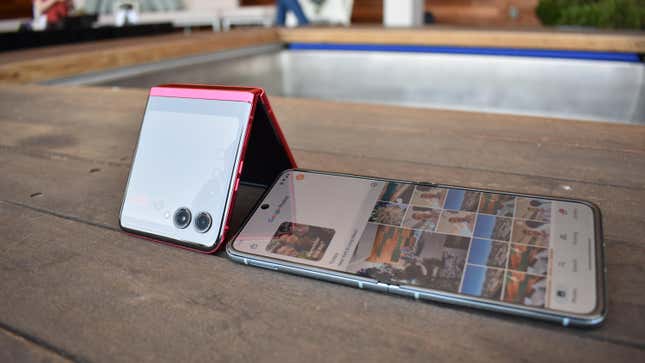 I remember getting my first phone. It was a Nokia flip phone, and not any of the cool ones. I can't even remember the make and model. It was semi-durable. It lasted me through the end of middle school and most of the way through high school. It wasn't pretty, and it's not something I flashed around. In my school, all the cool kids (the ones with wealthy families, as it turns out) all had Motorola Razrs. In my mind, that classic Razr pink color is equivalent to green, as it always left me with envy.
Apple Unveils Its iPhone 15 and Apple Watch Series 9
On Thursday, Motorola announced it's giving folks like me another chance to revel in that nostalgia—or if you're like me—make up for lost time. The Razr+, debuting later this month, is Motorola's new attempt to enter the premium market. It's a clamshell device that finally does away with that unnecessary chin in exchange for a 3.6-inch external pOLED display. That screen is so large it wraps around the phone's camera sensors (more on that later). There's two of those camera sensors on the phone's exterior, one a 12MP main sensor with dual-pixel PDAF, and another a 13MP ultra-wide lens.
The inside contains a pretty massive 6.9-inch FHD+ pOLED display with a 2,640 x 1,080 resolution. Opening it up, there's very little of a noticeable crease, but compared to some other foldables, there's also two exposed hinges along both sides in an attempt to make the folding action more sturdy and potentially help keep some of the dust and lint out. There's a 32MP selfie camera on the inside that Motorola said should be able to shoot 4K video at 60 FPS.
The Razr+ sports a Snapdragon 8+ Gen 1 chip, which is powerful enough though it's not quite as up-to-date as the Gen 2. It's running on 8GB of LPDDR5 RAM and has a standard 256GB storage capacity, though there's notably no other models to upgrade to more memory or storage. Motorola's sticking with a 3,800mAh battery that supports 30W TurboPower charging and 5W wireless charging.
What's more, Motorola's new foldable will come out the gate with a $999 MSRP, positioning it at the same starting price of Samsung's Galaxy Z Flip 4. That's a confident launch, and positions this phone above the brand's other foldables. The phone comes in a glass-backed "infinite" black, "glacier" blue, or—as pictured—a vegan leather Pantone-favorite "viva" magenta that harks back to the Razr days of yore. The Razr+ is set for pre-sale on June 16, with its full release date happening on June 23.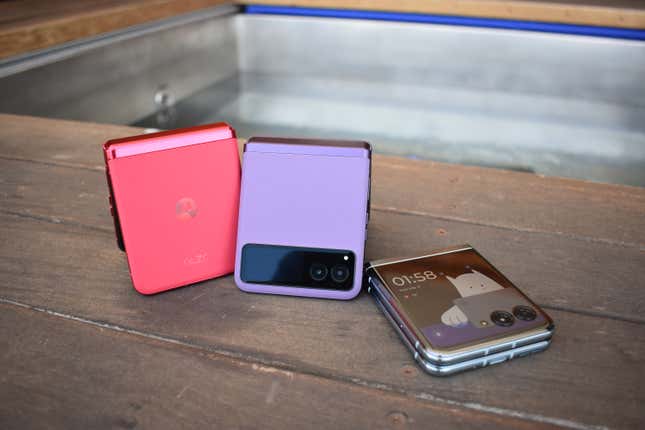 In addition, a second foldable phone, simply called the Razr in the U.S. is expected to launch sometime later this year and is positioned as an update to Motorola's current, more mid-range Razr revivals. The company's upcoming phone lacks the Razr+'s massive external display and sports a much-less powerful processor in the Snapdragon 7 Gen 1. At the same time, it also includes a bigger 4,200mAH battery and should come cheaper than its big brother. Motorola did not say when it expects to drop this phone, but promised more details coming later in the year.
Motorola is learning from its previous foldables
Motorola has tried and failed to capture the foldable magic of decades past, hoping to resurrect its brand image with plays to nostalgia for its old flip phones. Back in the day, the company's Razr series flip phones were some of the most popular on the playground. 20 years later, Motorola claims a hefty chunk of the prepaid phone market share, but not so much when it comes to the premium, out front devices. The company debuted the foldable Motorola Razr smartphone in 2019, but it experienced a glut of post-launch issues, from Verizon exclusivity to major durability problems (a lingering issue with many foldable products). Alongside its mid-range line with its Edge flagship, the company's other devices, like the cheap Moto G Power 5G, are good for their price points but don't make the sort of waves Motorola is looking for.
It means Motorola has a lot to prove with this latest device. One of the issues on past models was how fast the company stopped supporting them with OS and security updates. Now, Motorola promises users can expect three years of OS updates and four years of bi-monthly security renovations. Things have flipped from the company's past outing, and the phone should also now support most major carriers out the gate save for Verizon. The only way to get the phone with that carrier is to buy it unlocked. Motorola said it has no plans to expand those options, at least for the time being.
Compared to some of the beefiest foldables like the Galaxy Z Fold 4, it shuts completely flat, and removing the unnecessary chin from the previous version of the foldable Razr was a smart choice. The Gen 1 Snapdragon is powerful enough for most use cases, and Motorola seems to be taking the same tack as Nothing, with the upcoming Nothing Phone (2) expected to sport the same silicon.
How does the Razr+ feel in the hand?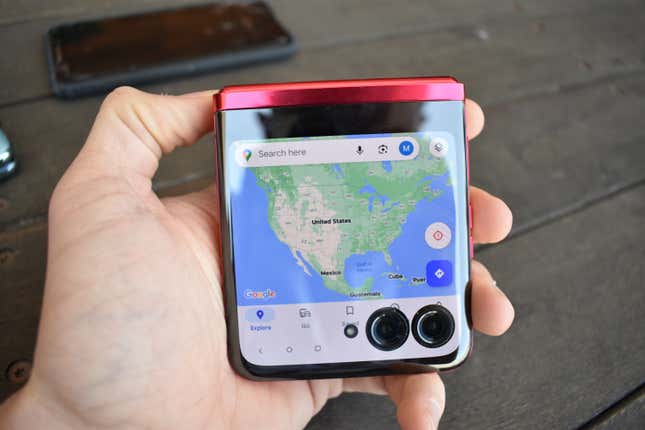 I got to use the Razr+ for a fair bit, and I was a little surprised how nifty that 3.6-inch outside display could be. It's a 1,066 x 1,056 resolution screen that supports HDR10+, and it's nice to be able to use Google Maps or Gmail when the phone is collapsed. Users are able to set which apps they would like accessible from the external screen, and some apps allow for continuous use between opening and closing the phone. The island sits to above the camera sensors when in-use, though users can make the app run "full-screen," which shoots the display past and around the outside sensors.
But then here's the obvious point: how often will you end up smudging your camera sensors? I have pretty nimble thumbs, and even then I sometimes accidentally ran my finger along the lenses. Obviously, Motorola had to make some novel design decisions to facilitate its massive external screen.
Which is interesting when considering the less-capable, and likely cheaper Razr phone. Lacking that big external screen plus having a weaker processor means it's losing out on a lot of what could make the phone unique. But depending on the price point, it could end up being one of the cheapest foldable options on the market.
Despite Google's recent entry into foldables, Samsung still dominates the market, and the Z Flip is easily Motorola's biggest competitor. Opening it up, the Razr+ is long; far longer than I'm used to. It's .7 inches longer than the Z Fold 4, and even though I'm the average height for an American male grown up on a diet of cheap steak, my hand felt small holding it (go ahead and make your jokes about hand size in the comments).
The company is trying to advertise how this foldable is meant for the influencer class or other content creators. You can hold the phone half open like a camcorder to record video or photos, and the phone is hefty enough that it doesn't feel like it will fly out of your hand when doing so.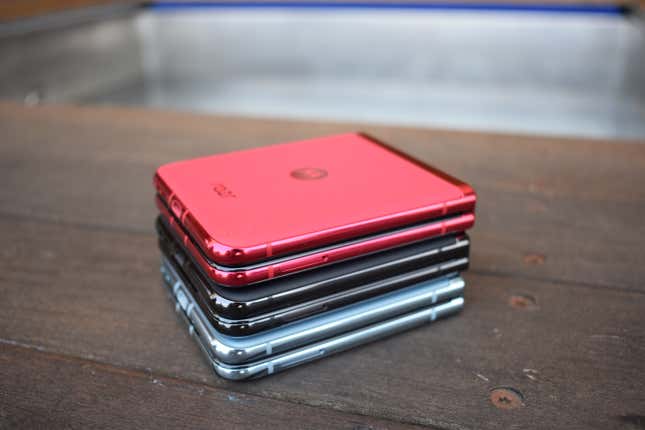 The lenses themselves are more interesting. I didn't get to test the camera extensively, though I have doubts about its sensors. I took some photos and video of a hazy Brooklyn skyline plus a few more micro shots, and I wasn't blown away compared to other mid-range phones on the market. I didn't get to test out its night vision capabilities, but the overall size of the sensors' aperture makes me skeptical. Of course, we would need much more hands-on experience before coming to any conclusion here.
Overall, I came away hesitantly impressed with the Razr+, but like with all foldables, the devil is not so much in the details but in how it will fare with long-term use. I'm hoping the camera proves better than expected, but the large external screen seems far more useful than I originally considered. Whether that's enough to give Motorola's foldables a foothold in the premium arena next to Samsung and Google remains to be seen.
---
Want more of Gizmodo's consumer electronics picks? Check out our guides to the best phones, best laptops, best cameras, best televisions, best printers, and best tablets. If you want to learn about the next big thing, see our guide to everything we know about the iPhone 15. Click here to save on the best deals of the day, courtesy of our friends at The Inventory.