What does a "modular" smartphone even mean? Google thinks it means breaking apart almost every component of a phone, as with Project Ara. LG's newest G5 smartphone has a removable bottom, which allows you to slide on a camera grip or a bigger battery. Today, at Lenovo Tech World in San Francisco, we saw what Motorola thinks "modular" can be. Meet the Moto Z and Moto Z Force.
Yup, the new Motos ditch the "X" moniker and go with a "Z." In addition to new names, Motorola has new ideas, too. Like last year, Motorola's launching two phones—this time both at 5.5-inches—and their flashiest feature is an innovative system for adding on modular components, called MotoMods. Moto takes a different approach to attaching accessories in the form of 16 connector pins on the back. Add-ons simply magnetically snap on to the devices, so there's no need to turn the phone off.
At launch, available Mods include a JBL stereo speaker, a battery pack, which juices your phone for an extra 22 hours, a 70-inch projector, and a bunch of different styled panels. The company is also launching a MotoMods developer program so that other third-parties can get in on the action.
During an on-stage demo with Ashton Kutcher, yeah that dude is still hanging around, the modules snapped onto the the connector pins with near-magical facility. While it's nice not to have to turn your phone off when you add a module—as you must with the LG G5—the attachments themselves look somewhat bulky, so portability could be an issue.
G/O Media may get a commission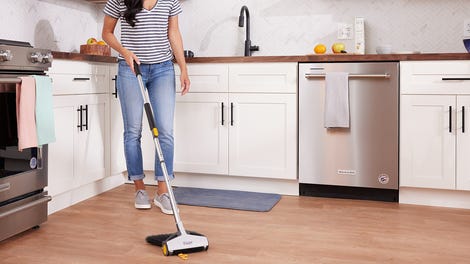 BOGO 50% Off
Flippr - BOGO 50% Off
Other than this radical hardware reinvention, the Moto Z also finally comes with a fingerprint sensor, a hardware feature that Motorola has stubbornly left off its phones for years.
As its name suggests, the Moto Z Force adds a shatterproof display, just like last year's Moto X Force. Yes, it really is shatterproof.
When it comes to the rest of the phone, things are pretty typical—except for one controversial feature, or rather, lack thereof. The Moto Z won't have a 3.5mm headphone jack. Cutting the jack allows Moto to make the phone incredibly thin—just 5.19mm—but it could really piss off people who who haven't yet been sold on the miracle of Bluetooth. The normal Z sports a relatively small 2,600 mAh battery. It's got a 12-megapixel main camera with an impressive f/1.8 aperture lens.
Meanwhile, the Z Force is a bit thicker at 6.9mm and comes with a bigger non-removable battery, which punches at a beefy 3,500 mAh. It also has a higher-resolution 21 megapixel camera.
Both phones sport the latest Snapdragon 820 processor, 4GB or RAM, and a Quad HD display. They come in both 32 or 64GB flavors
The Moto Z and Z Force are just the latest examples of a phone maker looking for innovation outside of the smartphone itself. It's no secret that smartphone sales have cooled worldwide, as huge markets like China and India are slowly saturated with smartphones and Americans are holding onto their phones for longer. The push for both mobile VR and modular accessories are attempts to deal with the changing phone market. Unfortunately, neither has proven itself to be an innovation that people really want. Will the Moto Z and Z Force's ModoMods be different? It's certainly possible.

The Moto Z Droid and Moto Z Force Droid will be available this summer in the US only through Verizon, which seriously sucks. An unlocked version of the phone won't be available until the fall. For what price? Unfortunately, that's still TBD.