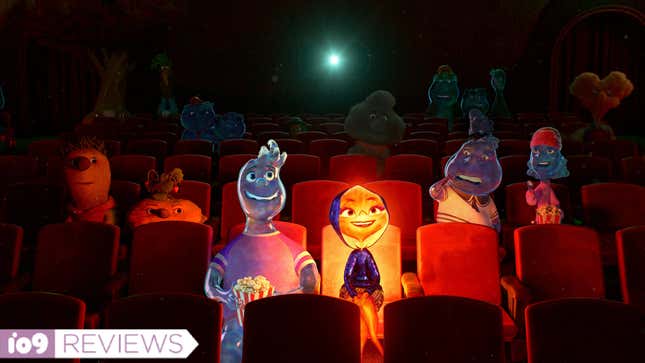 Venture into a new imaginative world where the elements have to co-exist in a society not too different than ours in Pixar's Elemental.

What Exactly is the New Movie, Lightyear?
Director Peter Sohn's follow-up to 2015's The Good Dinosaur is a gorgeously animated and personal story about honoring family by honoring yourself. At its center is a love story between two elements who on the surface look like they can't mix: Ember (a fire type played by Leah Lewis) and Wade (a water type played by Mamoudou Athie). The duo has an enemies-to-friends meet-cute that draws their worlds together in a heartwarmingly funny visual feast.
Elemental follows a classic rom-com structure: two seemingly opposite personality types from different cultures are brought together by fate. Their journey of self-discovery through how they see one another is deeply relatable. Ember, a daughter of immigrants, fiercely runs on making her family proud. I really connected to her mission of honoring their sacrifice in leaving their native fire nation to provide her with a better life. Her dedication poses some serious challenges; it leaves little room for her own dreams, since she's so focused on what her parents want for her. Wade, on the other hand, is ruled by his emotions to the point where he might not be able to get his life on track.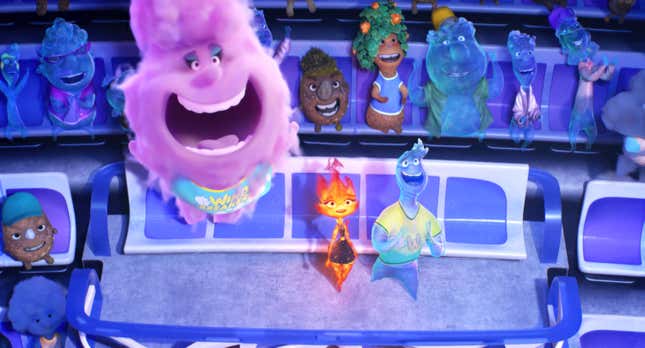 One way we see this happen is that he's constantly moved by the wonders and unpredictability of life in Element City, something he compensates for by doing everything by the book. Since he's a city inspector, that includes writing up the grocery store owned by Ember's family for multiple violations—a plot point that allows the couple to meet, and also inspires them to team up and investigate evidence of Element City not entirely protecting everyone in its jurisdiction. It's here that the film juggles a few too many concepts at once. The rom-com aspects are clunkily interspersed with investigations of secret city meetings, and the end result is a mixed bag. The comedy doesn't always land, either, but Elemental has an endearing quality thanks to the sincerity of its talent, which makes you fall in love anyway.
And in that regard, Elemental shines and soars, particularly when centering Ember's family story. The immigrant journey represented on screen authentically captures the experience of being first-generation in a new world that isn't always accepting or interested in offering the same basic needs for all. That Pixar gut-punch cry really hit close to home for me; there was a scene where little Ember was denied a dream for being different, something that echoed the intergenerational pain her father felt for leaving home. It's still hard to really put into words, but it felt familiar: that daily motivation of not wanting to let your family down for all they've done for you, especially when any sort of failure can feel like you aren't doing enough—even if you've overcome the odds by finding yourself existing in spaces you weren't imagined in. Sohn and his team really put their hearts in this one, giving us another Pixar film that carves out a bold story.
The film has such incredible payoff in speaking to multicultural co-existence only making things better for everyone. The characters feel like fully realized personifications of water, fire, air, and earth; even those we only got to see glimpses of allow the studio's artistry to seep through. I loved the fire folk for so many reasons beyond seeing my family reflected. They reminded me of Calcifer from Hayao Miyazaki's Howl's Moving Castle, but elevated with the feeling of real flames and emotion moving through animation in ways only Pixar can accomplish by pushing the medium.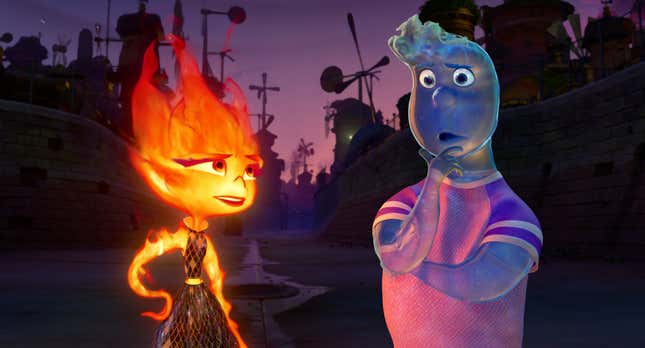 The animation gets a particularly lovely showcase in a sequence where Wade and Ember show off their elemental traits to one other in a way that's transcendent and romantic. It's pure and joyous to see them fall in love. Thomas Newman delivers a new classic score, providing an otherworldly yet recognizable sound for such a powerful story.

Elemental—like Up, Rataouille, and Inside Out—handles complex themes that are made incredibly accessible through the Pixar's knack of wondrous world building. It may take some time for it to find its audience, but it absolutely has the potential to become a new Pixar classic.
Elemental hits theaters on June 16.
---
Want more io9 news? Check out when to expect the latest Marvel, Star Wars, and Star Trek releases, what's next for the DC Universe on film and TV, and everything you need to know about the future of Doctor Who.