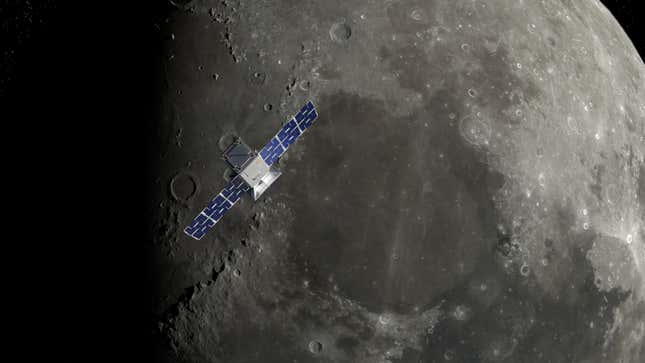 The NASA-funded CAPSTONE probe has been working in a unique lunar orbit since November 13, 2022, where it's setting the stage for a future space station and related space-based technologies. The $33 million cubesat appears to be getting the job done—no small miracle, given the endless issues that continue to plague the mission.

Astronomers Could Soon Get Warnings When SpaceX Satellites Threaten Their View
Advanced Space, the owner and operator of CAPSTONE, issued a mission update yesterday, highlighting recent achievements and frustrations. Short for Cislunar Autonomous Positioning System Technology Operations and Navigation Experiment, the tiny cubesat has hit a number of key mission objectives since reaching space last June. CAPSTONE's operational orbit, known as a near rectilinear halo orbit (NRHO), is of interest to NASA and its international partners, as it's an ideal place for the planned Gateway space station.
The 55-pound cubesat reached its operational orbit in November following a tumultuous four-month journey that included a frightening stint in safe mode, a loss of axis control, and resulting thermal and power issues. Advanced Space, with the help of its partners, managed to resolve these problems, while tracing the issue to a partially opened valve on one of the cubesat's eight thrusters.
CAPSTONE, built by Terran Orbital and funded by NASA, eventually reached near rectilinear halo orbit, becoming the first spacecraft in history to do so. "Two mission objectives were completed during the transfer to the Moon and both directly informed Artemis 1 secondary payloads with regard to radio and ground station performance," Advanced Space said.
CAPSTONE's first 85 days in its near rectilinear halo orbit can be called a success, despite some recent annoyances. The probe has completed 12.5 highly elongated loops around the Moon, six more than the mission's minimal objective. The spacecraft has already managed to survive a pair of lunar eclipses, events that compromise CAPSTONE's thermal and propulsion capabilities, while also performing a pair of course-correction maneuvers that kept the spacecraft nestled within its halo orbit. The team has also run demos of the spacecraft's Cislunar Autonomous Positioning System (CAPS), an experimental spacecraft-to-spacecraft navigational tool that could make it possible for future vehicles to autonomously determine their own locations in space. Despite these achievements, CAPSTONE continues to encounter speed bumps.
The company performed interface tests with ground systems connected to NASA's Lunar Reconnaissance Orbiter, but during the first attempt to gather crosslink measurements on January 18, the orbiter received a signal from CAPSTONE, but CAPSTONE failed to receive crosslink measurements from the returning signal. "This initial attempt is informing subsequent work which will be further evaluated on upcoming attempts," Advanced Space said.
In addition, CAPSTONE recently recovered from a glitch that rendered the probe unable to receive commands from ground teams. The problem started on January 26 and wasn't resolved until February 6, when an "onboard fault protection system" fixed the issue. "Lessons learned from this anomaly will result in operational procedure changes to speed recovery from any future similar anomalies," the company said.
Advanced Space has not immediately responded to our request for more information on these latest issues. In its update, the company said these challenges have showcased the team's "resiliency," a team that includes Terran Orbital, NASA's Deep Space Network, the Space Dynamics Laboratory, and others.
CAPSTONE's fuel gauge is now at 56%, which is enough to keep the spacecraft in its orbit while Advanced Space works to fulfill other mission objectives, such as further crosslink experiments with the Lunar Reconnaissance Orbiter and more demos with CAPS. Here's to hoping that things start to go more smoothly—and less stress-inducing–for the mission.
More: Weeks Before Launch, NASA Tells Private Partner to Change Lunar Landing Site to South Pole