The case of the neo-Nazi in Tampa, Florida who converted to Islam and killed his two neo-Nazi roommates somehow just got weirder. The fourth roommate, 21-year-old Brandon Russell, has now been arrested for possession of explosives. Russell is reportedly a member of the neo-Nazi group Atomwaffen, which is German for "Atomic Weapon."

Russell was roommates with Devon Arthurs, the 18-year-old who made headlines this weekend after he told police that he killed two of his neo-Nazi roommates after he had converted to Islam. Russell, a member of the Florida National Guard, wasn't home at the time of the killings on Friday but was found crying outside when Arthurs led police back to the scene.
Russell apparently fled, but was later pulled over on Sunday in the Florida Keys by Monroe County Sheriff's Office deputies. According to the criminal complaint, Arthurs told the FBI that Russell frequently used neo-Nazi online forums, "where he threatened to kill people and bomb infrastructure."
FBI and local law enforcement found neo-Nazi literature in Russell's bedroom and a framed photo of Oklahoma City bomber Timothy McVeigh on his dresser. But it wasn't just Russell's white supremacist wank material that investigators uncovered. They also found explosives and even radioactive material.

G/O Media may get a commission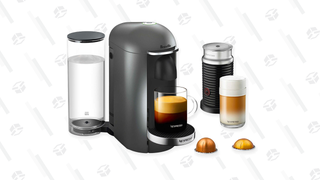 40% off
Nespresso by Breville VertuoPlus Deluxe Coffee and Espresso Maker Bundle
Hidden in a cooler in the garage below the house, investigators found highly explosive hexamethylene triperoxide diamine (HMTD). Russell claimed was used for shooting rockets at the University of Southern Florida engineering club at least four years ago. But the FBI isn't buying it.

"Based on my training and experience, HMTD is too energetic and volatile for these types of uses," FBI Special Agent Timothy A. Swanson wrote in a criminal complaint filed this weekend.
Aside from additional explosives, investigators also found two sources of radiation in the home, thorium and americium, but prosecutors have yet to directly tie them to any plot to be used with explosive materials. Russell will likely be charged for unlawful possession of explosive material, but it's not yet clear what other charges may arise.
The Atomwaffen Division has been suspended on Twitter, but it's not clear if it has any connection to the group that Russell has joined. The Southern Poverty Law Center lists the Atomwaffen Division as a hate group, but hasn't been tracking the group's activities closely.
You can read the entire criminal complaint here.
[Miami Herald and Tampa Bay Times and Associated Press]