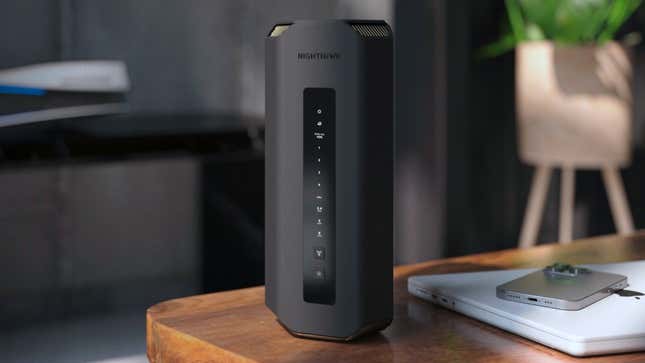 Although it will probably disappoint Netgear fans who've grown fond of the very prominent wing antennas on the company's other routers, Netgear's new RS700 brings wifi 7 support to a more traditional tower design, even though the wifi 7 standard still hasn't been completely finalized.
Don't worry. When the wifi 7 standard (also known as 802.11BE in technical circles) is eventually finalized later this year, there's very little risk that wifi 7 hardware already being sold will be incompatible with it. At this point, a complete re-write of the wifi 7 standard simply isn't going to happen, and there are now more than enough specifications carved in stone to allow companies like Netgear (and its competitors such as Asus and TP-Link) to start introducing wifi 7 hardware to consumers.
So how is wifi 7 better than wifi 6E, which already promised faster wireless transfer speeds and less congestion for the myriad of wifi-connected devices already in your home? For starters, signals on the 60 channels of the low-latency 6 GHz band can be up to 320 MHz wide on wifi 7, compared to 160 MHz wide with wifi 6E. The wider the channel is, the more data it can accommodate and transmit.
Other benefits of wifi 7 include Multi-Link Operation (MLO), allowing signals to be transmitted across multiple bands—like the 6 GHz and 5 GHz bands—at the same time. This further increases bandwidth capacity and is a more efficient use of the analog wireless signals the router broadcasts and receives. There's also 4K Quadrature Amplitude Modulation (QAM), further increasing bandwidth, as well as providing stability improvements, and an overall boost in wifi speeds.
Is it better than wifi 6E? Yes. Will a wifi 7 router immediately benefit your home network? No, simply because none of the devices actually using the network support wifi 7 yet. But that's not stopping Netgear from getting consumers ready.
The tri-band (2.4 GHz, 5 GHz, and 6 GHz) Netgear RS700 router promises a coverage range of up to 3,500 square feet, thanks to a redesigned antenna setup. Eight antennae are now hidden away inside the tower, with connectivity for up to 200 devices at the same time. If that's not enough coverage for your sprawling McMansion, Netgear is also promising future software upgrades, allowing multiple RS700 towers to form and function as a mesh network.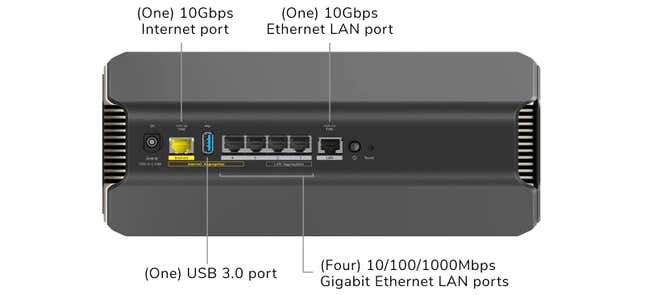 On the non-wireless side of things, the Netgear RS700 includes a 10 Gbps port for the incoming internet signal, a 10 Gbps port for ethernet LAN, four 10/100/1000 Mbps gigabit LAN ports for connecting PCs, gaming consoles, and streaming boxes, and a single USB 3 port for other hardware like a printer or storage drive you want to share on your network. The Netgear RS700 is available for pre-order now for $700 through the company's website, with the hardware expected to ship in the Spring. If you're in the market for a wifi 6E upgrade, it might be an option to consider if you're hoping to future-proof your wireless network, but everyone else should really just wait until next year to even consider a wifi 7 upgrade until connected devices actually support the speed boosts.
---
Want more of Gizmodo's consumer electronics picks? Check out our guides to the best phones, best laptops, best cameras, best televisions, and best tablets and eReaders. And if you want to learn about the next big thing, see our guide to everything we know about the iPhone 15.