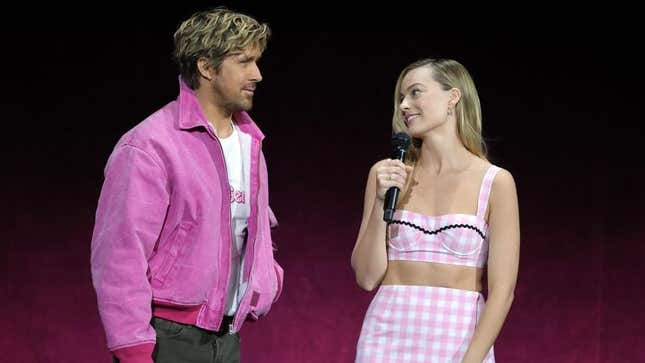 While the world is still basking in the glory of the Barbie trailers that are out in the world, the stars and filmmakers took the stage at CinemaCon 2023 and made things even wilder. Co-writer and director Greta Gerwig was joined by stars Margot Robbie, Ryan Gosling, and America Ferrara to show new footage from this summer's highly anticipated toy film—featuring new characters, new settings, and more clarity on what, exactly, is happening in the film.
Favorite Vampires in Media | Jacob Anderson & Sam Reid
In the footage, Barbie wakes up in her heart-shaped bed. She turns on the shower, but no water comes out, and she pours some milk, but no milk comes out. At the beach, Ken asks Barbie if he can come over tonight, and she says yes. He asks if she has anything planned and she says, nothing really—except the best party ever with all my friends.
At this party, which looks like a disco, a bunch of Barbies are all dancing and discussing how today is the best day ever, just like yesterday and the day before and every day. Then, out of nowhere, Barbie says, "Do you ever think of dying?" The party stops cold.
Barbie says she's noticed that something isn't right. Her showers have been cold, her waffles have been burnt, and, most surprisingly, her heels are now on the ground. When she shows her friends her feet they scream "Flat feet!" and everyone acts like they're going to die. One Ken even sees it from afar with his binoculars and starts gagging. The friends say there's only one place Barbie can get answers—and it's from Weird Barbie.
Barbie drives to a remote house high in the hills with a fake-looking dog that seems to be pooping rainbows. It's the house of Weird Barbie, played by Kate McKinnon, looking like you'd imagine a Kate McKinnon Barbie to look. Colorful, disheveled, paint on her face, just a mess. Barbie tells her about the flat feet problem and Weird Barbie gives her a choice. She can stay in the world she's in, represented by a high heel, or she can know the truth, which is represented by a Birkenstock. Barbie chooses the first one, but Weird Barbie is confused because she's supposed to choose the second.
Barbie is driving in a car, singing, and Ken pops out of the trunk and starts singing along. They both scream and do the rollerblade joke we've seen in a previous trailer.
And then, finally, we see the footage that has not yet been in any trailers: Ken and Barbie in our world. They're rollerblading at Venice Beach (which we've seen in the famous paparazzi photos from last year) and people are laughing at them. One guy slaps Barbie's butt and she punches him in the face. Smash cut to her and Ken being booked and put in jail.
A boardroom, led by Will Ferrell, seems to be going crazy talking about the dolls having broken loose. America Ferrara's character is shocked by this too but seems to want to help Ken and Barbie. There's a shot of John Cena dressed like a mermaid. Rhea Pearlman gives Barbie advice. Barbie complains that she keeps being arrested. Ken, dressed in a large fur coat with no shirt, says that he wants to name this place "Ken's mojo dojo casa house." Barbie and two young girls point out how redundant it is but Ken doesn't care.
A montage of footage, including a bunch of people on a tandem bike and more, ends with Barbie taking a drink from a glass and the liquid going all over her face. She says she's not used to having anything in the glasses. Finally, in a hospital, Ken wants to perform "just one" appendectomy. But the doctor, a woman, tells him he can't. Ken says wants to talk to a real doctor. He asks her to get a cup of coffee, but she says no. Ken just keeps saying what he needs, including a "sharp thing," and the doctor says to call security.
It's very clear here that Barbie will lean heavily into the idea of toys realizing they are toys and also a fish out of water scenario, but with a nice, heavy dose of existentialism on top. We can't wait.
Barbie opens in theaters July 21.
---
Want more io9 news? Check out when to expect the latest Marvel, Star Wars, and Star Trek releases, what's next for the DC Universe on film and TV, and everything you need to know about the future of Doctor Who.