Readers are in for a ride with Rachel Bach's entry into science fiction, Fortune's Pawn, which has been called a Firefly-meets-Lois McMaster Bujold tale. It's fun, rough and tumble, and has an exciting cast of characters — though the plot itself is a little uneven.
Mild spoilers ahead.
It's easy to see the similarities to Joss Whedon's short-lived show Firefly: Devi Morris is an armored mercenary who's hired aboard a ship called the Glorious Fool, a transport who's gained a reputation for the frequent scrapes that it gets into. Devi, who's aiming for a slot with the King's elite armored corps, Devastators, has ambition to spare, and takes the job. As she gets used to life on board the Fool, she's thrown into the continual trouble that the ship gets into, some complicated romantic entanglements with another crew member, and has run-ins with a diverse mix of alien crew. It's not long before Devi realizes that there's something strange going on with her shipmates and her legendary captain.
G/O Media may get a commission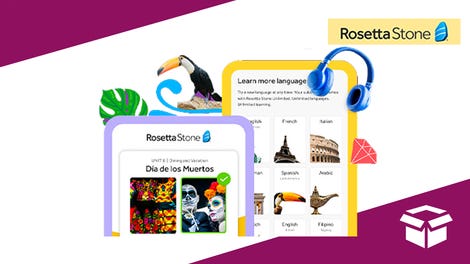 Extra 20% off
Rosetta Stone Lifetime Subscription - All Languages
Fortune's Pawn is a real joy to read, bringing back memories of the stories I loved as a teenager: novels such as Timothy Zahn's Icarus Hunt and films such as Star Wars and Titan A.E. This is pure pop space opera that harkens back to the golden era, abit with some modern updates. Bach weaves together a world that feels very well-worn, with plenty of supporting history, background and a social mix that lends itself well to some promising overarching stories. Fans of A.E. Van Vogt and John Scalzi will feel right at home here, with adventure right around the corner, hostile aliens and humans and a crew that's just trying to hold everything together to make the next shipment.
Central to the story is Devi, and it's nice to read an action-oriented book with a hero who doesn't quite fit that mold. Devi's tough, completely in love with her job and focused on her career, but enjoying her life and work environment as much as she can. Bach spends a lot of time (almost too much) with vivid descriptions of her suit of power armor, dubbed 'Lady Grey', and her weapons, Phoebe, Mia and Sasha, as she cuts through, shoots and blasts her way out of trouble.
Handled improperly, Devi would be a one-dimensional character, but Bach teases out some other sides to her. She's enamored of Rupert, the Fool's cook, and actively courts his attention, even as it becomes clear that there's something different about him. She's also a curious, loyal figure who's ready to look deeper into strange happenings, even when it causes more trouble than it's likely worth. Her exploits make this action/romance/space opera a well-rounded affair, and she's the highlight of the book.
Bach writes with a casual, readable style: the Fortune's Pawn flies by in no time. If there's any issue that I have with the book, it's almost too light, the writing a little too casual. There's a repetitive nature to some of the scenes and dialog, and at the end, it felt like a lot of filler.
Reaching the end of the book, it's clear that this trilogy's going to be one where the stories are closely tied together, almost as though they were part of a single work and then split apart into separate volumes. There are quite a few character and story elements that feel like they're left hanging by the time that the novel reaches its end, even as the reader's let in on some of the larger story elements that are guiding the characters. This is good and bad: Fortune's Pawn is an explosion out the gate, and if we're going to see this story escalate, the next two books are going to be just as much fun as the first.
This year's seen a number of fantastic releases (and a bunch from Orbit), and I've found myself wondering where the bar ultimately lies. Already this summer, we've seen some fantastic space opera: James S.A. Corey's Abbadon's Gate and John Scalzi's Human Division come to mind, while Ann Leckie's Ancillary Justice seems to have collectively blown us all away.
I'm not sure that Fortune's Pawn carries quite the same weight as those novels, but then again, should it have to? It's a fun novel that's amped up on a good dose of rocket fuel, power armor and plasma swords. At the end of the day, it's good and entertaining enough for me. Even more fortunately, the sequel Honor's Knight is due out in February, while the final book Heaven's Queen is due out in April of next year. Hopefully then, we'll get answers to some of our questions.