Cool-er's lineup of readers is getting new models such as the super-small Compact, the Wi-Fi-enabled Connect, and the appropriately named 3G. Based on previous models, it's quite possible that these will find a place in the hearts of bargain shoppers.
We've seen 3G, Wi-Fi capabilities, touchscreens, and the like in plenty of readers on the market. What Cool-er focuses on is putting those features into lighter, thinner, and cheaper gadgets. I suppose that explains why they saw the need to make the Compact and announce that it's got the smallest footprint of any reader out, even if Sony might disagree with that claim. Either way, the Compact is still among the smaller devices and still sounds rather good given Cool-er's budget-friendly price tags.
Thes new readers will be shown off at CES, but they'll be hitting the shelves Spring to mid-2010.
Interead Announces New COOL-ER Ereader Models

LAS VEGAS, Jan. 4 /PRNewswire/ — Interead, makers of the COOL-ER line of ereaders, today announced new models that will be introduced at the 2010 International CES® in Las Vegas.
* At only 6.7" x 4.6" x 0.41" (170 mm x 117 mm x 10 mm), the amazingly affordable and portable COOL-ER Compact has the smallest footprint of any ereader while still maximising the reader experience with a 6" E Ink® screen. With 2GB onboard memory (expandable via SD card to 6GB total), it easily holds thousands of ebooks.

* COOL-ER Classic, the lightest and most elegant ereader currently available, has quickly become a favourite of readers around the world, and will be offered in exciting new colours.

* Weighing in at only 5.8 ounces (164 grams), COOL-ER Connect adds the convenience of WiFi and ease of a touch screen, ideal for readers on the move.

* Available in mid-2010, COOL-ER 3G adds robust 3G connectivity to the ereader experience to download 1,400+ periodicals and 2 million + books wherever they are.

All COOL-ER ereaders come in numerous vibrant colours, which now include Midnight Blue and Orange Crush, bright new additions to the colour line-up. Working in every country on the planet, COOL-ER ereaders support ebooks in every language and have menus in English, Spanish, Portuguese, German, French, Russian, Japanese and Chinese, and also support multiple zoom levels to create a customized and comfortable reading experience.

COOL-ER Classic is currently available from premier global retailers and www.COOLREADERS.com. COOL-ER Compact and COOL-ER Connect will be available in Spring 2010, and COOL-ER 3G will be available in mid-2010.

Any of the more than 2 million books from COOL-ER's companion online bookstore, COOLER-EBOOKS.com, can be shared with up to five other readers to let friends and families share the works they love. COOL-ER works with ebooks in all commonly used ebook formats, including EPUB and PDF.

Neil Jones, Interead's CEO, commented: "As we have seen the ereader market evolve over the last year, it has become clear that the ereader is now a lifestyle device—not just a niche gadget. As such, it's important that we offer a range of ereaders to accommodate a variety of preferences and reading habits, and this product range does just this."
G/O Media may get a commission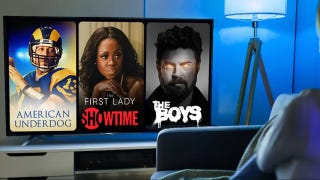 UNDER $1
99¢ Prime Video Channels
[COOL-ER]