The Russo brothers accidentally confirm one hero for Avengers: Infinity War. The Power Rangers director discusses those new ranger costumes. The Librarians casts a new potential antagonist. Plus, even more Civil War footage, teases for the Arrow season finale, and new Psylocke footage from X-Men Apocalypse. Spoilers!
Rogue One: A Star Wars Story
Making Star Wars reports—and confirms, through sources—that Darth Vader, repeatedly rumored to be involved, is almost assuredly in the film.
On top of acknowledging the faithful recreation of the A New Hope costume and that actor Spencer Wilding is physically portraying the character, the story also notes that a shot in the first trailer for the film of a large, smoking tank—seen above— in fact houses Vader himself. According to the report, Vader is in the tank while getting replacement cybernetic limbs and repairs to his body. As ever with reports like this, take it a healthy dose of skepticism... beyond the seemingly certain appearance of Darth Vader, at this point.
---
The God Particle
Elizabeth Debicki is in talks to join the film, about astronauts discovering a scientific element that changes everything humanity knows about reality itself. [Variety]
G/O Media may get a commission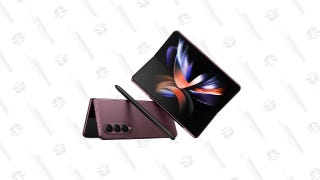 Save Up to $300
Galaxy Z Fold4
---
Power Rangers
Director Dean Israelite discusses the newly revealed Ranger suits, confirming that they are extraterrestrial suits that "crystallizes" around the teens:
The show was about kids coming of age, about metamorphosis. These suits needed to feel like they were catalyzed by these kids and their energy, their spirit.
---
Intelligent Life
Ava Du Vernay has departed the project about a UN Employee tasked with monitoring the search for alien life, who also falls in love with a woman who might be an alien, citing scheduling conflicts. [THR]
---
Avengers: Infinity War
During a talk at Smithsonian Institute (reactions to which can be found here), the Russo brothers accidentally confirmed the unsurprising news that Carol Danvers will appear as Captain Marvel in the movies—before quickly joking that they really meant "new" character Captain Barvel instead. [Comicbook.com]
---
Jekyll
Lionsgate is developing an adaptation of Steven Moffat's 2007 TV series take on the Jekyll and Hyde story. The screenplay for the film will be written by Anthony Bagarozzi and Charles Mondry. [Den of Geek]
---
Teenage Mutant Ninja Turtles 2
The turtles fly in style in some new character posters. [CBR]
---
X-Men: Apocalypse
Here's a very brief new promo focusing on Psylocke.
---
Kubo and the Two Strings
The final poster for the film has been released. [ComingSoon]
---
Captain America: Civil War
To celebrate today's launch of the film in the U.S., here are two more TV spots.
---
The Librarians
Vanessa Williams has been cast in the recurring role of General Rockwell, the "tough, brilliant head" of a secret government organization called D.O.S.A. that butts heads with the Librarians. [Variety]
---
Arrow
Here's an incredibly brief synopsis for the season finale, "Schism".
Oliver (Stephen Amell) teams up with a surprising force in an attempt to stop Damien Darhk (guest star Neal McDonough) and his magic once and for all.
A gallery of images from "Monument Point" has been released—click through to see more. [ComingSoon]
---
Outlander
Finally, here's some images from "Untimely Resurrection"—as usual, you can find more at the link. [Spoiler TV]
---
Additional reporting by Gordon Jackson. Banner art by Jim Cooke.