Spoiler revelations! There's a fresh look at James Cameron's weird Avatar, plus Cameron Diaz talks Green Hornet. And Caprica set pics! Fringe alternate-universe details! A FlashForward trailer reveals all. Plus Sub-Mariner, Legion, Twilight, Imaginarium Of Doctor Parnassus, V and Stargate.

Avatar:
Someone got hold of a couple of screenshots from this movie's Comic Con footage, showing a glimpse of the face, and feet, of one of those Na'Vi avatars. Somewhere a blue foot fetishist is very happy. Bigger versions at the link. [MarketSaw]

G/O Media may get a commission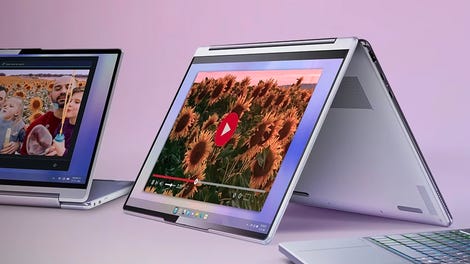 up to 70% off
Lenovo Spring Clearance
Green Hornet:
Cameron Diaz will play Lenore "Casey" Case, the assistant to Britt Reid, aka the Green Hornet. In the past versions, Casey was one of the few people aware that Britt was the Hornet. But in this new version, Casey's an amateur sleuth who's obsessed with forensics TV shows — and who doesn't know her boss is a real-life crime-fighter. [MTV via Comic Book Resources]
Sub-Mariner:
Jonathan Mostow is still lined up to direct this Marvel superhero movie, possibly after he's done with the upcoming Surrogates. But Mostow said, in a couple different interviews, the script still isn't quite right yet. He does note that the story of Namor, the amphibian prince of Atlantis, is set up at Universal — so Namor won't be part of the wider Marvel universe centered around the Avengers and stuff, unless Marvel and Universal make a deal. (Which seems unlikely somehow.) [JoBlo and Collider]
The Imaginarium Of Doctor Parnassus:
A couple new stills from this Terry Gilliam rabbithole journey. [IGN]

Twilight:
Continuing the trend of real actors getting cast in these movies, Catalina Sandino Moreno will play Maria, a woman who tries to raise an army of vampires with the help of Jasper (Jackson Rathbone). [THR]
Legion:
We showed you the "redband" adults-only trailer for this angel gorefest the other day, and now here's the family-safe greenband trailer:


Caprica:
Luciana Carro, who played Kat on BSG, will be in at least five episodes of Caprica — but it's still not clear if she's playing a character connected to Kat, or someone totally new. [Battlestar Blog]
The BSG prequel was filming in downtown Vancouver, at the Central Library. Polly Walker, playing Sister Clarice, was there, and so was Esai Morales, lurking amongst the crew. The set-up for a tense courtroom scene? Is Joseph Adama going to push Sister Clarice to reveal the truth about her involvement in the bombings? More pics at the link. [The 13th Colony via Battlestar Blog]

Fringe:
Co-creators Roberto Orci and Alex Kurtzman say the dynamic will shift a bit in season two: Peter will be taking charge more, while Walter will have more freedom than, perhaps, he ought to have. Explains Kurtzman:
Last year, it was very much about Peter finding himself blackmailed into the position he was in, of having to be his father's caretaker. He was always faced with the possibility of running. What was interesting to us was that he was a character who could bail on everyone else, at any second. I think a lot of what happened, towards the end of last season, and what we see at the beginning of this season, is leading to his commitment to say, "I'm the guy. If we're going to do this, we're going to do it my way. I'm taking charge now. If you want me to help in the Fringe division, then you have to go through me to figure out how we're going to get to cases." That's going to be a very different way of approach for the character.
And they claim that in their alternate world, the terrorists hit the White House instead of the WTC on 9/11, and Kennedy's still alive. At first, Olivia will be the only one going over to the alternate world. [IESB]
Actor Jovanna Huguet twittered that she's landed a "sweet role" on this show. [SpoilerTV]
FlashForward:
In the pilot, when everybody sees a couple of minutes of their future (six months later) the glimpse saves one character from attempting suicide. Another character worries they'll relapse into alcoholism, and a third worries their marriage will end. Gabrielle Union, who plays the wife of John Cho's FBI agent character, says her own "flash forward" is uplifting. And Cho's chracter doesn't tell her that he sees nothing at all in his flash forward, at least not in the first few episodes. [Sci Fi Wire]
And here's a new promo that explains the whole story in 30 seconds:


V:
The show is looking for someone to play a new character in episode two: Billy Hamil, a young guy in his late teens or early twenties, who's been having terrible dreams and is afraid they'll come true. He lost his parents a few years ago and is alone and impressionable. A woman in her early 30s, Teresa, befriends Billy. She's a lovely woman with lots of inner strength. [SpoilerTV]
Stargate Universe:
David Blue's character, Eli, will be the grounding force, who offers the "fish out of water" perspective that many viewers can relate to. Even though Eli's a genius, he's not really a junior version of Rodney McKay — if anything, he's closer to O'Neill. [Joseph Mallozzi's blog]
Additional reporting by Shaun aka 5AMFrenchToast