The classic Teenage Mutant Ninja Turtles are being totally reinvented for a new animated series... but in a good way. Yesterday at Comic Con, we got a chance to see a panel featuring series executive producer Ciro Nieli (Super Robot Monkey Team Hyper Force Go!), who explained how he is taking the best of previous Ninja Turtles stories, and shaking things up a bit to create this new series.

Major Changes
Splinter is the recipient of the biggest changes in the new animated series. The new version of Splinter is physically a different character –- roughly the size of the four turtles and extremely agile. Splinter will enter into combat situations during the series, helping the Turtles to fight Shredder and other baddies.
The age of April O'Neill is being dropped to 16, to create more of a brother/sister vibe with the Turtles. Early CG shots also showed Donatello's weapon, the classic staff, looking slightly altered, with a blade added to the end.
Back to Dimension X
The new series will star several classic villains — including everyone's favorite disembodied brain from Dimension X. Kraang made an appearance in test footage shown during the panel, in a clip wherein he enveloped Michelangelo's head and covered it with pink brainy mucous.
Leatherhead is being revamped to fit the darker style put forth by Kevin Eastman and Bryan Talbot in the Mirage Teenage Mutant Ninja Turtles comic series. General Traag returns as well, but instead of being a humanoid rock from Dimension X, Traag is now 17 feet tall and vomits lava. The Rat King is also getting a major overhaul — the disheveled hobo who commanded rodents in the sewers is now a rat-like villain with sympathetic, Shakespearean qualities.
G/O Media may get a commission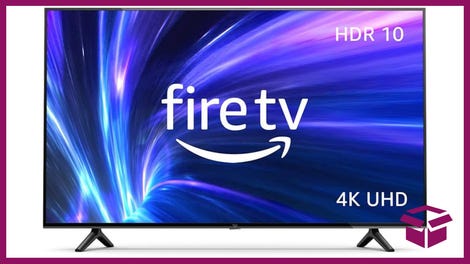 42% Off
Amazon Fire TV 50" 4K Smart TV
Voices old and new
Rob Paulsen, the original voice of Raphael will return to the show as the voice of Donatello, creating a link to the original animated series.
The star of the new voice talent is easily Kevin Michael Richardson, who voices a booming, sci-fi influenced version of Shredder — a voice that easily surpasses the original. Jason Biggs (American Pie), Sean Astin (Goonies, LotR), Greg Cipes, and Mae Whitman (Scott Pilgrim) join round out the new voice actors in the newest incarnation of TMNT.
Paying homage to the source
Kevin Eastman disguised himself as a pizza delivery guy in a surprise appearance, prior to the end of the panel. Eastman brought along short clip from the first episode, featuring a sparring scene in an underground dojo. And he also debuted the revised intro for the series. A portion of the original theme and style of the 1980s animated series title sequence is still present, with the intro ending on an image drawn from the cover of 1984's Teenage Mutant Ninja Turtles #1. This new era of animated Teenage Mutant Ninja Turtles will start September 29th on Nickelodeon.