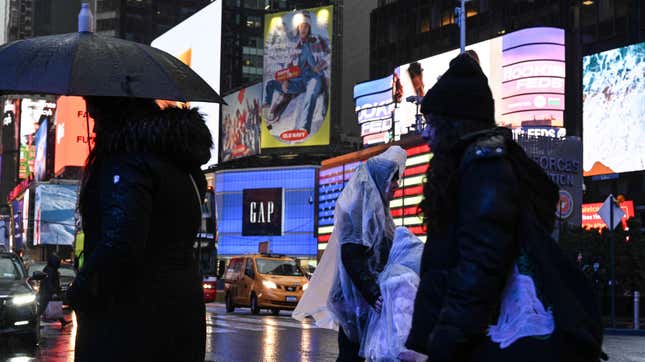 I moved apartments last month and, in a fit of unusual preparedness, I made sure to get my snow boots and gloves out of storage and keep them at the front of my closet when I unpacked. I was anticipating a January like I've had in the past few years of living in Brooklyn, dotted with regular snowstorms and bitingly cold drifts that make walking the dog a challenge in the morning.

One month later, I'm still waiting, and wondering, where all the snow in New York is.
I'm not alone. As the West Coast piles up with (much-needed) snow, and the Midwest hunkers down for some serious storms this weekend, lots of us living in the mid-Atlantic have seen no snow at all this season.
"That whole corridor – New York, Philly, Baltimore, D.C. – they haven't had any accumulating snow yet, which is highly unusual," Tom Kines, senior meteorologist at AccuWeather, told USA Today. "And even up into Boston, even though it's snowing up there (Monday), they haven't had a whole lot of snow there either."
In New York, there has not yet been any "measurable" snowfall this winter—defined as at least 0.1 inches (0.3 centimeters) that stays on the ground. (Snow that falls and then melts, which has happened a few times this season, is known as "trace" snowfall.) The city's record for the longest beginning of winter without any measurable snowfall was set in 1973, when the first snowfall fell on January 29.
Dave Radell, a meteorologist with the National Weather Service, told Gothamist this week that it's "less and less likely" snow will fall before that date this year, thanks to above-freezing temperatures forecast for the next few days.
"It looks dry for the next several days," he said. "We are going to make a run at the latest date of the first measurable snowfall in the city."
There are a couple of different factors driving our snowless January. A lot of the major storms that have hit surrounding states with snow simply haven't made their way over to the coast this season, Kines told USA Today.
Then, of course, there's the elephant in the room: climate change. Weather isn't climate—warm winters have happened in the past, and a climate-changed world can still deliver biting cold. Counterintuitively, warmer overall temperatures can actually juice up snowstorms when they do happen: warmer air can hold more moisture, which can make for increased snowfall during storms.
But there's no denying that some of these warmer temperatures are playing a role in our increasingly warmer winters. Snow needs freezing air and ground temperatures to fall and stick. This past week, New York saw heavy rains but no temperatures below 35 degrees Fahrenheit (1.7 degrees Celsius), with average temperatures hovering around 40 degrees Fahrenheit (4.4 degrees Celsius)—definitely not cold enough for snow. Statistics from the National Oceanic and Atmospheric Administration show that nearly 80% of weather stations across the U.S. have seen shifts in the type of winter precipitation they experience—rain as opposed to snow—since 1930 thanks to climate change.

Seems like there may be more Januarys in store where I have to wait for snow.