Watch out 432 Park Avenue. There's a new super skyscraper slated for 125 Greenwich Street in Lower Manhattan, and this new tower will be tall. It will be eye-catching. And it will be expensive—so expensive, they're building three floors just for maids.
NY YIMBY just revealed leaked renderings for 125 Greenwich Street, and while the building itself is pretty basic, the schematics are scintillating. According to Nikolai Fedak, there are three floors reserved just for the service personnel:
Residences are separated by mechanicals at levels 39, 55, and 66, and at the bottom of the tower, 24 "maid's rooms" are located on floors 8 through 10, just above amenities and 20,752 square feet of retail.
At 1,356 feet tall, this 77-story skyscraper will stretch so high that it'll top out at just 12 feet below the roof of One World Trade Center. That makes it 23 feet shy of matching 432 Park Avenue's commanding height. And 125 Greenwich Street has the views, too:
G/O Media may get a commission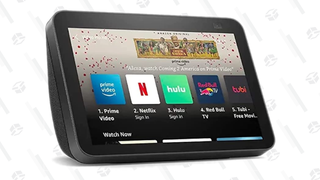 Seriously, everything about this building is tall. The ceilings of what will surely be seven- or eight-figure apartments will be 13 feet-high on the bottom 38 floors, 16 feet-high in the middle, and a whopping 24 feet-high on the top 10 floors. That's tall enough for a small shipping container to stand upright and still have room to spare. It's like taking the height of your friend's Bushwick loft and doubling it. It's insane.
These apartments will, of course, also be insanely expensive. Earlier this year, Michael Shvo along with Bizzi & Partners bought the land itself for $185 million, and that's to say nothing of the cost of building the dang thing. Apartments in comparable—albeit much shorter—skyscrapers are fetching prices north of $100 million, so you can be sure this building will set some records in that arena. It'll also change the skyline of downtown Manhattan dramatically:
That is, of course, if they actually manage to build the thing. Because, let's face it, building a half-kilometer-high structure is no simple engineering task. It's pretty tough actually. But it pays dividends. [YIMBY via Gothamist]