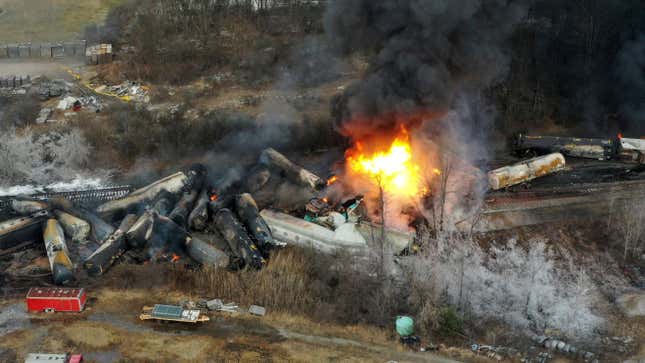 Ohio has filed a lawsuit against railroad Norfolk Southern demanding that the company clean up and pay for the damage caused by the early February derailment in East Palestine, the state attorney general announced today.
Rail Company Sued For Train Derailment in Ohio | Extreme Earth
A press release from the Ohio Attorney General's office says the rail company should be responsible for the present and future costs incurred by the state while responding to the emergency. This includes providing public health resources, and working to prevent future harm to the environment.
"Ohio shouldn't have to bear the tremendous financial burden of Norfolk Southern's glaring negligence," Ohio Attorney General Dave Yost said in the announcement. "The fallout from this highly preventable incident may continue for years to come, and there's still so much we don't know about the long-term effects on our air, water and soil."
The lawsuit describes the derailment as "entirely avoidable" and a result of Norfolk Southern putting company profits above safety. The lawsuit also calls out Norfolk Southern's previous accident rate, stating that it has "nearly doubled in the past 10 years."
The lawsuit reads:

Norfolk Southern has an extensive and tragic history of derailments and releases of hazardous materials, hazardous substances, hazardous wastes, and/or other harmful pollutants into the communities within which it operates, including several events causing injury and death to crew and local citizens, widespread fish kills, and substantial property damage. The Derailment in East Palestine, Ohio was both foreseeable and preventable. Norfolk Southern's own record demonstrates that it knew – and should have taken appropriate steps to prevent – the significant harm that the Derailment would cause the State. ...

The Derailment has caused substantial damage to the regional economy of the State of Ohio, its citizens, and its businesses. The citizens of the region have been displaced, their lives interrupted, and their businesses shuttered. Farmers cannot sell their produce, tourists will not visit the area, and the business activity in the region has ground to a halt. The stigma and economic impacts on the region will be felt for years to come. 
Though no one was hurt during the derailment on February 3, residents living within a mile of the accident were placed under evacuation orders due to fears of an explosion. Officials carried out a controlled release and burning of the chemicals onboard the train the following Monday. Displaced residents were told that they could return to their homes later that week, but many were worried about being exposed to toxic chemicals, which included vinyl chloride.
At first, officials told the public that about 3,500 fish were found dead in local waterways during a press conference. In late February, officials said that more than 43,000 aquatic animals like fish and amphibians likely died because of the derailment.