Orson Scott Card reveals the most difficult thing from his book to translate to the big screen. Guillermo del Toro talks possible casting for Pinocchio. Alan Ball reveals more details about Christopher Meloni's True Blood vampire modernist. Plus, the sibling dynamic we'll see in Thor 2, and Star Trek takes its first movie filming trip overseas.
Deadly Mississippi Tornado Kills More Than 2 Dozen | Extreme Earth
Spoilers from here on out!
Top image from The Amazing Spider-Man.
The Amazing Spider-Man
Mega Bloks, which is pretty much Lego except, you know, not, has released details for its Amazing Spider-Man tie-in playsets. Assuming the descriptions have anything to do with the movie itself, they might reveal a few plot points. First up, here's the description for Sewer Lab HQ, which would seem to confirm where Dr. Curt Connors spends a decent chunk of the movie:
Build and discover the Lizard's secret Lab hidden deep in the sewers under the city with the Sewer Lab Headquarters by Mega Bloks! Doctor Connors fights his slow transformation into the terrifying creature known as The Lizard by setting up his own secret laboratory under the city to test new cures for his condition. Spider-Man in his new Sewer-Camo suit tracks him down and zips down the line, but will he find the Lizard or get caught in his well-planned trap? Can the Lizard be stopped, or has Spider-Man met his match?
And here's one for Oscorp Tower Battle, which suggests the setting of the climactic showdown and reveals the Lizard's likely allies:
Recreate the incredible Oscorp Tower fight scene between Spider-Man and the Lizard with the Oscorp Tower Battle by Mega Bloks! Swing into action with Spider-Man as he uses the crane to catch The Lizard and his S.W.A.T. lizard-brother on the top of the Oscorp Tower! Knock down the Oscorp antenna to set up the big Spider-Trap and send the Lizard flying into a well-placed web! The S.W.A.T. Helicopter with S.W.A.T. Lizard Pilot flies close to the tower and the crane, putting both Spider-Man and The Lizard in more danger high above the city!
G/O Media may get a commission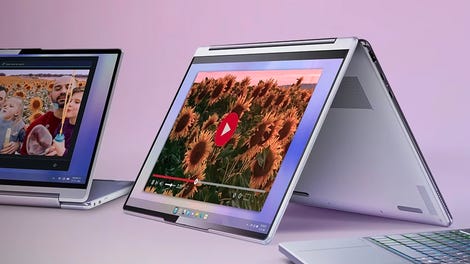 up to 70% off
Lenovo Spring Clearance
For more details and images of the sets, check out the link. [Comic Book Movie]
---
Dark Knight Rises
The skies are stormy over Gotham City in the international character posters. [/Film]
---
Thor 2
Star Chris Hemsworth talks about the ever evolving relationship between Thor and his brother Loki, as played by Tom Hiddleston:
"It's what I loved about the comics. It was never clean and cut and that's it. It was always like, Thor would forgive him, they'd be friends, and Loki would betray him again. 'You idiot, Thor! Again?' But it was different than your normal good guy, bad guy scenario. They're brothers, you know? Anyone with siblings understands that. 'That's it, I'm never talking to you again… want to play football?' He's got to apologize, doesn't he? Baked goods. Muffins or something. That would be a bribe we could start with. Beyond that, I don't know."
---
Star Trek 2
Although principal photography on the Star Trek sequel has wrapped, the movie is reportedly taking a leaf out of the Prometheus and Game of Thrones notebooks and doing some second unit filming in Iceland. Somewhat amazingly, this is the first of the twelve Star Trek movies to do any filming overseas. The shooting will reportedly just be for visual effects shots and not feature any of the main cast, and director J.J. Abrams may or may not make the trip. [Trek Movie]
---
Prometheus
Here is this movie's 39th (!) television spot:

---
Ender's Game
Author Orson Scott Card reveals he recently recorded a one-line voice cameo in director Gavin Hood's adaptation, a role he described as "a voiceover of a pilot making an announcement to his passengers... which comes in the middle of a scene between Harrison Ford as Col. Graff and Asa Butterfield as Ender Wiggin." He added his own thoughts on the surrounding scene:
The scene does not come from the book -– very few of the scenes in this movie do -– so it was amusing when others asked me how it felt to have my book brought to life. My book was already alive in the mind of every reader. This is writer-director Gavin Hood's movie, so they were his words, and it was his scene.
Card also discussed what he sees as the single hardest thing from his books to adapt to the screen:
But the real challenge has always been the freefall movement of the kids in the battle room. Traditional wire work, as in Crouching Tiger, Hidden Dragon and Spider-Man, simply won't work in the battle room, because wires absolutely depend on gravity. That is, they allow actors to defy gravity, but the gravity is still there, revealed in every movement of the actors. In the battle room, with gravity nullified, there is no up or down. Bodies have to move in ways dependent on inertia, not on gravity.

So I always assumed that the battle room would be filmed by animating the human figures and then pasting the actors' face onto the result, figuratively speaking. The trouble is that there are certain fundamental problems that computer animations have not yet solved. There's the walking problem, for instance -– most animations don't show footfalls, because it never looks real. Never. Even using motion capture, there's something false in the way animated feet hit the ground and then flex and extend to move the person forward. So there was going to be a constant challenge in showing the characters hitting walls and rebounding. It was going to be fake, and the best we could hope for was that in the editing, the falseness would be minimized.
He then provides a great overview of how stunt coordinator Garrett Warren solved the problem:
There is a mechanism used for training gymnasts – a wheel they wear around their waists that allows them to rotate in space while suspended from wires. Warren used this on Avatar, which allows a great deal of apparent freedom of movement in space – once the computer artists have erased the wheel rig, you can't tell that there's any way a wire could have been attached. But this is only the beginning. The illusion of freefall depends on the actors' moving correctly. Where gravity naturally draws their limbs downward, in zero-gravity the arms and legs and heads continue in the direction of the last movement, until something stops them. For the most difficult stunts, Warren brought in dancers from Cirque de Soleil. Being gymnasts by training, they tend to be small – they can bring off the illusion of children's bodies.
There's still plenty more at the link, including Card's thoughts on The Avengers. [Rhino Times]
---
Brave
This clever new Brave spot spoofs CD commercials. Order now for ten extra hours of bagpipe music. [via ComingSoon]
---
Seeking a Friend at the End of the World
MTV has an exclusive clip from the pre-apocalyptic comedy in which The Office's Steve Carell and Pirates of the Caribbean's Keira Knightly go on some misadventures in the final couple of weeks before a planet-destroying asteroid hits Earth. The clip is set at an aggressively welcoming restaurant called Friendsy's and features Community's Gillian Jacobs and Cloverfield's T.J. Miller. You can check it out at the link. [MTV Movies Blog]
---
Men in Black 3
Here's a video interview with director Barry Sonnenfeld. You can also check out some more interviews with the cast here. [I Am Rogue]

---
Convention
Ben Kingsley, Jennifer Aniston, and The League star Mark Duplass are reportedly all either attached or in talks to star in this sci-fi comedy produced by Rushmore's Paul Schiff, directed by commercial veteran Justin Reardon, and written by Christopher Painter. Here's the description of the movie, which sounds like it's finally going to find the funny side in higher geometry:
Set at a national box convention, indie pic will star Duplass as an inventor who unveils his latest creation: the five-sided box. The mysterious new design initially seems perfect, until the inventor learns that each time he creates its special fold, he rips a hole in the space-time continuum. It's up to him and his sister to put things back together and save the world.
Aniston would play the sister, while Kingsley's character is described as "a legend in the business who buys the five-sided box and nearly brings down the world." [Variety]
---
Pinocchio
Guillermo del Toro's latest project he swears he's developing along with the other fifty or so other projects he's working on is a stop-motion animated Pinocchio movie co-directed with Mark Gustafson. At Cannes, del Toro revealed that Harry Potter star Daniel Radcliffe had approached him about the movie, with the obvious implication being that he would play Pinocchio. Del Toro also says he wants legendary singer Tom Waits to play a role, with the likely candidates either being Pinocchio's father Geppeto, while either Christopher Walken or Donald Sutherland are possibilities to play the fox. [/Film]
---
The Canterville Ghost
Now that House has wrapped up its generally successful eight-year run, series star Hugh Laurie is doing what we British comedy fanatics have been waiting impatiently to see - he's reuniting with longtime collaborator Stephen Fry, specifically for a computer-animated adaptation of an Oscar Wilde ghost story. Here's the description:
Fry stars as the title character, Sir Simon de Canterville, a 300 year old ghost, while Laurie stars as his nemesis, a lowly gardener who is revealed to be Death himself. Set in rural England at the end of the nineteenth century, it tells the tale of Canterville who, for hundreds of years has been haunting Canterville Chase. Everything changes when an American family - the Otises from Boston - buys Canterville Chase and moves in.
It's not quite the live-action follow-up to Jeeves and Wooster and A Bit of Fry and Laurie that I've been hoping for, but it'll more than do. [Hollywood Reporter]
---
True Blood
Erstwhile Law & Order: SVU star Christopher Meloni reveals his character Roman, the 500-year-old head of the Vampire Authority, gets to stake a traitorous vampire fundamentalist and recites a prayer in Aramaic. Here's how executive producer Alan Ball describes the character:
"Roman is a politician who has a dream. He was behind the coming-out-of-the-coffin [movement], something that's been in the works for at least a hundred years. But there are factions in the vampire community who want to go back to the Dark Ages and feed on humans. The biggest arc in Season 5 is the future of peaceful coexistence." Adds Meloni, "Roman's determined. He wants peace, but others have been trying to stomp out his path. Think Obama with very long incisors."
Meloni explains how his new character compares to SVU's Elliot Stabler:
"Elliot was free-form. Roman's more thoughtful - yet unafraid to pull the trigger. He's a man of action. Get the facts; get it done. But they both have a certainty of their view. They both think they're right."
The article also reveals Bill and Eric will team up at Roman's behest to track down Russell Edgington, which will give the two rivals a chance to make peace with each other. Also, while still a bit broken hearted about Sookie, Bill will apparently have "an unlikely liaison" at one point. Finally, Anna Paquin says Sookie is going to try to be independent this year and "wants to eliminate drama from her life", which, yeah, good luck with that. [TV Guide]
The new promo poster for Season Five gets right to the point: It's the fifth season, and there might be some blood. Subtle. [Shock Till You Drop]
We get far more details from HBO's spoiler-laden descriptions of the season's first three episodes of the season. In the first episode, "Turn! Turn! Turn!" Sookie and Lafayette clean up after Debbie Pelt and struggle with the aftermath of Tara's shooting, while Bill and Eric receive a visit from the Vampire Authority. One of those visitors is Nora (Lucy Griffiths), who has a history with Eric. Alcide and the rest of Marcus' past are looking for their missing leader, a hunt that leads them to Sam. While Bill's away, Jessica plays, partying with college kids, and we'll get to see what transpires between Ryan and the mysteriously reappeared Steve Newlin. Now that his old war buddy Patrick Devins is back, so is Terry's PTSD. And Alcide warns Sookie (and delights the rest of us) with news that Russell Edgington has returned to the world of the living.
It sounds like Bill and Eric's trip to the Vampire Authority headquarters in New Orleans in "Authority Always Wins" is less than pleasant. They encounter Salome (Valentina Cervi) and "become acquainted with the Authority's interrogation techniques." With a name like Salome, we expect heads served on silver platters. We flashback to Pam's first encounter with Eric, back when she was human madam of San Francisco's Comstock Brothel. Marcus' pack wants Alcide to step up as packmaster, but Alcide doesn't want to play their werewolf games. There's more lycanthropic trouble for Sam and Luna as Marcus' mama Martha (Dale Dickey) comes to town, wanting to see her granddaughter. Sookie preps her house for the arrival of Russell Edgington, while Arlene tries to get to the root of Terry's erratic behavior. After his visit with Jason, Steve Newlin seeks out Jessica with an offer.
Christopher Meloni's Roman graces us with his presence in the third episode, "Whatever I Am, You Made Me," when Bill and Eric have to barter with the Authority Chancellors for their lives. With Russell back in the game, Salome and Roman find a new ally. Sookie asks Pam for help, and we get more of Pam's murderous brothel flashbacks. Andy faces two kinds of trouble: one thanks to his relationship with Holly, and another from Gordon and Barbara Pelt, who are looking for poor, dead Debbie. Jason has mixed feelings when he runs into his old high school teacher. [TVLine]
---
The Walking Dead
Here are two more casting calls for recurring characters in season three:
[HAROLD] 40s to early 50s. Male. A studious and fastidious man, trying to create a niche for himself in this new world. Guest star. Recurring

[MANUEL] 30 to 40, Hispanic, a working class survivor, he is confident, physically skilled, a leader when necessary, capable and smart. Has a terrific sense of humor where you wouldn't expect one. Recurring.
Art director Doug Flick discusses building the sets for season three, and it certainly sounds like he's talking about the prison, even if that isn't quite confirmed:
A lot of the process was driven by sort of the realities of the site we have here at the studio, which has really banal, boxy metal buildings that are not much to look at and don't look particularly intimidating. So we had to adjust to that reality. We couldn't cover them completely and kind of the way to deal with that was to treat the [set] as something that had evolved over time, so that it has a part that's really old, maybe something from the beginning of the twentieth century, and newer parts that have been built up over the years, maybe up into the '70s and '80s.

How important is trying to enhance the scare-factor of the sets?
That was sort of a priority... So we've magnified the decrepitude of things. Psychologically it makes more sense since there's a zombie apocalypse. We kind of fast-forward the decay is what it amounts to...We've also created sort of connective spaces like a hallway and a boiler room in particular is probably our best set in some ways that are scary in that they have a lot of stuff in them and a lot of corners to creep around. There are just a lot of ways that camera angle and lighting can really accentuate that scariness.
[AMC TV]
---
Eureka
Find out what's coming from the machine, in the promo for the season's seventh episode, "Ex-Machina."
[via SpoilerTV]
---
Fringe
Sorry, Lincoln fans. It sounds like Seth Gabel won't be back for the final season. [TVLine]
---
Continuum
We get a peek at time-traveling terrorists and the woman out to stop them in the three-minute trailer for Sunday's premiere:
[via SpoilerTV]
---
Tron Uprising
Mandy Moore discusses her role in the computer-animated Tron tie-in:
Mara is a mechanic in Able's garage, along with Elijah Wood's character, Beck, and Nate Corddry's character, Zed. They are this little trifecta – this trio – of best friends. They work together and they play together, but Mara is one of the guys. She is confident and spunky and the voice of reason, I like to think, especially as the series progresses. As the series does progress, she finds herself falling in love with this masked vigilante – The Renegade. She doesn't realize that, in fact, it is her best friend, Beck. She is in love with his moral compass and what he stands for, and she is right behind him. She is great at what she does, too. She specializes in vintage technology and older Light Cycles. She has a real affinity for the older technology, in a geeky way, unlike anybody else in the garage. But, she also works on some of the more bad-ass, harder, scary bits and pieces of machinery. She really knows her way around that garage. She is a much cooler girl than I am. The blue hair is her trademark.
[/Film]
---
Grimm
Executive producer David Greenwalt's dream casting choice for the Second Season? William. Shatner. Will we discover that Captain Kirk is something that goes bump in the night? As for those influential coins, they will be back in a smaller role during the new season, and, according to Jim Kouf, "they have to be dealt with." [TVLine]
---
The Vampire Diaries
Executive producer Julie Plec says that Elena's vampiric transformation will be especially hard on Matt and Jeremy:
"I think that's the worst tragedy of all is that they plotted together to get her out of town so she wouldn't have to be part of this life. And now as a result of having been on that bridge at that moment, Matt is basically responsible in his own way for her being the one thing she never wanted to be. He's going to carry that very heavily. It's going to take his some time to get past that. And I would say certainly Jeremy, who would never want this for his sister, is going to have a real, real visceral reaction against Rebekah for what [she] did. There might be a little bit of retribution."
[TVLine]
---
Superman vs. The Elite
DC's latest home entertainment feature is based on Joe Kelly's 2001 one-shot "What's So Funny About Truth, Justice and the American Way?" Superman faces off against "The Elite," a crew of extreme superheroes who believe that the ends justify the means and who are willing to kill — even on a massive scale — to stop villains in their path. That doesn't sit well with the ever-ethical Man of Steel. George Newbern of the Justice League animated series is back as Superman, and NCIS' Pauley Perrette is the voice of Lois Lane. Batman: The Brave and the Bold's Michael Chang directs.
Meet the vicious Elite in these three videos. Coldcast tickles his rivals with electrical energy.
Menagerie is a high-flying demon who delights in deadly force.
The Hat conjures creepy creatures with his mystical powers.
And here are more images of Superman's anti-heroic foes:
---
Dark Rising
Here's the description for the latest Canadian genre series to enter production:
DARK RISING: Warrior of Worlds is a one hour sci-fantasy television series that follows a group of clear humans in a clouded new world. The tether that binds our Earth with a parallel demonic dimension has collapse creating a brand new reality for both humans and demons leaving most beings with altered memories. The magical bind has shifted reality and only a small group of "clear" humans remember the past. In order to save the world, they band together to unravel the mystery behind the shift and battle to take down the mystical forces that have doomed their world.
The show is slated to have a thirteen-episode season and is written by Andrew Cymek. [SpoilerTV]
---
Additional reporting by Jennifer Griffith-Delgado, and Charlie Jane Anders.