Apple OS X Mountain Lion is now available for download. There are a ton of new features, but many of them are hidden or hard to find. Don't worry, these are the best 10 tricks—each with a short, easy video tutorial created for Gizmodo by app developer It's About Time.
Watch them all, and enjoy your new cat:
---
1. Rename a document right on the document window title bar
This is my favorite easter egg feature: to rename a file without having to resave, just click on its window's title bar. A pop-up menu will appear with several useful options that can be applied instantly, like moving the file to iCloud to make it available in all your devices, or locking the file for security. The best option, however, is renaming the document. Just click, type the new name and the change happens instantly.
G/O Media may get a commission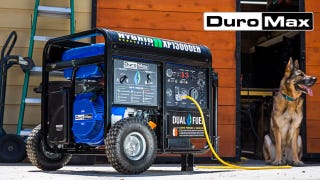 Black Friday Sale
DuroMax Generator Sale
Why this is cool: It's so convenient.
---
2. Tap with three fingers to preview a file
Easy and self-explanatory: if you have a touch-enabled Mac (any modern MacBook or an iMac with a Magic Trackpad) just tap with three fingers over any file in the Finder or the desktop. It will expand instantly, showing you its contents.
Why this is cool: Fun and simple. Many argue that touch gestures complicate things, but this one couldn't be easier—or more convenient.
---
3. Tweet quickly from Notification Center
There is a new system-wide Twitter field available at any time from Mountain Lion's Notifications Center. The Notification Center holds all alerts from all apps in your computer, like Mail replies or Messages. You can easily access it by clicking on the icon on the top right corner of your screen, or by dragging two fingers from the right to the left side of your trackpad. To enable the universal Twitter field, go to System Preferences and enter your Twitter handle and password in the Mail, Contacts & Calendars panel.
Why this is cool: No need to open a switch to a Twitter app. Tweeting is just one sweep away.
---
4. Drag anything you want into your Notes
Mountain Lion comes with a new Notes app that mimics the one in your iPhone, iPad or iPod Touch. It has the same interface, except that this one allows you to make a note out of anything you want by dragging and dropping it onto the fake yellow legal paper.
Why this is cool: This is a useful clipboard solution. And everything you put here will be immediately available to every Mac associated with your iCloud account. Magic.
---
5. Tap on the top of Mail's sort bar to go straight to the top
This simple trick—inspired by iOS—will make your life easier after scrolling down the message column in Mountain Lion's Mail. Just tap once on the sorting bar at the top of the column, and you'll instantly instantly go to the top of the list. Sadly, this only works in Mail. I wish all scrollable windows had this ability.
Why this is cool: It's a fast way to go to the top of extremely long lists without having to scroll for interminable seconds.
---
6. Pinch to access the new Safari tab view
OS X has lifted the new Safari tab view from iOS. To activate it using a touch gesture, just pinch in the web page to zoom out. The web page will automatically convert into a smaller version. If you have multiple tabs open to different sites, they will be displayed as mini-pages that you can scroll through using a two-finger sweeping gesture. The pages will be live as you scroll, so if videos are playing or the content has updated, you will see it instantly.
Why this is cool: Nice way to quickly scroll through all your open tabs without having to click on each of them. Live updates are good when you are waiting for a page to finish something and you want to keep a quick eye on it.
---
7. Star your favorite people in Mail
My favorite feature in the new Mail client: mark people as VIPs. I know, this has been in GMail forever, but I just love being able to do it in the native Mountain Lion mail client. To activate the VIP list you don't have to do anything but star someone. Hover your cursor on someone's name and a star will appear to the left. Click it. The VIP list will appear on the Mail folders panel.
Why this is cool: This is the only list I look at most of the time. It saves you time by not having to deal with unimportant things.
---
8. Use iCloud to store your text documents from TextEdit
The new TextEdit is plugged directly into Apple's iCloud service. That means you can quickly save documents to your private internet-based storage locker using an easy interface.
Why this is cool: The documents will be immediately available to each of your Mac computers and iOS gadgets. And best of all: you don't have to make backups. Apple does it for you. You can even organize your documents within this space.
---
9. Use the cool new screen savers
At last, the OS X team has updated its screen savers in Mountain Lion—nicking them from Apple TV. Which is not bad at all. In fact, they look gorgeous. To activate them, just go to the Desktop & Screen Saver panel in Systems Preferences. Click and have fun.
Why this is cool: Pretty!
---
10. Activate dictation quickly
Mountain Lion's new dictation powers could be a godsend for people who are not fast enough with their keyboard or those individuals who like online sex. To activate it, you will need to use at least one finger to click the Fn key twice when you are in any text field. Press the Fn key again when you are done. If it doesn't work, make sure to enable it in the Dictation & Speech panel, in System Preferences.
Why this is cool: Online sexting. And because Sam says so.
---
Videos courtesy of It's About Time. They are part of their new Mountain Lion app Hello Tips, Tricks & Secrets, which includes more than 100 video tips for Apple's new operating system. It's just two bucks at the Mac App Store.
Original image by Dennis Donohue|Shutterstock