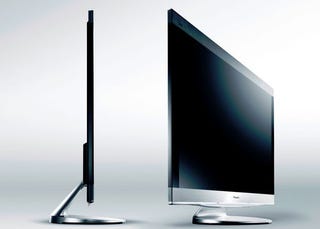 Who says plasma is dead? The 54-inch TC-P54Z1 improves upon the V10 series, and uses a separate box and wireless HDMI receiver. And after an exhaustive review, HD Guru says it delivers outstanding color, deep black levels, and superior motion.
The $5500 beauty uses a G12 1080p NeoPDP panel. Like Pioneer's Kuro, it does away with a top sheet of glass and bonds an anti-reflective coating directly to the top glass. HD Guru says this eliminates the internal reflections between the top two sheets of glass that you see on all other plasmas.
With the user controls tweaked, we sampled HD and SD content using source material from Verizon FIOS, DirecTV and HD movies from Blu-ray discs via Panasonic's DMP-BD80. The deep black level and bright whites consistently produced images with punch; undoubtedly due to the real world high contrast ratio the Z1 is capable of producing. Although the Z1 didn't ace the HQV jaggies tests, we noticed no problems with any source material we threw at it.
To connect the TV to the receiver set top box, the Z1 includes a wireless transmitter that can be fixed to the back of the set. You also get a pair of "elephant ear" side speakers, and a table stand.
The receiver has a built-in HDTV over-the-air tuner, and Ethernet (for Panasonic's Viera Cast content…stuff like Picasa photos, YouTube, Amazon, and Bloomberg news). It's a sweet system, and HD Guru's review is definitely worth a read if you've got that sort of cash to throw around. [HD Guru | Panasonic]