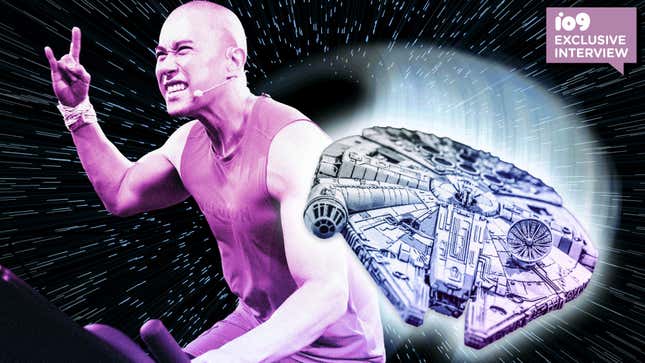 Next month, your Peloton bike is going to take you to a galaxy far, far away. On May 4, the popular fitness brand will release its first-ever Star Wars ride to members everywhere. It's 30 minutes of fitness set exclusively to the music of iconic composer John Williams and, as anyone who uses Peloton can probably guess, the ride will be led by instructor Sam Yo.

'I Started a Yoda Fan Club'
"When we go to a movie, it takes us on a journey," Yo told io9 at the Peloton Studios in London. "And when you're in a fitness class, it's the same thing. You're going physically on a journey. So I'm adding the layers of those together to give you this immersive experience. And that's what I love to do."
Yo is a lifelong Star Wars fan and, six months into his time at Peloton, he first floated the idea of a Star Wars ride. It didn't take then but a few years later, when putting together a ride for Halloween, he tried something else. "I wanted to put 'Duel of the Fates' in somewhere," he said, referring to Williams' powerful piece from the end of The Phantom Menace. "With the strings and the choir, the image I get is those doors opening and Darth Maul just standing there. It gives you those chills. So I thought, 'That's going in my Halloween ride.' I didn't know what the rest of the playlist was going to be, but this is going to be the end and then I'll just work my way back from that."
After the ride, Yo began getting messages from users (including this io9 writer) complimenting him on the choice. I even suggested he put the "Imperial March" in a ride during a climb (a climb is when you turn the bike's resistance up really high to pretend like you're riding up a hill). Yo loved the idea.
"I thought, Yes! 'Imperial March' for a climb," Yo said. "But I said, 'I'm not just gonna do that.' Why don't we pitch a whole Star Wars ride to Disney?" He started the process but couldn't get it done in time for May 4 last year. So, this year, he started the process even earlier, sending Disney a detailed, passionate pitch letter of why he wanted to do the ride. "So for me, the ride is like when you go to Galaxy's Edge and you are on this adventure," he said. "You go to different lands. You're going to Tatooine. You're going to the Outer Rim. We're gonna do a trench run. It's taking you through all these iconic adventures again and on the Peloton bike, you are in the cockpit of the [Millennium] Falcon. You are in the N1 Starfighter. You are in the X-wing. You are taking control."
Yo was able to tell that story to Disney because he made his dream playlist a year and a half ago, way before it was ever approved. He admits it's gone through a few changes here and there, but for the most part, he thinks in 30 minutes he hit every big theme or piece of music he wanted to play, along with winks and nods to other parts of Star Wars too. "It's the prequels, the originals, there's stuff from the sequels, there are references to Rogue One, maybe there are references to The Bad Batch, it's little references that bring the whole universe together," Yo said.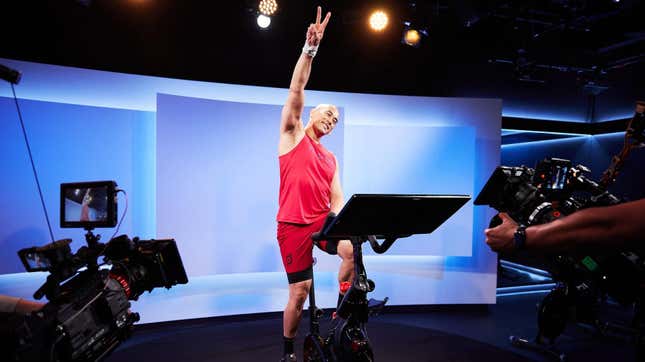 Most importantly, the ride is bringing together the universe of Star Wars and the universe of Peloton. Because it's not just for you to sit down and listen to 30 minutes of music, though you could if you wanted to. There's an actual fitness component to it, which Yo said came fairly naturally. "When I see the films, I can see the fitness in the films," he said. "In an asteroid field, we're going up and down, so those are going to be our jogs," he said. "If we're going down the Kessel run, we're going to pick up speed. And then if we're podracing, you do these little pushes to overtake Sebulba and all those other racers."
Official approvals for the ride came through just a few weeks ago, with plenty of time to spare before May 4. And though he hadn't filmed it as of our discussion days before Star Wars Celebration, Yo was giddy just talking about it.
"The other day I couldn't sleep because I was writing the whole script and going over the whole ride in my head," he said. "There's lots you can do with the camera shots as well, which will give it a more atmospheric [feeling]. And they're going to do a few special things in the studio as well which I'm very excited about."
Hearing Yo talk about the ride—tease which music he used and which he didn't, the amount of time and effort he's putting into it—really makes it sound like this is going to be less of a workout and more of a party. "What I'm looking for is to immerse the member in this world, this galaxy far, far away," he said. "Make them feel that they are in control of the Millennium Falcon. They are pod racing. They are standing toe to toe in front of Darth Maul and they've got to move fast."

And, if fans move fast enough, maybe this is just the beginning. "If this does well, then, you know, there's always prequels, sequels, and trilogies," Yo said.
Sam Yo's 30-minute Star Wars ride will debut as a premiere encore on Peloton at 7 a.m. BST on May 4. That's 2 a.m. EST and 11 p.m. PST (May 3). But, of course, it'll be on demand on the bike at any time after that and accessible on the Peloton App, which has a free 30-day trial period. Who am I going to see on the leader board?
Correction 4/21/23 noon EST: A previous version of this article referred to the ride by the wrong name, and it's been changed throughout.
---
Want more io9 news? Check out when to expect the latest Marvel, Star Wars, and Star Trek releases, what's next for the DC Universe on film and TV, and everything you need to know about the future of Doctor Who.