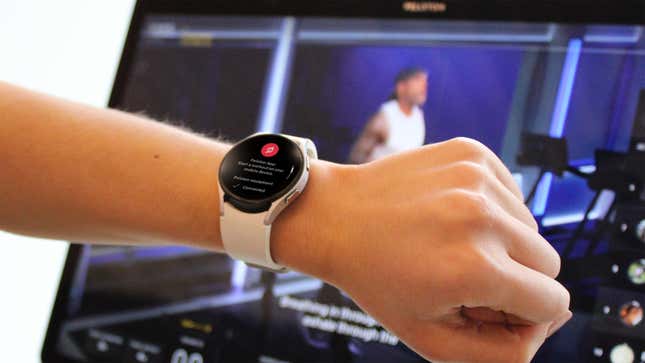 Samsung and Peloton have announced that connectivity is finally available between the former's smartwatches and the latter's exercise machines. The Galaxy Watch 4 and Galaxy Watch 5 series can be paired with Peloton's Bike, Bike+, Tread, Row, and Guide.

Hey Google, Where Did My Watch's Battery Life Go?
The Peloton app has been available on Samsung's Wear OS-based watches since October 2022. But this latest update lets you see and record your heart rate on the watch during a workout with any Peloton machine. Previously, this feature was limited to the Apple Watch and other compatible heart-rate monitors. For Galaxy Watch users, the heart-rate tracking was previously only available for classes taken on the Peloton mobile app on Android.
Once you select a workout on your Peloton machine, open the Peloton app on your Galaxy Watch and wait for the prompt to pair your two devices. You'll see a pop-up instructing you to connect, which will then flip into a screen with real-time heart rate monitoring. When you complete the workout, your results will be logged along with the class you took on your machine.
I may be embedded deep into the Android ecosystem, but I'm still elated when an Apple Watch-like feature finally comes to Samsung's Galaxy Watch. At the very least, this news justifies my purchase of the Peloton Bike+, which I rarely use because it intimidates me. Perhaps now, I can convince myself that it's part of my job to ride the bike stationed in my living room. At the very least, a feature I've been waiting for nearly two years is here.
Notably missing from this announcement is integration with the Google-made Pixel Watch, which some diehards would deem as the flagship wearable of the Android ecosystem. Recently, the Pixel Watch has been moving more units than its Samsung rival, even though it's missing some features like a temperature sensor.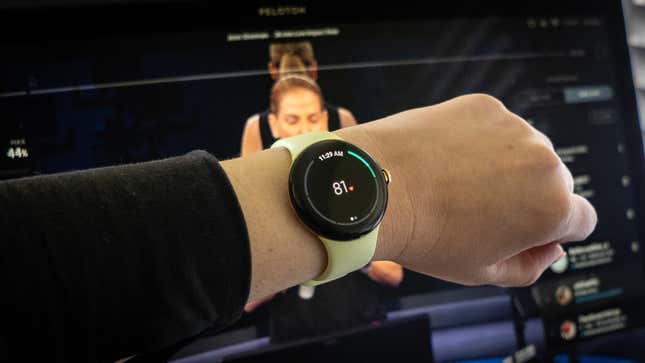 Updated 4/5/2023 1:00 P.M.: Good news! Regardless of the original announcement, it turns out Pixel Watch users can also use the Peloton app to track heart rate during a workout. I tried it this morning with my Bike+—writing this story got me to interact with the dormant exercise machine in my living room after all. Although the Pixel Watch isn't officially a part of this announcement, it's good to know that Peloton's development work wasn't proprietary. I could sync my Galaxy Watch 4 and Pixel Watch to the same bike. But don't try to control the connectivity from your Peloton equipment's settings panel: I dug in there looking for Bluetooth connections, and only the wireless earbuds I have paired showed up.

We reached out to Peloton, which confirmed that there's full integration across all Wear OS 3 watches. "We've built a service that can send and receive workout metrics in real time between our app running on different Peloton products," explained Peloton in an email. "This lets our members use their Wear OS watches while working out to show their heart rate metrics in real time."