I always look at boring old USB drives and ask, "Why can't these be jewel-encrusted?" Ditto for my run-of-the-mill earbuds, which seem to lack some kind of large embedded crystal. Believe it or not, the Philips-Swarovski Active Crystals collection is due to arrive in the US this August, and we've got the exclusive first look at the lineup.
First up are the USB drives: Heart Beat is a two-piece heart-shaped locket drive, and the cool retractable padlock-shaped one is called Lock Out. (Philips says they're keeping things simple, and those names sure do, well, smack of simplicity.) They both hold 1GB of files, and will retail for $179.
The USB drives are bubbling with little Swarovski crystals, while the earphones are set with one big jewel for each ear. There will be four headphone styles in all:
An over-the-head set called Icon ($79) and a set of earbuds with neckstrap called Amazone ($149) plus two shown below, the Space sealing earbuds ($99) and the Mirage earhook ones ($129).
G/O Media may get a commission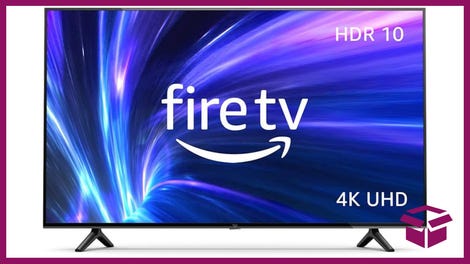 42% Off
Amazon Fire TV 50" 4K Smart TV
Whether the Philips-Swarovski combo has produced a silly novelty or the must-have gift item of the holiday season is still up in the air, but frankly, they are classier looking than I had previously imagined. And hey, is it any stranger than Porsche Design conceiving of a power drill?
Press Release:


Philips and Swarovski partner to deliver a range of innovative fashion accessories

NEW YORK - Fusing lifestyle, technology and fashion, Philips is showcasing a new partnership with the world famous crystal and jewelry company Swarovski at the 2007 Holidays in June event. The alliance combines Philips leadership in developing innovative consumer lifestyle electronics products with Swarovski's expertise in creating fashion crystal jewelry and handbag collections to produce meaningful fashionable accessories for women.

Leveraging both companies' strengths, Philips and Swarovski have jointly designed and developed a range of unique products that will take technology to a fashionable new level for women. The Philips and Swarovski alliance will develop exciting market opportunities for each company by integrating high fashion and technology.

The initial innovations created by Philips and Swarovski are the Active Crystals range of products. These will be launched this summer and include sound accessories and storage devices.

"Philips' alliance with Swarovski combines two distinct and strong brands in order to create a unique proposition for consumers," said Rudy Provoost, Chief Executive Officer, Philips Consumer Electronics. "The outcome of the alliance is a range of products that go back to the essence of what many women are looking for: the fusion of functionality and fashion through a unique combination of technology and elegance. We are combining luxurious design with the practical, everyday benefits of consumer electronics to complement Philips' brand promise—Sense and Simplicity—and Swarovski's brand promise of Poetry & Precision."

Merging Simplicity with Poetry & Precision

The new range is the first result of the Philips and Swarovski alliance focusing on providing performance and class, offering technology with style and demonstrating a feeling of movement and activity combined with fashionable innovation. Targeted towards style-conscious women, the products combine the technologies of both companies to create unique, high-end products with a luxurious look and feel.

"The Philips and Swarovski alliance brings together the greatness of two companies with common values of quality, design and technological innovation," said Daniel Cohen, Member of Swarovski's Executive Board. "Both brands have distinct identities, rich histories and a passion to re-invent and enhance their value propositions, pursuing both brand repositioning and commercial goals. The result of this partnership will be a series of products that will provide women and consumers with meaningful and fashionable products that will enhance their lives."

Swarovski is a well-known brand in the fashion and jewelry industry. It brings credibility, style and design to the alliance, creating a unique product proposition with Philips. Unlike other products using the Swarovski crystal stones, the Active Crystals combine unique elements of functionality and fashion: truly jewels with a soul.

The full Philips and Swarovski Active Crystals range will be commercially available in department stores, consumer electronics retail and Swarovski stores in August 2007.