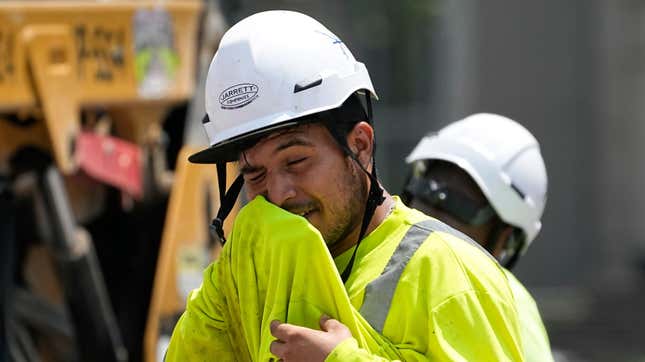 The climate crisis is raising summertime temperatures, and the sky-high heat is straining electrical grids and healthcare systems. A pilot program launched this year is working to address potential heat injuries before they happen.
How to Know If the Heat Is Making You Sick
"The basic idea is that heat-related deaths, and heat-related health problems including hospitalizations, are preventable," Caleb Dresser, the director of healthcare solutions at Harvard's School of Public Health. "We make sure patients have the information they need and the resources they need to be able to stay safe during hot weather."
The new program pairs nonprofit Climate Central and Harvard public health experts together to help patients better prepare for hot weather. A dozen clinics throughout the country including in Texas, Massachusetts, and Oregon, are participating in the pilot, according to Dresser.
Medical professionals involved in the program receive alerts two days before a heat wave or higher temperatures are supposed to reach their area. The alert is sent via email if higher-than-average temperatures are forecast for the area in the next two days. Doctors then contact vulnerable patients and advise them on how to best stay safe, including searching for nearby cooling centers before the heat strikes. Having that information ahead of time means that clinics can ensure that the facility and its workers are ready for the heat too, this means taking stock of supplies and making sure that cooling systems are working effectively.
Gaurab Basu, a primary care physician and health equity fellow at Harvard, is one of the doctors at the clinic. He was recently featured in a video for NBC Boston about the pilot. He's featured speaking to a patient and explaining why that patient had to be especially careful and monitor their health.
He thinks that medical facilities should prepare for heat the way they do for other types of weather. "On the East Coast, we have a culture of preparing for big snowstorms," he told Earther during a phone call. "You get your food early, you realize 'Hey, it's gonna be hard to get around for a few days.'"
The clinics he's worked in have called patients and have changed appointments during the week of snowstorms to avoid injuries. Doing the same during heat waves could prevent heat exhaustion, he reasoned.
"My mind goes immediately to pregnant folks, babies, elderly people with chronic medical issues," he said. "So if I have a pregnant patient who needs to take two or three buses to get to my clinic, I really think we should reschedule that appointment."
And yes, it is supposed to be hot during the summer throughout the United States. However, many historically temperate parts of the country have begun to see heat waves. The 2021 late June heat wave in the Pacific Northwest quickly became a mass casualty event. Hundreds of people died, many were hospitalized, and about a billion marine animals also died in the heat.
The climate crisis takes things that already exist in nature, like hot summer days and heat waves, and makes those things more extreme. As the global average temperatures rise, heat waves are lasting longer and occurring more frequently, according to the U.S. Environmental Protection Agency. A warming planet also creates hotter nighttime temperatures, which means communities pummeled by high daytime temperatures won't even get a few hours of respite. Overexposure to heat can also increase instances of mental health emergencies. A study released in early 2022 found that mental health-related emergency room check-ins increase the hotter it is outside.
"The combination of stressors—pandemic and climate—might exacerbate existing mental health conditions," Amruta Nori-Sarma, assistant professor of environmental health at BUSPH, and one of the study's authors, said in a press release last year. "The mental healthcare system should plan accordingly."
According to Dresser, communities and some officials may be slow to prepare because there aren't always obvious visuals for heat waves, as there are for other weather events like hurricanes. "Most of those deaths occur behind closed doors and outside the public view," he said, "We need to be taking steps to make sure people are aware of the dangers of heat."
Dresser advised that people take advice from the program and start to warn their loved ones ahead of time if they're aware of an incoming heat wave. He suggested spreading the word about nearby cooling centers and keeping tabs on older people. And though these individual actions can keep vulnerable people safe, Dresser emphasized that this pilot is just one layer of preparation. Climate-conscious healthcare will only go so far if elected officials and agencies aren't up to date on how heat injury will affect medically fragile people.
"I think we have a lot of work to do to connect those dots and keep people safe," Dresser said.
Want more climate and environment stories? Check out Earther's guides to decarbonizing your home, divesting from fossil fuels, packing a disaster go bag, and overcoming climate dread. And don't miss our coverage of the latest IPCC climate report, the future of carbon dioxide removal, and the un-greenwashed facts on bioplastics and plastic recycling.