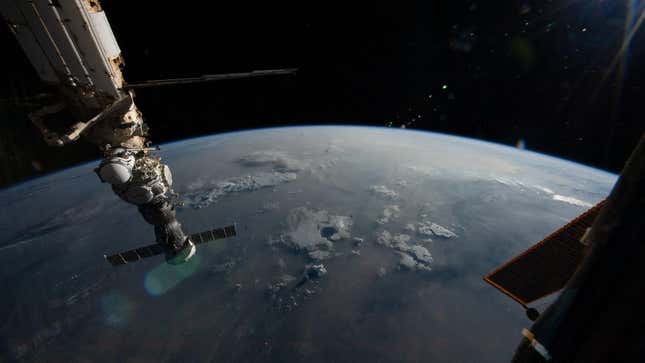 On Tuesday, July 25, a power outage occurred at NASA's Mission Control in Houston, leading to a temporary disruption in communication with the International Space Station.
The outage happened at approximately 9:00 a.m. ET, interrupting the usual flow of commands, telemetry, and voice communications from the ground to the orbiting laboratory, according to NASA. The mission control team swiftly transitioned to backup hardware.
The power failure coincided with an upgrade being undertaken in the Mission Control building at Houston's Johnson Space Center, ABC News reported. Speaking to reporters on the matter yesterday, space station program manager Joel Montalbano noted this was the first instance in which these backup systems were needed.
The issue was confined to ground systems and did not impact the ISS or its crew. Seven astronauts aboard the space station—three from NASA, three Russian cosmonauts, and one from Dubai's Mohammed bin Rashid Space Centre—were informed of the situation within 20 minutes of the unexpected outage. NASA was able to relay the issue to the crew by leveraging Russian communication channels. Communication to the ISS is facilitated by multiple ground stations and satellites that continuously maintain contact with the ISS as it orbits the Earth, as Space.com points out.
Montalbano further clarified, "We knew this work was going on, and in preparation for that we have a backup command and control system that we would use if we have to close the center for weather emergencies—especially important during the hurricane season." He stressed that the hardware was ready for deployment, and within approximately 90 minutes, they were "up and running with full command, telemetry, and voice to the International Space Station."
NASA officials emphasized that the crew was never in any danger during the power outage. The agency plans to study the incident to "better understand what happened and then take lessons learned and move forward," Montalbano said.
In August, SpaceX's Crew-7 mission is slated to ferry four astronauts to the ISS aboard a SpaceX Dragon capsule. The team includes NASA astronaut Jasmin Moghbeli, European Space Agency (ESA) astronaut Andreas Mogensen, Japan Aerospace Exploration Agency (JAXA) astronaut Satoshi Furukawa, and Russia's Konstantin Borisov.
For more spaceflight in your life, follow us on Twitter and bookmark Gizmodo's dedicated Spaceflight page.