Today, President Obama officially named his nominee for the new position of Chief Technology Officer: Aneesh Chopra, current Secretary of Technology for Virginia. We'll explain who Chopra is and what his new responsibilities will be.
The CTO position is linked with that of the Chief Information Officer (the recently-named Vivek Kundra), but they are two distinct jobs. The White House explains:
The responsibilities of the CIO are to use information technology to transform the ways in which the government does business. The CTO will develop national strategies for using advanced technologies to transform our economy and our society, such as fostering private sector innovation, reducing administrative costs and medical errors using health IT, and using technology to change the way teachers teach and students learn.
Essentially, the CIO is responsible for the general strategic aim of information technology, whereas the CTO is the one who really gets his hands dirty with the specific architecture. In particular, Obama has listed health care and education in today's YouTube address as the two areas most requiring the efforts of the CIO and CTO, and we (along with most others) think Chopra is the right guy for the job. Here's why.
Aneesh Chopra is not a CEO. He's not a thinker like Negroponte, or a businessman like Gates, or a showrunner like Jobs. He's a governmental agent. This is important because the CTO is, after all, a government job, and Chopra won't have to adjust his strategies to work within a governmental system. Right now, he's the Secretary of Technology for Virginia, and has shown huge success in the field. Last year, Virginia was ranked 1st in Technology Management, a direct reward for Chopra's work.
G/O Media may get a commission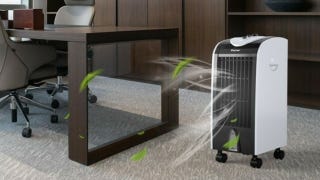 Save $10
Evaporative Portable Air Conditioner Cooler with Filter Knob
Further, he's made significant achievements in health care and education, which, you remember, is just what Obama wants. He's gotten the nation's first open-source textbook approved, initiated competitions for the state's students to create iPhone apps, and designed a social network for physicians in remote areas.
Most importantly, Chopra's achievements are forward-looking (Web 2.0, social networking, open source) but fervently grounded in the practical. He's not pushing for the sake of pushing, he's using the best tools we have in the best way he can.
Here's a video of Chopra at the State of the Net conference this year.
We're really looking forward to seeing what Chopra can do with the resources of the federal government at his disposal. [White House, O'Reilly Radar]