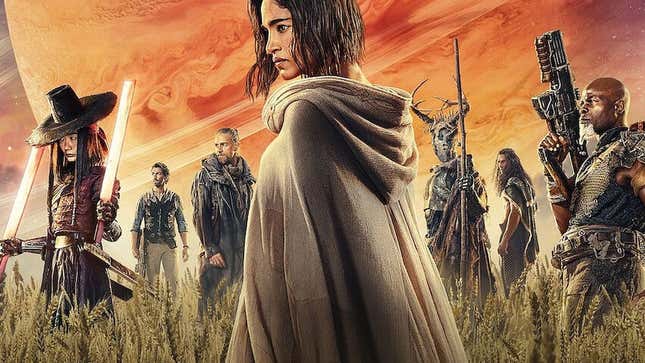 Earlier in the week, Zack Snyder released the first trailer for his sci-fi epic, Rebel Moon. Like with his time at DC and his other Netflix movie Army of the Dead, the director's got plans in store for Rebel Moon that go beyond the two-part movie hitting later this year and in 2024. And perhaps unsurprisingly, that includes a director's cut.

Will We See More of Uhura's Relationship with Spock? | io9 Interview
Following the trailer, Netflix and Snyder did a Q&A of the movie to come, and he acknowledged that he's creating a "legitimate extended universe version." That extended edition—or I guess, technically a Snyder Cut—is said to have an hour's worth of extra content, and he dubbed it "a settle-in deep dive, which I have notoriously done throughout my career." He went on to say that scenes from the movie were specifically shot for the purpose of the director's cut, and thinks it'll be a "second kick at the can for big fans, like a real discovery that they would not [otherwise] get."
Beyond his version of Justice League that released in 2021, Snyder has also done extended editions for Batman v Superman: Dawn of Justice, Sucker Punch (with another said to be in the works, and Watchmen. Snyder acknowledged that he's not fully sure how he became a director's cuts guy, but admitted to being glad to just have this one exist from the outset. "For me, the director's cuts have always been something I had to fight for in the past and nobody wanted it," he continued. "It was this bastard child that I was always trying to put together because they felt like there was a deeper version. [...] So in that way, it's really a revelation."
What can a director's cut of Rebel Moon offer when it seems like Snyder has been given free reign to do whatever the hell he wants? We'll have to wait to find out to see if it justifies its own existence. In the meantime, the standard version of Rebel Moon—Part I: A Child of Fire will premiere December 22 on Netflix; Part II: The Scargiver will premiere April 19, 2024.
---
Want more io9 news? Check out when to expect the latest Marvel, Star Wars, and Star Trek releases, what's next for the DC Universe on film and TV, and everything you need to know about the future of Doctor Who.