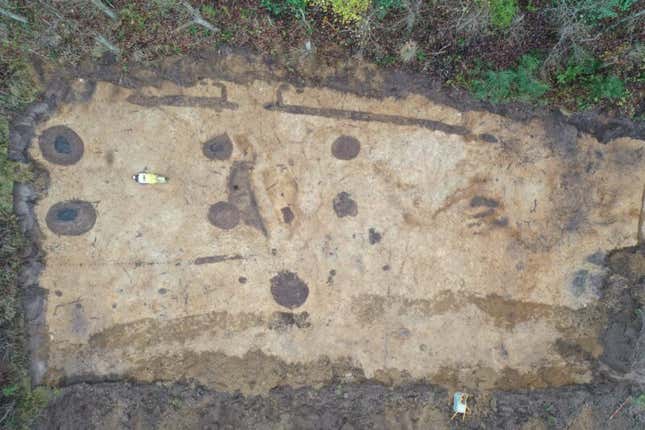 Archaeologists with the Nordjyske Museer in Denmark have found the remains of a large, thousand-year-old homestead, which they believe may have been a Viking hall.
Meet Microsoft's New Surface Laptops
The remains of the building are on a plot in Hune, Northern Denmark. In its pomp, the hall was up to 130 feet long and 33 feet wide, according to a Nordjyske Museer release. Between 10 and 12 cut oak posts would have supported a large roof.
Thomas Rune Knudsen, an archaeologist at the North Jutland Museums, said in the release that it is the largest Viking Age find of its kind in a decade.
"We have not seen anything like it before here in North Jutland, even though it has only been partially excavated," Knudsen said. He added that, besides being a venue for quotidian activity, the hall probably served as a gathering place for political meetings amongst Vikings.
The building's design is similar to those built during the reign of Harald Blåtand (or Harald Bluetooth, namesake of modern Bluetooth technology), who ruled Denmark in the late 10th century.
The Vikings roamed across Europe and beyond from the late 8th century to the mid-11th century. They left reminders of their presence everywhere they went; from burial mounds along the fjords they sailed to beeswax candles they carried on their hikes.
Because of the building's imposing footprint and potential communal use, Knudsen said the team suspects there are more structures hidden in its immediate vicinity. The building is only half-excavated so far, with digs planned to resume early this year.
Besides the additional excavation work, the team will conduct radiocarbon dating of the structure. The dating could potentially validate the approximate dates deduced from the building's design.
More: Viking Sword Dug Up in Norway Likely Belonged to a Left-Handed Warrior