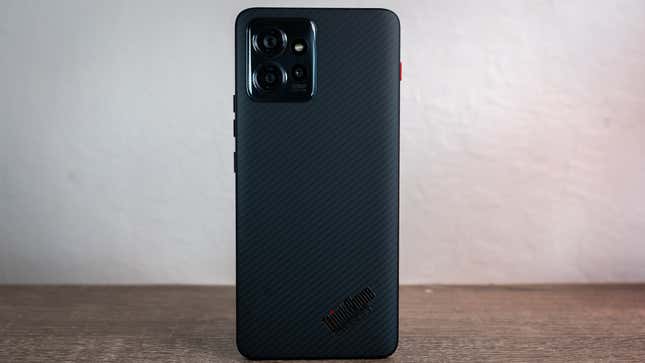 While employer-provided devices aren't always a perk, sometimes they offer features your tech at home doesn't. The Lenovo ThinkPhone by Motorola is not a perq-filled smartphone. It is a barebones work phone that's meant only for pushing paper. And although it has a helpful shortcut button on the side reminiscent of a golden time in business laptops, there's little occasion for fun here. All work and no play make the ThinkPhone a dull smartphone.

Is This the End of Apple's Lightning Cable?
That's fine. Your work device shouldn't entice you to use it after hours because that means you'd be giving more of your unpaid time to the man. If you get one of these devices handed to you by your job, the Lenovo ThinkPhone by Motorola is a device you'll have no problem turning off at the end of the workday.
Is it a ThinkPhone or a ThinkPad?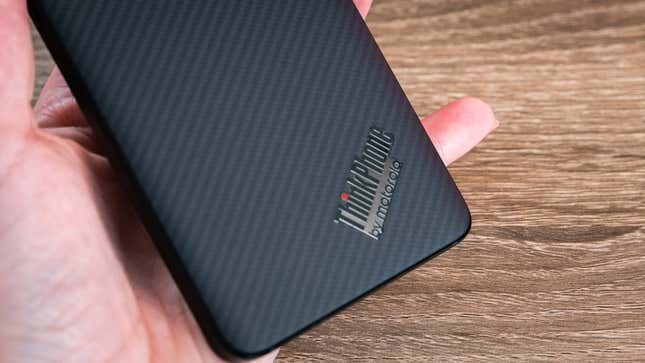 The most exciting part of the Lenovo ThinkPhone by Motorola is that it's styled after the ThinkPad laptops. If the '90s IT guy in a collared shirt and khakis had an equivalent, it's this look. The ThinkPhone has the signature opaque diagonal stripes across the back, the ThinkPhone branding in the back corner, and the red dot in the logo. The pattern even extends to the rear-camera housing, making it hard to determine whether there are smudges.
Speaking of which, this phone's matte back is a grease magnet. I've only been handling it a few days, and already it's covered in skin oils and probably some food grease—I eat at my desk, and if you do, too, you might get some side-eyes from your employer for not wiping your hands between each swipe and tap.
There are four physical buttons on the exterior of this device. They include two volume buttons and a power button on the right side. There's also a programmable red button on the left side that's supposed to harken back to the ThinkPad's iconic TrackPoint mouse nub. You can program it for single- and double-tap actions, like opening a specific app, taking a screenshot, or starting a screen recording. It's all configurable within the settings panel.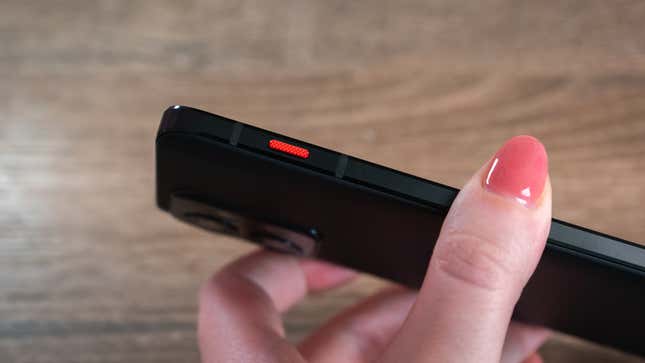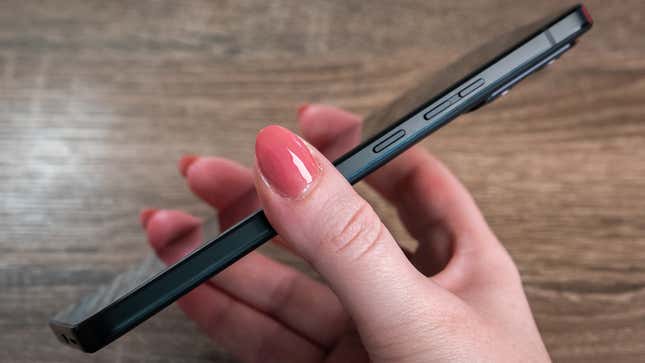 The rest of the device has all the standard workings of an Android smartphone. The screen is a 6.6-inch pOLED FullHD+ display with a 144Hz refresh rate—it's smooth, despite the screen's relative "blue" hue. It's less blue than the Galaxy S23 Ultra's Super AMOLED display and much less yellow-tinged than the Pixel 7's display. This is a solid offering for a work phone in terms of smartphone screens.

The ThinkPhone is IP68 rated for dust and water resistance. Since this is a working person's phone, Motorola reinforced the chassis with "military-grade" aluminum to protect against roughness. There are also dual stereo speakers with Dolby Atmos support, USB-C for charging, and NFC.
ThinkPhone is an Android phone like any other
Inside, the specifications are what you'd find on a standard Android device released in 2023: a Snapdragon 8+ Gen 1, 8 or 12GB of memory, and between 128-512GB of storage (sorry, no expansion slot). The device runs Android 13 right out of the box, and Lenovo will support the device with software updates for four years.

The ThinkPhone has a 5,000 mAh battery, which is significant for this screen size and device category. It joins flagships like the Galaxy S23 Ultra and OnePlus 11, and it's about the same size as last year's Motorola Edge+. I didn't have time to test the device thoroughly, but I played a video for about an hour and noticed the battery had only dropped by five percent. There are fast charging capabilities built into the ThinkPhone when the battery starts getting low. It's compatible with up to 15W wireless charging and comes bundled with a 68W TurboPower charger. This was also standard for last year's Edge+ release.
The Lenovo ThinkPhone is stocked with a camera system akin to the Edge+ launched last year, too—even the nighttime photography performs on par with that smartphone, which is to say, it's not good. The ThinkPhone features a double-lens camera system, including a primary 50-MP sensor with an f/1.8 aperture and optical image stabilization and a 13-MP ultrawide angle camera with a 120-degree field of view and so-called "macro vision." The front-facing camera is a 32-MP fixed sensor with autofocus. The video recording capabilities are up to 8K at 30fps.
The camera capabilities of the Lenovo ThinkPhone are fine for taking snaps of construction sites, car crashes, or whatever else requires photo and video evidence. It's competent in sunlight and bright light conditions. At night, it's much more touch-and-go. Like last year's Edge+, the nighttime camera capabilities are middling at best, so I wouldn't suggest deploying a stack of these phones to the graveyard shift.
Special ThinkPhone software features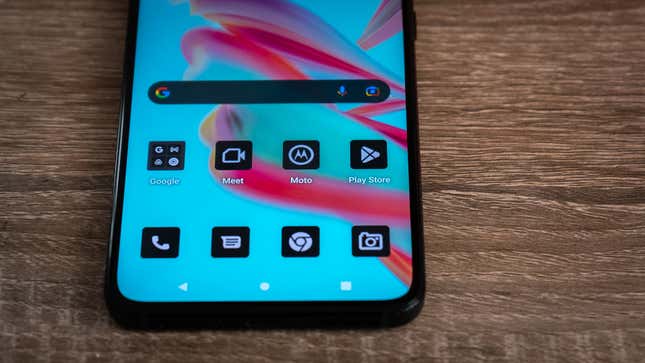 Lenovo's ThinkPad brand has always been about business, and there's plenty of that built into the ThinkPhone's software DNA. While it's Motorola's flavoring of Android running on the ThinkPhone, it remains relatively untouched, unlike Android software from Samsung and OnePlus. Everything from the theming engine to the settings panel is pure Android in Google's form. It's also nice to see bundled-in wallpapers that aren't overtly business-like.
Part of the appeal of the ThinkPhone is that it pairs well with your work-mandated Windows PC. After downloading and setting up the Ready For software, you can wirelessly connect to access your Android clipboard, stream an Android app from the phone, or even tether the cellular connection on your device to the PC for an instant hotspot. In a pinch, you can also use the ThinkPhone as a web camera, an ability already available with previous Motorola flagships like last year's Edge+. It's okay, but nothing beats the reliability of a webcam plugged in via USB-C or embedded into the laptop.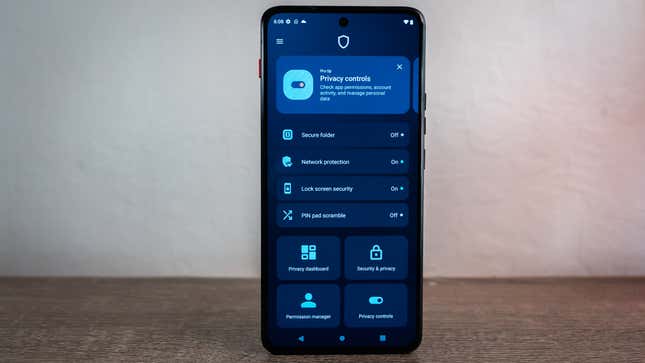 Because this is an enterprise-friendly smartphone, there are some additional security features you can enable from the Moto Secure app. For instance, you can turn on a Secure Folder to hide away sensitive data and encrypt it to the device. There are also additional lock screen protections, like PIN pad scrambling, that either you or an IT department can enable. But beyond that, most of the features offered in Moto Secure are already part of the Android experience—like the Privacy Dashboard, which comes with every phone running Android 13.
ThinkPhone is for serious business only
You could do worse with a smartphone from work—you could be receiving something mid-range, with an aging processor and a camera that can barely keep up with the things your job needs you to do. But whatever excitement I had about Motorola coming back into the fold via the Lenovo ThinkPhone is gone now that I realize this is nothing more than a repackaged Motorola device meant to be doled out to office workers. At the very least, it seems Lenovo is figuring out a way to stay in the smartphone business by leveraging its Motorola portfolio rather than trying to reinvent the wheel in an overly saturated market with devices like the Lenovo Legion gaming phones. We'll see if this translates into market share for Moto.
The Lenovo ThinkPhone by Motorola is available today through select B2B channels in the U.S., with special deals for those wanting to buy in bulk. If you're interested in carrying around this barebones phone styled after a beloved business laptop, you can get one outright for $700 beginning April 28 at Motorola and Lenovo's online storefronts. If you are looking for a device that helps you keep your work and personal life separate, the price is about on par with other Android smartphones with similar offerings, like the Galaxy S23 series or Google's Pixel 7, both of which are available in black with more capable camera systems.